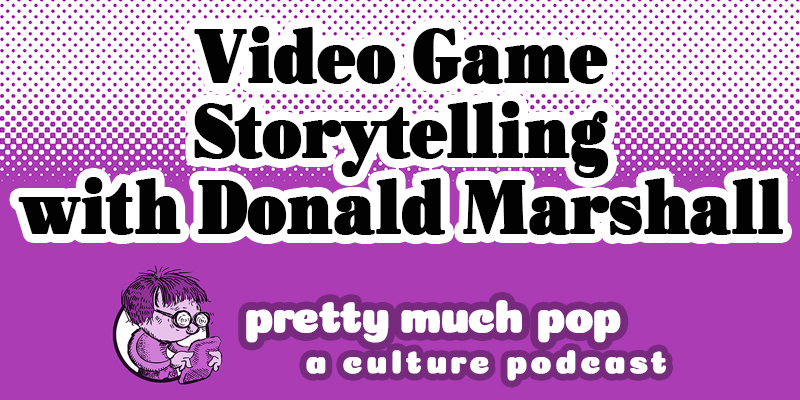 Do you play video games for the plot? Given that most people don't actually finish most games, it would be unexpected if storytelling were the most important element. On this episode of Pretty Much Pop: A Culture Podcast, your hosts Mark Linsenmayer, Erica Spyres, and Brian Hirt are joined by former video game professional (and current TV development executive) Donald E. Marshall to talk through types of plots (linear, "string-of-pearls," and branching), ways of weaving story into a game, balancing gameplay and narrative, and more.
We touch on Death Stranding, Overwatch, The Last of Us, Skyrim, Fallout, Life Is Strange, Until Dawn, Erica, Bioshock, Telltale Games, Journey, Bandersnatch, Days Gone, Portal, and more. (That casual game Mark jokes about is Simon's Cat Pop Time.)
Some articles and other sources:
You can also read some lists of games that supposedly have the best plots at GamesRadar, Ranker, and The Gamer.
Don is also a podcaster, having previously been a host of GeeksOn and now on The Big Fat Gay Podcast. Here's info about the Wheel of Time TV show. One relevant GeeksOn episode is #102.  Here's info about the Wheel of Time TV show.
This episode includes bonus discussion that you can only hear by supporting the podcast at patreon.com/prettymuchpop. This podcast is part of the Partially Examined Life podcast network.
Pretty Much Pop: A Culture Podcast is the first podcast curated by Open Culture. Browse all Pretty Much Pop posts or start with the first episode.