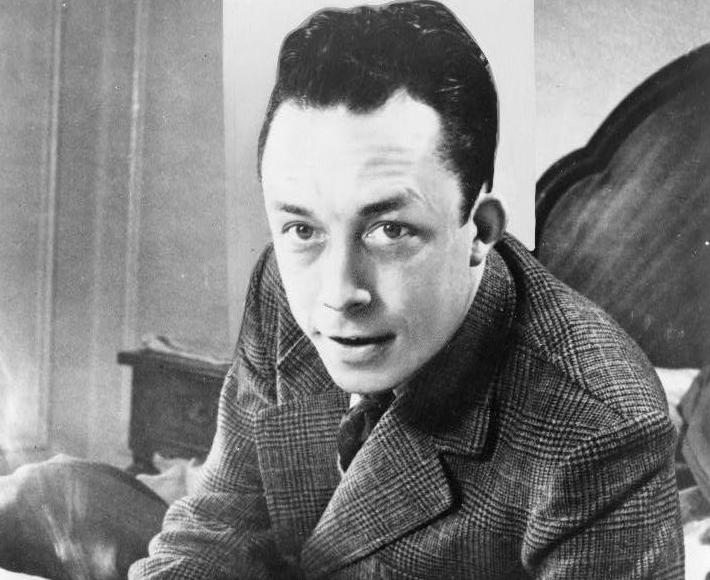 The coro­n­avirus, fair to say, isn't good for the econ­o­my: not for the economies of indi­vid­ual nations, and not for the world econ­o­my as a whole. But that's not to say that every indus­try has tak­en a hit. This is hard­ly the worst time in his­to­ry to pro­duce and sell toi­let paper, for instance, nor to fur­nish the pack­ages of neces­si­ties demand­ed by "prep­pers" who fore­see the end of soci­ety as we know it. One prob­a­bly would­n't wish to take the place of the mak­ers of Coro­na beer right now, but despite the now-unfor­tu­nate brand name, their sales, too, have stayed strong. And for pub­lish­ers around the world who have been con­sid­er­ing a reprint of Albert Camus' La Peste, now is most assured­ly the time.
The Plague, as it's titled in Eng­lish, "fol­lows the inhab­i­tants of Oran, an Alger­ian town that is sealed off by quar­an­tine as it is rav­aged by bubon­ic plague," writes The Guardian's Ali­son Flood. "Pen­guin is rush­ing through a reprint of its Eng­lish trans­la­tion to meet demand," but last week stock had already sold out on Ama­zon.
"The pub­lish­er added that sales in the last week of Feb­ru­ary were up by 150% on the same peri­od in 2019." The nov­el has also become a best­seller in Italy — a coun­try espe­cial­ly hard hit by the virus — and sales "have also risen sharply in France, accord­ing to the French books sta­tis­tics web­site Edi­s­tat," to the tune of "around 300% on the pre­vi­ous year." I live in South Korea, one of the coun­tries most severe­ly hit by the coro­n­avirus, and recent­ly wrote an essay about read­ing The Plague here in the Los Ange­les Review of Books.
Though Camus tells a sto­ry set in real city and about a spe­cif­ic dis­ease, his lit­er­ary ren­der­ing of a com­mu­ni­ty iso­lat­ed and under invis­i­ble siege has the uni­ver­sal qual­i­ty of myth. Each main char­ac­ter — the tire­less doc­tor Rieux, the sui­ci­dal-turned-gre­gar­i­ous Cot­tard, the human­ist out­sider Tar­rou — exem­pli­fies a dif­fer­ent arc of indi­vid­ual reac­tion to the cri­sis. Even in Seoul I noticed cer­tain par­al­lels: Camus' descrip­tion of the "com­mer­cial char­ac­ter of the town" and the work habits of its peo­ple, of the sud­den runs on par­tic­u­lar items thought to have pre­ven­ta­tive prop­er­ties (pep­per­mint lozenges, in the nov­el), of the fierce pub­lic attacks on the gov­ern­ment when­ev­er the strug­gle turns espe­cial­ly har­row­ing. Read­ers the world over will feel a grim sense of recog­ni­tion at the Oran author­i­ties' unwill­ing­ness to call the plague a plague, due to "the usu­al taboo, of course; the pub­lic mustn't be alarmed, that wouldn't do at all."
Camus wrote The Plague in 1947, five years after his best-known work The Stranger and just three years after the real Oran's most recent out­break of the bubon­ic plague. (You can get a primer on Camus' life, work, and reluc­tant­ly exis­ten­tial­ist phi­los­o­phy in the ani­mat­ed School of Life video above.) Like The Stranger, and like all great works of art, The Plague per­mits more than one inter­pre­ta­tion: J.M. Coet­zee sug­gests one read­ing of the nov­el "as being about what the French called 'the brown plague' of the Ger­man occu­pa­tion, and more gen­er­al­ly as about the ease with which a com­mu­ni­ty can be infect­ed by a bacil­lus-like ide­ol­o­gy." But each era has its own read­ing of The Plague — in the year 2003, for instance, crit­ic Mari­na Warn­er offered it up as a "study in ter­ror­ism" — and of all its read­ers and re-read­ers in this his­tor­i­cal moment, how many could resist an entire­ly more lit­er­al inter­pre­ta­tion?
Relat­ed Con­tent:
The His­to­ry of the Plague: Every Major Epi­dem­ic in an Ani­mat­ed Map
Free Cours­es on the Coro­n­avirus: What You Need to Know About the Emerg­ing Pan­dem­ic
The Absurd Phi­los­o­phy of Albert Camus Pre­sent­ed in a Short Ani­mat­ed Film by Alain De Bot­ton
See Albert Camus' His­toric Lec­ture, "The Human Cri­sis," Per­formed by Actor Vig­go Mortensen
Albert Camus Explains Why Hap­pi­ness Is Like Com­mit­ting a Crime—"You Should Nev­er Admit to it" (1959)
Based in Seoul, Col­in Mar­shall writes and broad­casts on cities, lan­guage, and cul­ture. His projects include the book The State­less City: a Walk through 21st-Cen­tu­ry Los Ange­les and the video series The City in Cin­e­ma. Fol­low him on Twit­ter at @colinmarshall or on Face­book.