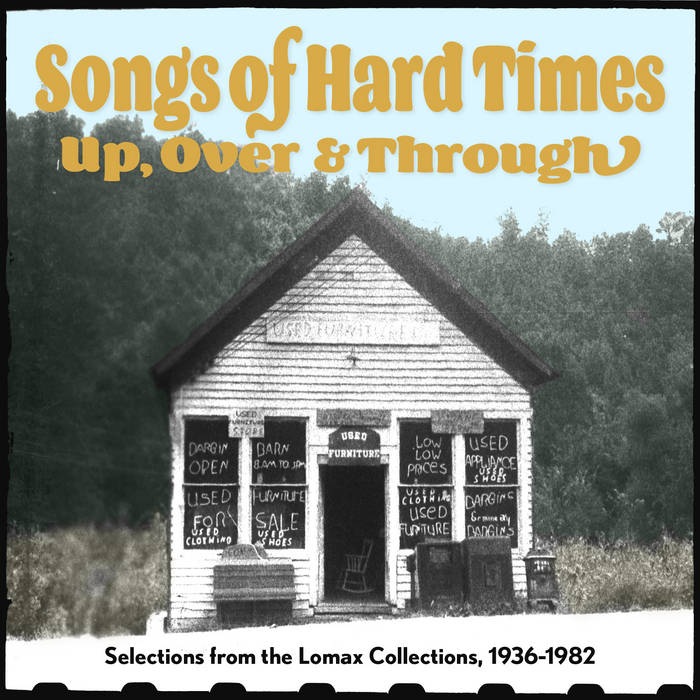 There's an argument to be made that folk music is always political, in a broad sense. It is music made by ordinary people struggling against overwhelming forces: natural disasters, oppressive governments, corrupt bosses, job loss, the pains of marriage and illicit relationships… and epidemic infectious diseases. It's music of consolation and resilience. Folk music helps us navigate—as the title of a 20-song collection of Alan Lomax's recordings newly released on Bandcamp puts it—"hard times: up, over and through."
At least,  the fact that we know of and can hear so much folk music from around the world has a good deal to do with political decisions made, for example, in the U.S., where Lomax began working with his folklorist father John, collecting music and interviews for the Library of Congress's Archive of American Folk Song. This work was funded on the premise that conserving the voice of the people had value independent of its profitability.
But profitable it was: first creatively, as Lomax's recordings inspired the American and British folk revivals of the mid-20th century: then financially, as folk and folk-rock artists sold millions of records. Given the tenor of those times, it's no wonder folk became mainly associated with Civil Rights, labor, and anti-war movements. Yet as folklorists like Lomax showed, even after the Congressional funding ended, folk songs from around the world have stories to tell that we may never have heard otherwise.
A 20-track selection of those songs, dating between 1936 and 1982, can hardly be representative of the massive trove of recordings Lomax collected. It does show, a press release notes, "an enormous range of geographical and stylistic diversity across 50 years," with artists ranging from "legends of American vernacular music—Bessie Jones, Skip James, and Dock Boggs among them—to rural Italian, Spanish, and Scottish singers." This music offers, "in these trying times, comfort diversion, and historical perspective."
Such perspective is critical when the world seems to be falling apart. The struggles of "folk"—wherever they may be in the world—are interconnected and ongoing. Hearing how people responded to disaster, both personal and collective, in decades past provides a sense of continuity. Things have been very bad before, and people have had reason to lament. To declare that "Money is King," as a track by The Growling Tiger tells us. To wonder plaintively, as Harry Cox does, "What will become of England/if things go on this way?"
But folk singers have also had reasons for joy, in the best and the bleakest of times, and joy is also a kind of politics, a show of strength in the face of what Rev. Pearly Brown plainly calls "A Mean Old World." Stream the collection, which includes six previously unreleased tracks, above, and buy individual tracks or the full digital album for $5 at Bandcamp.
Related Content:  
Alan Lomax's Massive Music Archive Is Online: Features 17,000 Historic Blues & Folk Recordings
Hear 17,000+ Traditional Folk & Blues Songs Curated by the Great Musicologist Alan Lomax
Legendary Folklorist Alan Lomax: 'The Land Where the Blues Began'
Josh Jones is a writer and musician based in Durham, NC. Follow him at @jdmagness