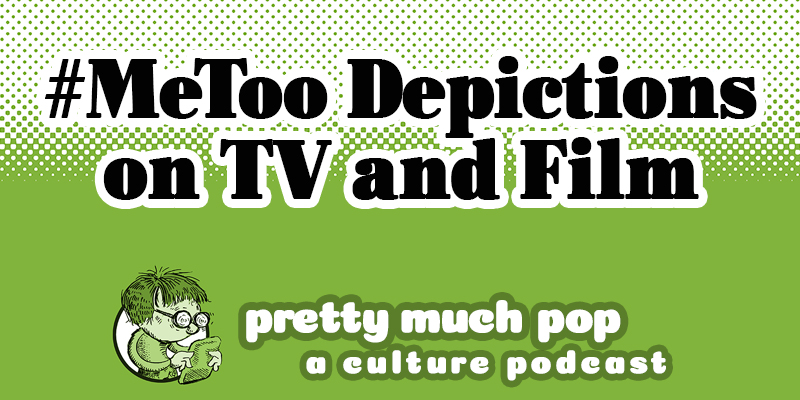 These stories are all heavily watched, which means they're entertaining: The 2019 film Bombshell (about the predations of Roger Ailes), Apple TV's The Morning Show (about a disgraced anchor), and Netflix's Unbelievable (about reporting rape) and 13 Reasons Why (about teen suicide resulting from sexual assault). But what's "entertaining" about sexual assault and harassment? What makes for a sensitive as opposed to a sensationalized portrayal?
Erica, Mark, and Brian consider which stories work and why. How much divergence from true events is allowable in Bombshell or Confirmation (about Anita Hill)? By having characters interpret their situations (Erica gives an example from the show Sex Education), are writers essentially telling audiences how to feel about their own experiences? Should certain depictions be ruled out as potentially triggering, or is it good to "bring to light" whatever terrible things actually happen in the world? Should shows delve into the psychology of the perpetrator (maybe even treating him as a protagonist), or must the message be wholly and unambiguously about the victim? 
Art is about risk-taking and capturing difficult ambiguities; this doesn't sound much like a public service message. So what responsibility to do show creators have to consult professionals about how to present difficult topics like this?
We drew on some articles to help us look at these questions:
Here's that weird scene where Jennifer Aniston and Billy Crudup sing on The Morning Show.
If this topic is too depressing, check out our episode #39 from last week about what to watch on TV during quarantine:
Learn more at prettymuchpop.com. This episode includes bonus discussion that you can only hear by supporting the podcast at patreon.com/prettymuchpop. This podcast is part of the Partially Examined Life podcast network.
Pretty Much Pop: A Culture Podcast is the first podcast curated by Open Culture. Browse all Pretty Much Pop posts or start with the first episode.