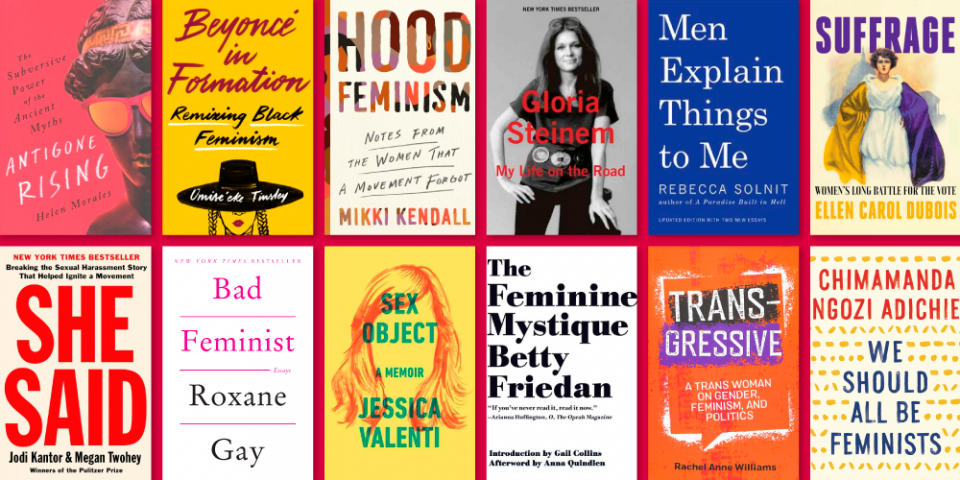 We may all have the best of intentions when we collect and share reading lists. We buy the books, stack them neatly by the chair or bed, then something happens. Like… literally, every day, something happens…. Let's cut ourselves some slack. We'll get to those books, or give them away to people who will read them, which is also a good thing to do.
But even if we can't keep up, reading lists are still essential educational tools, especially for kids, young adults, and their parents and teachers. As we celebrate the centenary of the 19th Amendment (which fell on August 18th) and talk about its many shortcomings, it may be more important than ever to understand the U.S. history that brought us to the current moment.
This is a history in which—whether rights were guaranteed by the constitution or not—people historically denied suffrage have always had to struggle. Each generation of women, but most especially Black, Latinx, Indigenous, and LGBTQ women, must claim or reclaim basic rights, liberties, and protections. More than ever, feminist reading lists reflect the vast differences in collective and personal experience that fall under the label "Feminist."
To illustrate the continued critical importance of feminist history, theory, and literature, the New York Public Library published reading lists for adults, kids, and teens on the 19th Amendment's 100th anniversary. These books can help create community and solidarity and inspire deep reflection as kids are pushed back into schools and parents and teachers try to help them cope.
The adult list contains 126 books and includes links to the library catalog or e-Book editions. "The titles bridge the past and present of feminist movements, from Simone de Beauvoir's The Independent Woman (1949) to Roxane Gay's Bad Feminist: Essays (2014), and from the earliest manifestos for equality to contemporary writings on intersectionality," Valentina Di Liscia writes at Hyperallergic.
The lists for kids and teens are of a more manageable length, and "if you're looking to stock the bookshelves before history class starts this fall," you can hardly do better than to start with these titles (or just bookmark the lists for now), as Danielle Valente—who helpfully transcribes both lists, below—notes at Time Out New York.
NYPL's Essential Reads on Feminism: For Kids 
Black Girl Magic by Mahogany L. Browne
Black Women Who Dared by Naomi M. Moyer
Bold & Brave: Ten Heroes Who Won Women the Right to Vote by Senator Kirsten Gillibrand,
Brave. Black. First. 50+ African American Women Who Changed the World by Cheryl Willis Hudson
Delores Huerta: A Hero to Migrant Workers by Sarah Warren
Elizabeth Started All the Trouble by Doreen Rappaport
Equality's Call: The Story of Voting Rights in America by Deborah Diesen
Good Night Stories for Rebel Girls: 100 Tales of Extraordinary Women by Elena Favilli and Francesca Cavallo
The Gutsy Girl: Escapades for Your Life of Epic Adventure by Caroline Paul
Heart on Fire: Susan B. Anthony Votes for President by Ann Malaspina
Herstory: 50 Women and Girls Who Shook Up the World by Katherine Halligan
I Am Enough by Grace Byers
I am Jazz by Jessica Herthel and Jazz Jennings
Ida B. Wells: Let the Truth Be Told by Walter Dean Myers
It Feels Good to Be Yourself: A Book About Gender Identity by Theresa Thorn
Julián Is a Mermaid by Jessica Love
Leading the Way: Women in Power by Janet Howell and Theresa Howell
Lillian's Right to Vote: A Celebration of the Voting Rights Act of 1965 by Jonah Winter
Limitless: 24 Remarkable American Women of Vision, Grit, and Guts by Leah Tinari
Little Leaders: Bold Women in Black History by Vashti Harrison
Lucía the Luchadora by Cynthia Leonor Garza
Malala's Magic Pencil by Malala Yousafzai
Miss Paul and the President: The Creative Campaign for Women's Right to Vote by Dean Robbins
The Moon Within by Aida Salazar
My Name Is Truth: The Life of Sojourner Truth by Ann Turner
Notorious RBG: The Life and Times of Ruth Bader Ginsburg by Irin Carmon and Shana Knizhnik
Rad American Women A–Z: Rebels, Trailblazers, and Visionaries Who Shaped Our History… and Our Future! by Kate Schatz
Roses and Radicals: The Epic Story of How American Women Won the Right to Vote by Susan Zimet
Shaking Things Up: 14 Young Women Who Changed the World by Susan Hood
She Persisted: 13 American Women Who Changed the World by Chelsea Clinton
They, She, He, Me: Free to Be! by Maya Gonzalez and Matthew SG
Women Win the Vote!: 19 for the 19th Amendment by Nancy B. Kennedy
New York Public Library's Essential Reads on Feminism: For Teens 
Alice Paul and the Fight for Women's Rights by Deborah Kops
Ask a Queer Chick: A Guide to Sex, Love, and Life for Girls Who Dig Girls by Lindsay King-Miller
Because I Was a Girl: True Stories for Girls of All Ages by Melissa de la Cruz
Beyond Magenta: Transgender Teens Speak Out by Susan Kuklin
Beyond the Gender Binary by Alok Vaid-Menon
Brazen: Rebel Ladies Who Rocked the World by Pénélope Bagieu
The Bride Was a Boy by Chii
Colonize This!: Young Women of Color on Today's Feminism by Daisy Hernández and Bushra Rehman (eds.)
Dear Ijeawele, or a Feminist Manifesto In Fifteen Suggestions by Chimamanda Ngozi Adichie
Feminism Is… by Alexandra Black, Laura Buller, Emily Hoyle and Dr. Megan Todd
Feminism: Reinventing the F-Word by Nadia Abushanab Higgins
Fierce Femmes and Notorious Liars: A Dangerous Trans Girl's Confabulous Memoir by Kai Cheng Thom
Fight Like a Girl: 50 Feminists Who Changed the World by Laura Barcella
Full Frontal Feminism: A Young Woman's Guide to Why Feminism Matters by Jessica Valenti
Girl Rising: Changing the World One Girl at a Time by Tanya Lee Stone
Girls Resist!: A Guide to Activism, Leadership, and Starting a Revolution by KaeLyn Rich
Girls Write Now: Two Decades of True Stories from Young Female Voices
Here We Are: Feminism for the Real World by Kelly Jensen (ed.)
I Know Why the Caged Bird Sings by Maya Angelou
I, Rigoberta Menchú: An Indian Woman In Guatemala by Rigoberta Menchú
Lighting the Fires of Freedom: African American Women in the Civil Rights Movement by Janet Dewart Bell
Modern Herstory: Stories of Women and Nonbinary People Rewriting History by Blair Imani
Muslim Girl: A Coming of Age by Amani Al-Khatahtbeh
Not for Ourselves Alone: The Story of Elizabeth Cady Stanton and Susan B. Anthony by Geoffrey C. Ward and Ken Burns
#NotYourPrincess: Voices of Native American Women by Lisa Charleyboy and Mary Beth Leatherdale (eds.)
Rethinking Normal: A Memoir in Transition by Katie Rain Hill
She Came to Slay: The Life and Times of Harriet Tubman by Erica Armstrong Dunbar
Sissy: A Coming-of-Gender Story by Jacob Tobia
Tomboy: A Graphic Memoir by Liz Prince
Trans Teen Survival Guide by Owl and Fox Fisher
Trans+: Love, Sex, Romance, and Being You by Kathryn Gonzales and Karen Rayne
Votes for Women!: American Suffragists and the Battle for the Ballot by Winifred Conkling
With Courage and Cloth: Winning the Fight for a Woman's Right to Vote by Ann Bausum
You Don't Have to Like Me: Essays on Growing Up, Speaking Out, and Finding Feminism by Alida Nugent
Amazons, Abolitionists, and Activists: A Graphic History of Women's Fight for Their Rights by Mikki Kendall
This is, indeed, an excellent place to start. Given younger generations' levels of engagement with current events, it's likely your kids or students are already familiar with many of the newer books on the lists.
And if you, yourself, need some less daunting bibliographies to get you started, you might also check out Emily Temple's "40 New Feminist Classics" list on LitHub or her (shorter and less diverse) "10 Essential Feminist Books" at The Atlantic, or feminist writer Mona Eltahawy's list of Black feminist books on Twitter, or former NFL player Wade Davis and Cornell English professor Mukoma Wa Ngugi's lists for "men who care about feminism."
If there's any overarching theme to be found among such a vast and ever-expanding canon of feminist literature, it might be summed up best in the title of a recent Angela Davis book on feminist movements around the world: "Freedom is a constant struggle."
Related Content:
11 Essential Feminist Books: A New Reading List by The New York Public Library
Download All 239 Issues of Landmark UK Feminist Magazine Spare Rib Free Online
103 Essential Films By Female Filmmakers: Clueless, Lost In Translation, Ishtar and More
Josh Jones is a writer and musician based in Durham, NC. Follow him at @jdmagness