Kings of camp Alice Coop­er and Sal­vador Dalí made a nat­ur­al pair when they met in New York City in April of 1973. "A mind-meld­ing of sorts took place," writes Super Rad Now. "Over the course of about two weeks" Coop­er and Dalí "ate togeth­er, drank togeth­er, and basked in the glow of each oth­er's excep­tion­al unique­ness." Then Dalí decid­ed to turn Coop­er into a holo­gram, the First Cylin­dric Chro­mo-Holo­gram Por­trait of Alice Coop­er's Brain.
How did this come about? It was only a mat­ter of time before Dalí sought out the "god­fa­ther of shock rock." The Sur­re­al­ist prankster "knew how to pro­mote him­self and oth­ers," notes his­to­ri­an and writer Sophia Deboick in a fan­tas­tic under­state­ment. Dalí had been shock­ing audi­ences decades before Vin­cent Furnier, lead singer of the band Alice Cooper—who took the name for him­self in 1975—was born, mak­ing trans­gres­sive films like Un Chien Andalou and get­ting tossed out of the Sur­re­al­ists for pos­si­ble fas­cist sym­pa­thies and unabashed­ly com­mer­cial aspi­ra­tions.
Dalí used his con­nec­tions to the world of pop music to meet "fig­ures such as Bri­an Jones, Bryan Fer­ry and David Bowie" in the late 60s and ear­ly 70s. He came call­ing at Coop­er's door after the 1972 "rapi­er-wav­ing per­for­mance of 'School's Out' on Top of the Pops [drew] the oppro­bri­um of Mary White­house… and a truck car­ry­ing a bill­board image of Alice wear­ing only a snake… mys­te­ri­ous­ly 'broke down' on Oxford Cir­cus the same sum­mer, caus­ing chaos."
Coop­er's schtick was cat­nip to Dalí, but as usu­al, the artist had some­thing more sophis­ti­cat­ed in mind when he staged what looked like a typ­i­cal­ly bizarre pub­lic­i­ty stunt. Coop­er was invit­ed to Dalí's stu­dio to pose with "an ant-cov­ered plas­ter brain topped with a choco­late éclair." This Dalí placed behind Coop­er's head on a red vel­vet cush­ion as Alice "sat on a rotat­ing turntable wear­ing over a mil­lion dol­lars-worth of dia­monds from the famous Har­ry Win­ston jew­el­ers on Fifth Avenue (Coop­er remem­bers it in the short video clip at the top as 4 mil­lion dol­lars worth), hold­ing a frag­ment­ed Venus de Milo as a micro­phone."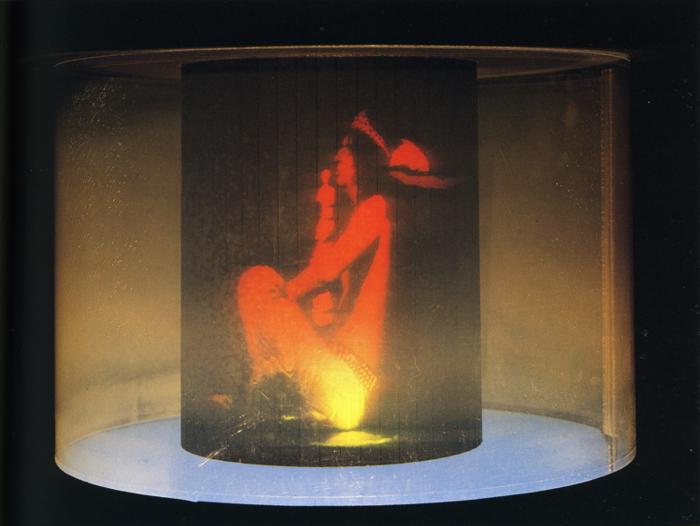 For Coop­er and the band, the col­lab­o­ra­tion helped bring their own par­tic­u­lar artis­tic vision to fruition, lend­ing them the impri­matur of the most pop­u­lar shock artist of the cen­tu­ry. "Five of the orig­i­nal band mem­bers were art majors," he lat­er recalled, "and we wor­shipped Dalí: we thought of our­selves as sur­re­al­ists." (He also named one of his boa con­stric­tors Dalí.)
For Dalí, the result­ing holo­graph­ic image ful­filled a long­stand­ing explo­ration of new ideas and a new medium—as well as a delib­er­ate move­ment away from his devo­tion to Freudi­an psy­cho­analy­sis.
Through­out the 1970s Dalí worked with opti­cal illu­sions and stereo­scop­ic images… but his inter­est in work­ing in the third and fourth dimen­sions dat­ed back fur­ther. His 1958 Anti-Mat­ter Man­i­festo pro­claimed his intent to aban­don his explo­ration of the inte­ri­or world for a focus on "the exte­ri­or world and that of physics [which] has tran­scend­ed the one of psy­chol­o­gy," say­ing he had swapped Freud for Heisen­berg. The tesser­act cross of his Cru­ci­fix­ion (Cor­pus Hyper­cubus) (1954) was inspired by the diverse influ­ences of math­e­mat­i­cal the­o­ry, cubism, and works of Philip II's archi­tect Juan de Her­rera and Cata­lan mys­tic Ramon Llull. The Alice holo­gram may have tak­en an emerg­ing pop­u­lar icon as its sub­ject, but the medi­um was one which ful­filled Dalí's artis­tic ambi­tions at the end of his career to embrace sci­ence and break out of the two dimen­sion­al.
The atten­tion may have gone to Coop­er's head. He attend­ed the unveil­ing of the holo­gram with­out his band mem­bers, then went on to record 1975's Wel­come to My Night­mare with­out them and pro­mot­ed "an ABC tele­vi­sion spe­cial star­ring Vin­cent Price" that same year, again with a new band. His star fell over the decade, but his essen­tial place in rock and roll his­to­ry had already been ful­ly secured.
Alice Coop­er's (the band) gen­der-bend­ing had influ­enced David Bowie and the New York Dolls. The Sex Pis­tol's John Lydon breath­less­ly pro­claimed them his favorite and sang ("or at least mimed to") their "I'm Eigh­teen" at his audi­tion. "The direct line between Alice Coop­er and every pos­si­ble genre of met­al is obvi­ous," Deboick writes.
Like the Sur­re­al­ist mas­ter, Coop­er became some­thing of a par­o­dy of his ear­li­er incar­na­tion in lat­er years, and in sobri­ety, the preacher's son from Detroit reap­peared as a "golf-play­ing born-again Chris­t­ian." But how­ev­er else he is remem­bered, the man born Vin­cent Furnier will also always be the only rock star to have his ant-cov­ered brain turned into a holo­gram by Sal­vador Dalí, who knew a kin­dred spir­it when he saw one. See a video of the holo­gram, which resides in Spain, just above.
Relat­ed Con­tent:
The Most Com­plete Col­lec­tion of Sal­vador Dalí's Paint­ings Pub­lished in a Beau­ti­ful New Book by Taschen: Includes Nev­er-Seen-Before Works
Sal­vador Dalí & Walt Disney's Short Ani­mat­ed Film, Des­ti­no, Set to the Music of Pink Floyd
Sal­vador Dalí Explains Why He Was a "Bad Painter" and Con­tributed "Noth­ing" to Art (1986)
Josh Jones is a writer and musi­cian based in Durham, NC. Fol­low him at @jdmagness