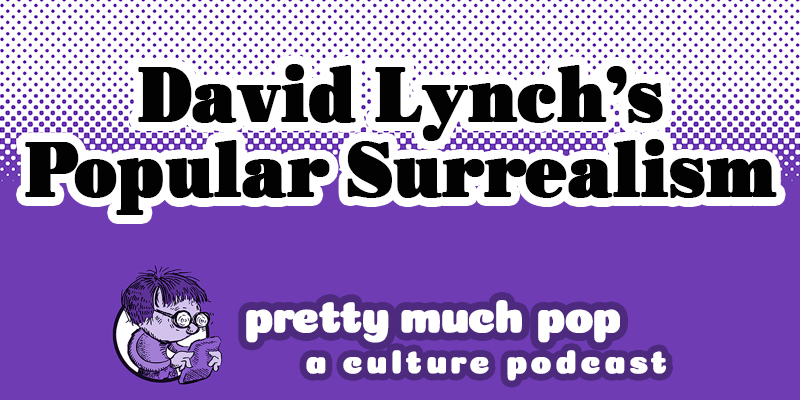 Pret­ty Much Pop hosts Mark Lin­sen­may­er, Eri­ca Spyres, and Bri­an Hirt–along with guest Mike Wilson–discuss the direc­tor's films from Eraser­head to Inland Empire plus Twin Peaks and his recent short films. We get into the appeal and the styl­is­tic and sto­ry­telling hall­marks of his main­stays–Blue Vel­vet, Wild at Heart, Lost High­way, and Mul­hol­land Dri­ve–and also con­sid­er out­liers like Dune, The Ele­phant Man, and The Straight Sto­ry.
What's with the campy act­ing and the weird atti­tudes toward women? Why make us stare at some­thing mov­ing very slow­ly for a long time? Are these films appeal­ing to young peo­ple inter­est­ed in some­thing dif­fer­ent but not on the whole actu­al­ly enjoy­able? Is there actu­al­ly a "solu­tion" to make sense of the sense­less, or are these wacky plots sup­posed to remain unas­sim­i­l­able and so not dis­mis­si­ble?
Some arti­cles we drew on includ­ed:
Also, read Roger Ebert's reviews of Dune and Blue Vel­vet, and his sub­se­quent thoughts on the lat­ter. What did crit­ics say about "What Did Jack Do?" Watch "Twin Peaks Actu­al­ly Explained." Check out his short films if you can sit through them.
Learn more at prettymuchpop.com. If you're not sub­scribed to the pod­cast, then you missed last week's aftertalk high­lights episode. This episode includes bonus dis­cus­sion that you can only hear by sup­port­ing the pod­cast at patreon.com/prettymuchpop. This pod­cast is part of the Par­tial­ly Exam­ined Life pod­cast net­work.
Pret­ty Much Pop: A Cul­ture Pod­cast is the first pod­cast curat­ed by Open Cul­ture. Browse all Pret­ty Much Pop posts