Who can resist miniatures?
Wee food, painstakingly rendered in felted wool…
Matchbook-sized books you can actually read…
Classic record albums shrunk down for mice…
The late Frances Glessner Lee (1878-1962) definitely loved miniatures, and excelled at their creation, knitting socks on pins, hand rolling real tobacco into tiny cigarettes, and making sure the victims in her realistic murder scene dioramas exhibited the proper degree of rigor mortis and lividity.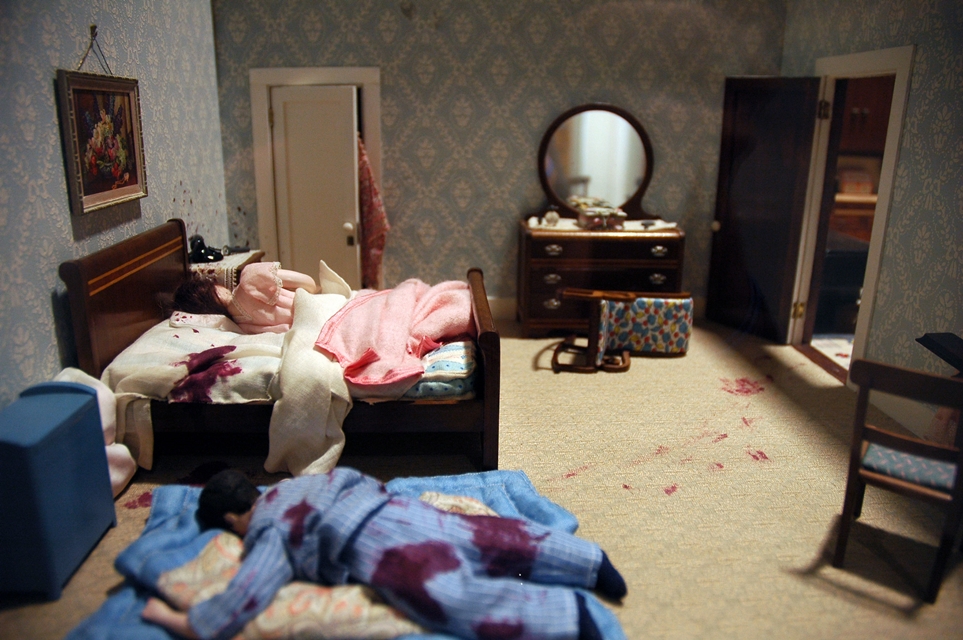 Lee began work on her Nutshell Studies of Unexplained Death at the age of 65, as part of a lifelong interest in homicide investigation.
Her preoccupation began with the Sherlock Holmes stories she read as a girl.
In the 1930s, the wealthy divorcee used part of a sizable inheritance to endow Harvard University with enough money for the creation of its Department of Legal Medicine.
Its first chairman was her friend, George Burgess Magrath, a medical examiner who had shared his distress that criminals were literally getting away with murder because coroners and police investigators lacked appropriate training for forensic analysis.
The library to which Lee donated a thousand books on the topic was named in his honor.
The homemade dioramas offered a more vivid experience than could be found in any book.
Each Nutshell Study required almost half a year's work, and cost about the same as a house would have at the time. ($6000 in the 1940s.)
"Luckily, I was born with a silver spoon in my mouth," Lee remarked. "It gives me the time and money to follow my hobby of scientific crime detection."
Although Lee had been brought up in a luxurious 13 bedroom home (8 were for servants' use), the domestic settings of the Nutshell Studies are more modest, reflective of the victims' circumstances.
She drew inspiration from actual crimes, but had no interest in replicating their actual scenes. The crimes she authored for her little rooms were composites of the ones she had studied, with invented victims and in rooms decorated according to her imagination.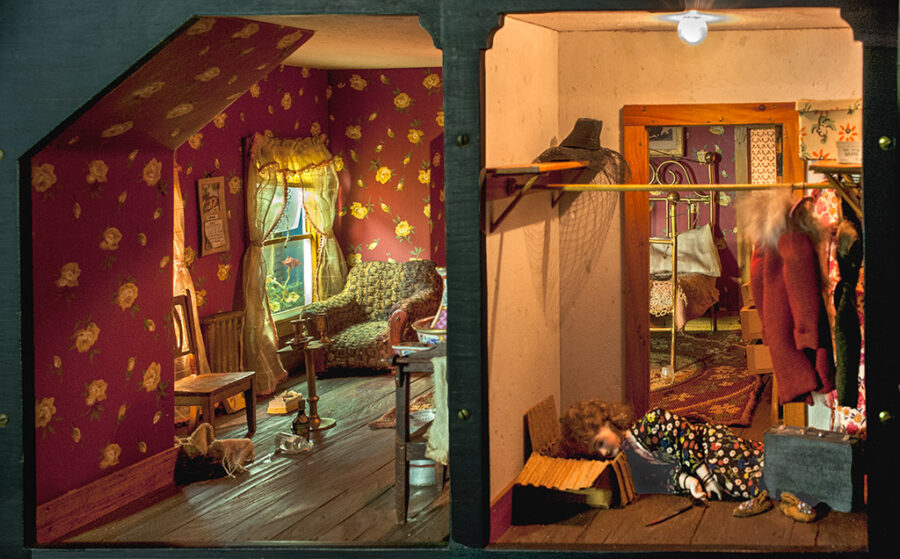 Her intent was to provide investigators with virgin crime scenes to meticulously examine, culling indirect evidence from the painstakingly detailed props she was a stickler for getting right.
Students were provided with a flashlight, a magnifying glass, and witness statements. Her attention to detail ensured that they would use the full ninety minutes they had been allotted analyzing the scene. Their goal was not to crack the case but to carefully document observations on which a case could be built.
The flawlessness of her 1:12 scale renderings also speaks to her determination to be taken seriously in what was then an exclusively male world. (Women now dominate the field of forensic science.)
Nothing was overlooked.
As she wrote to Dr. Alan Moritz, the Department of Legal Medicine's second chair, in a letter reviewing proposed changes to some early scenes:
I found myself constantly tempted to add more clues and details and am afraid I may get them "gadgety" in the process. I hope you will watch over this and stop me when I go too far. Since you and I have perpetrated these crimes ourselves we are in the unique position of being able to give complete descriptions of them even if there were no witnesses—very much in the manner of the novelist who is able to tell the inmost thoughts of his characters.
It's no accident that many of the Nutshell Studies' little corpses are female.
Lee did not want officers to treat victims dismissively because of gender-related assumptions, whether the scenario involved a prostitute whose throat has been cut, or a housewife dead on the floor of her kitchen, the burners of her stove all switched to the on position.
Would you like to test your powers of observation?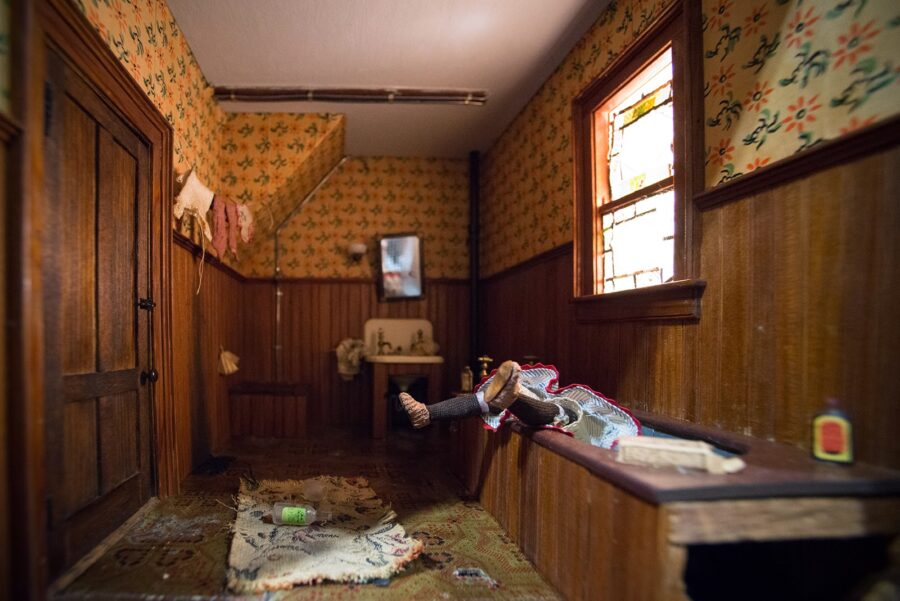 Above are the remains of Maggie Wilson, discovered in the Dark Bathroom's tub by a fellow boarder, Lizzie Miller, who gave the following statement:
I roomed in the same house as Maggie Wilson, but knew her only from we met in the hall. I think she had 'fits' [seizures]. A couple of male friends came to see her fairly regularly. On Sunday night, the men were there and there was a lot of drinking going on. Some time after the men left, I heard the water running in the bathroom. I opened the door and found her as you see her.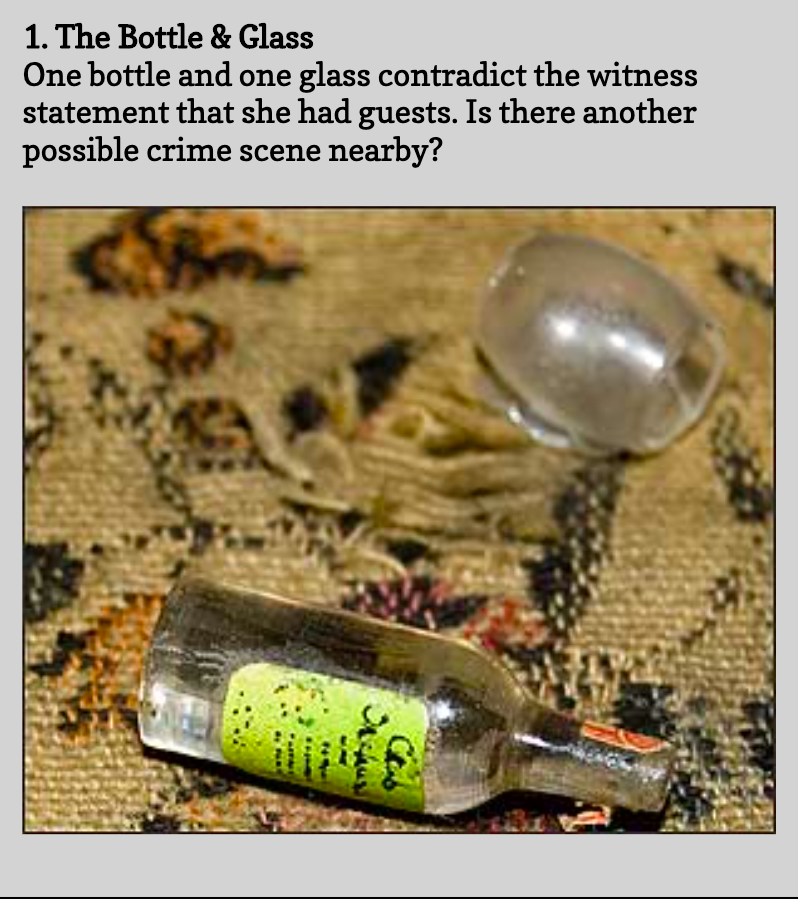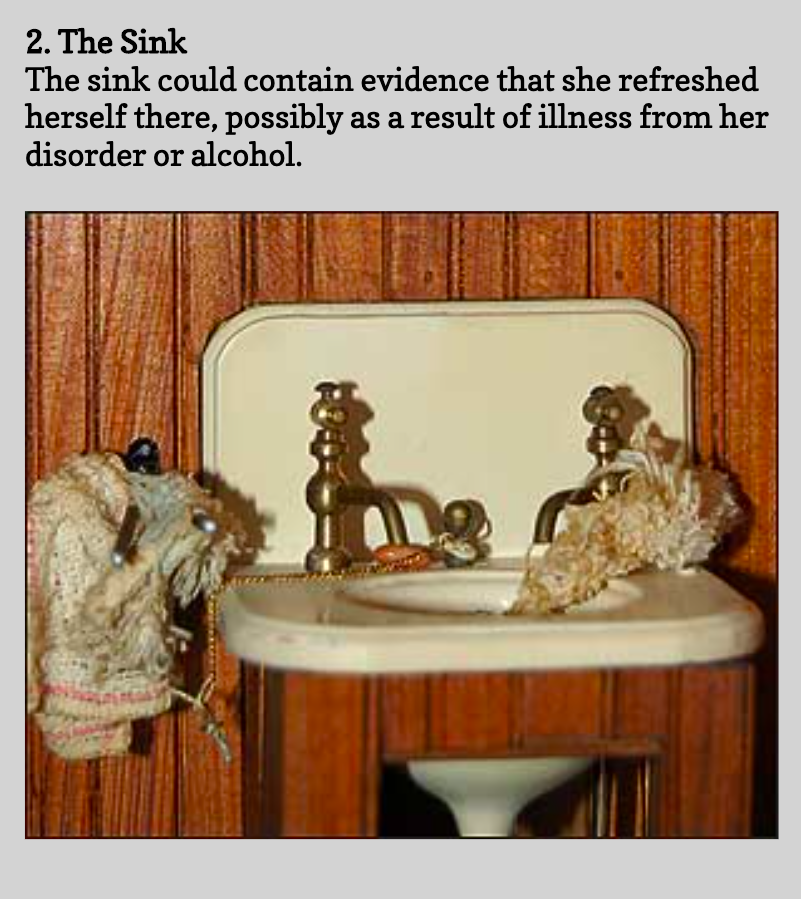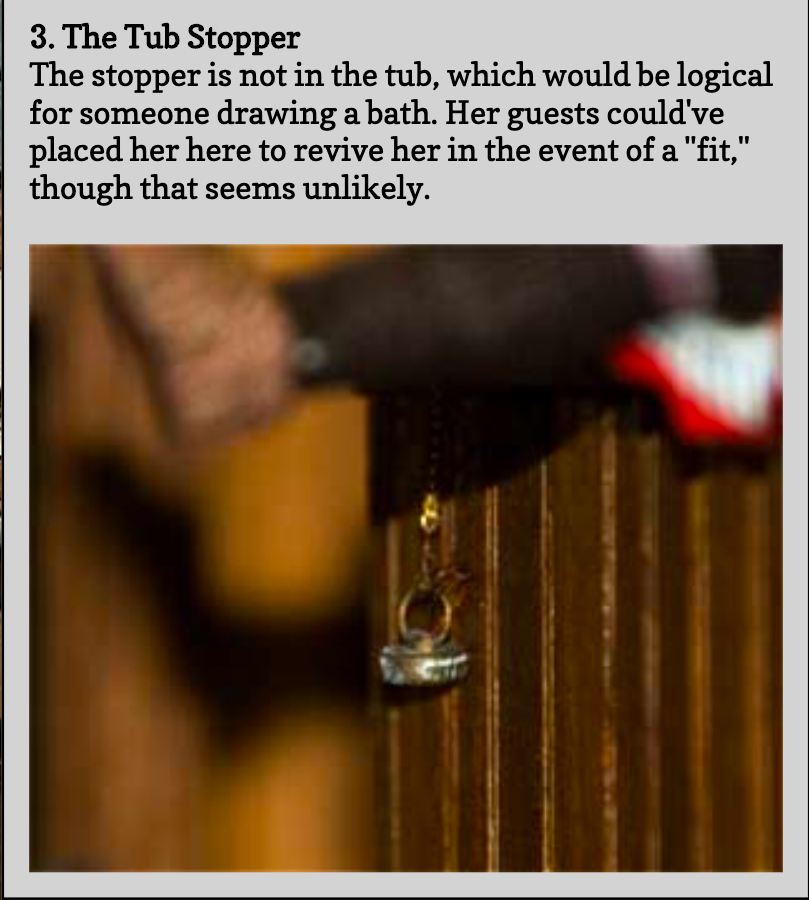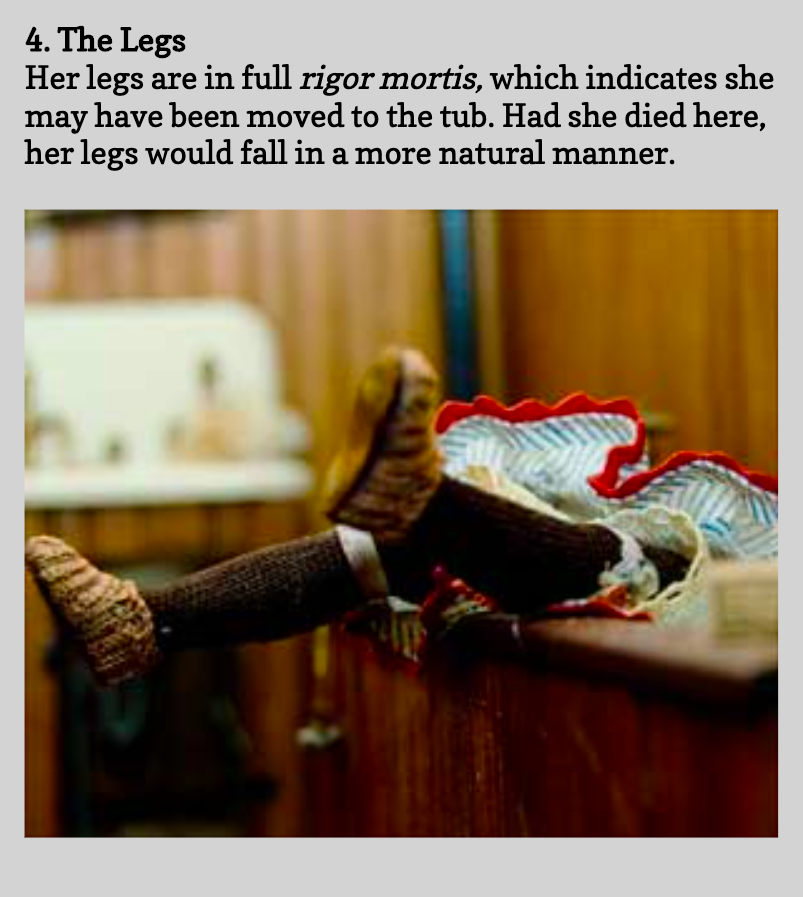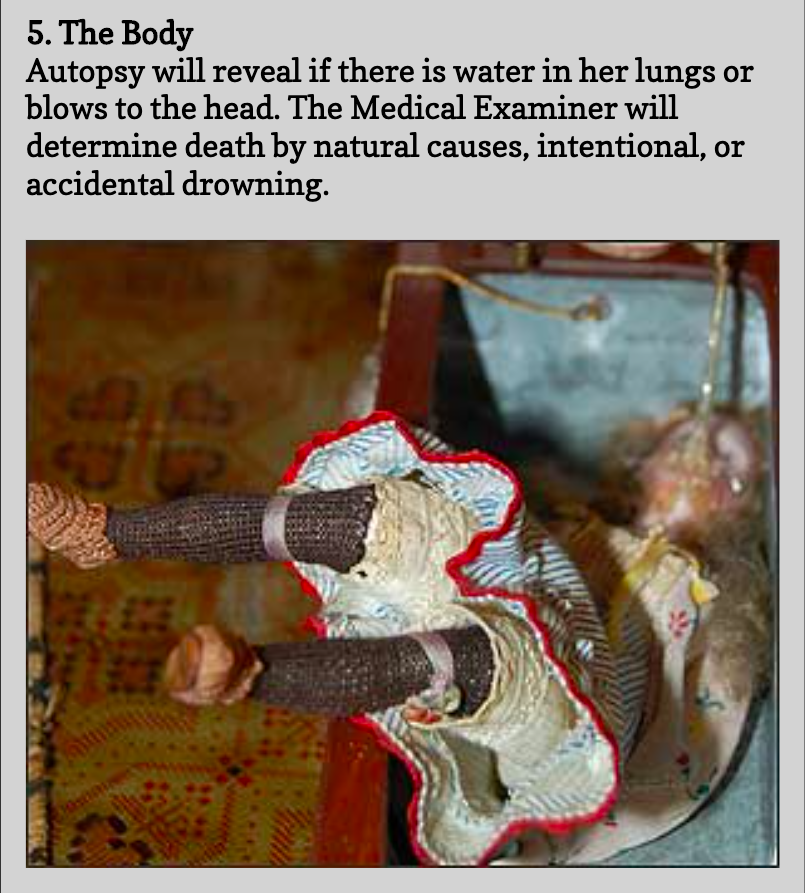 Grim, eh?
Not nearly as grim as what you'll find in the Parsonage or the Three-Room Dwelling belonging to shoe factory foreman Robert Judson, his wife, Kate, and their baby, Linda Mae.
The period-accurate mini furnishings and fashions may create a false impression that the Mother of Forensic Science's Nutshell Studies should be relegated to a museum.
In truth, their abundance of detail remains so effective that the Office of the Chief Medical Examiner in Baltimore continues to use 18 of them in training seminars to help homicide investigators "convict the guilty, clear the innocent, and find the truth in a nutshell."
Explore 5 Nutshell Studies—Woodman's Shack, Attic, Living Room, Garage, and Parsonage Parlor—in 360º compliments of The Smithsonian American Art Museum Renwick Gallery's exhibit Murder Is Her Hobby: Frances Glessner Lee and The Nutshell Studies of Unexplained Death.
Related Content: 
A Record Store Designed for Mice in Sweden, Featuring Albums by Mouse Davis, Destiny's Cheese, Dolly Parsley & More
"20 Rules For Writing Detective Stories" By S.S. Van Dine, One of T.S. Eliot's Favorite Genre Authors (1928)
Lucy Lawless Joins Pretty Much Pop: A Culture Podcast #5 on True Crime
Ayun Halliday is an author, illustrator, theater maker and Chief Primatologist of the East Village Inky zine.  Follow her @AyunHalliday.