Long before "green" became synonymous with eco-friendly products and production, an 18-year-old Jim Henson created a puppet who would go on to become the color's most celebrated face from his mother's cast-off green felt coat and a single ping pong ball.
Kermit debuted in black and white in the spring of 1955 as an ensemble member of Sam and Friends, a live television show comprised of five-minute episodes that the talented Henson had been tapped to write and perform, following some earlier success as a teen puppeteer.
Airing on the Washington DC-area NBC affiliate between the evening news and The Tonight Show, Sam and Friends was an immediate hit with viewers, even if they ranked Kermit, originally more lizard than frog, fourth in terms of popularity. (Top spot went to a skull puppet named Yorick.)
Watching the surviving clips of Sam and Friends, it's easy to catch glimpses of where both Kermit and Henson were headed.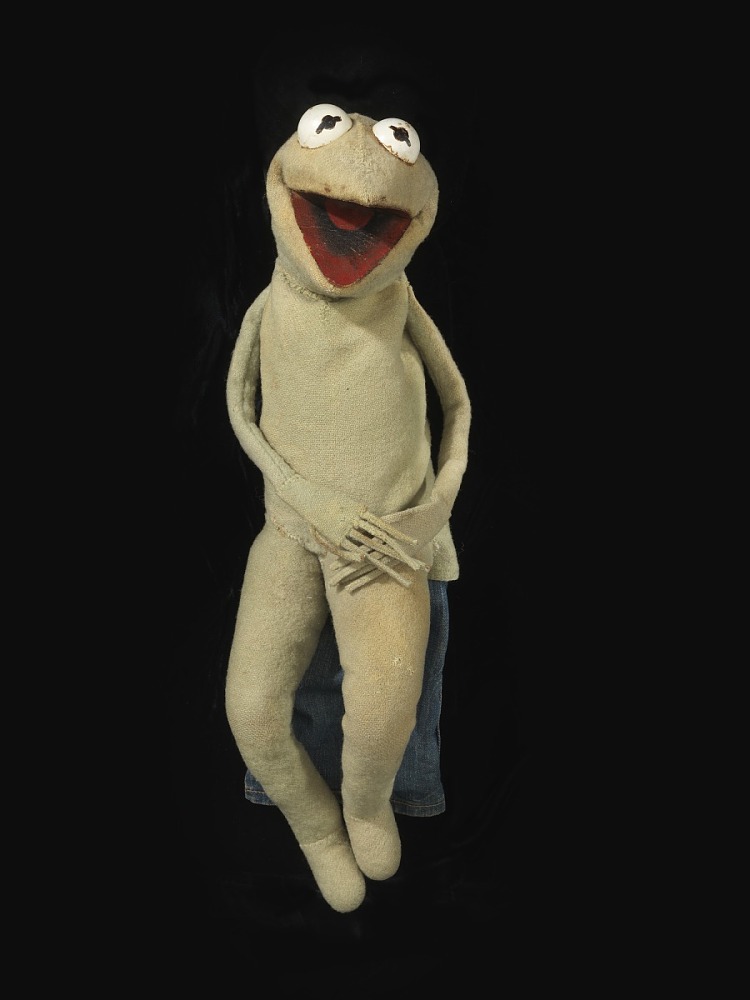 While Henson voiced Sam and all of his puppet friends, Kermit wound up sounding the closest to Henson himself.
Kermit's signature face-crumpling reactions were by design. Whereas other puppets of the period, like the titular Sam, had stiff heads with the occasional moving jaw, Kermit's was as soft as a footless sock, allowing for far greater expressiveness.
Henson honed Kermit's expressions by placing live feed monitors on the floor so he and his puppeteer bride-to-be Jane, could see the puppets from the audience perspective.
Unlike previously televised puppet performances, which preserved the existing prosceniums of the theaters to which the players had always been confined, Henson considered the TV set frame enough. Liberating the puppets thusly gave more of a sketch comedy feel to the proceedings, something that would carry over to Sesame Street and later, The Muppet Show.
By the 12th episode, Kermit has found a niche as wry straight man for wackier characters like jazz aficionado Harry the Hipster who introduced an element of musical notation to the animated letters and numbers that would become a Sesame Street staple.
And surely we're not the only ones who think the Muppets' recent appearance in a Super Bowl ad pales in comparison to Kermit and Harry's live commercial for Sam and Friends' sponsor, a regional brand of bacon and lunch meat.
Sam and Friends ran from 1955 to 1961, but Kermit's first performance on The Tonight Show in 1956, lip syncing to Rosemary Clooney's recording of "I've Grown Accustomed to Your Face" and mugging in a blonde braided wig, hinted that he and Henson would soon outgrow the local television pond.
Related Content: 
Jim Henson Creates an Experimental Animation Explaining How We Get Ideas (1966)
The Creative Life of Jim Henson Explored in a Six-Part Documentary Series
Watch The Surreal 1960s Films and Commercials of Jim Henson
Jim Henson Teaches You How to Make Puppets in Vintage Primer From 1969
Ayun Halliday is an author, illustrator, theater maker and Chief Primatologist of the East Village Inky zine, current issue #63. Follow her @AyunHalliday.