Long before "green" became syn­ony­mous with eco-friend­ly prod­ucts and pro­duc­tion, an 18-year-old Jim Hen­son cre­at­ed a pup­pet who would go on to become the color's most cel­e­brat­ed face from his mother's cast-off green felt coat and a sin­gle ping pong ball.
Ker­mit debuted in black and white in the spring of 1955 as an ensem­ble mem­ber of Sam and Friends, a live tele­vi­sion show com­prised of five-minute episodes that the tal­ent­ed Hen­son had been tapped to write and per­form, fol­low­ing some ear­li­er suc­cess as a teen pup­peteer.
Air­ing on the Wash­ing­ton DC-area NBC affil­i­ate between the evening news and The Tonight Show, Sam and Friends was an imme­di­ate hit with view­ers, even if they ranked Ker­mit, orig­i­nal­ly more lizard than frog, fourth in terms of pop­u­lar­i­ty. (Top spot went to a skull pup­pet named Yorick.)
Watch­ing the sur­viv­ing clips of Sam and Friends, it's easy to catch glimpses of where both Ker­mit and Hen­son were head­ed.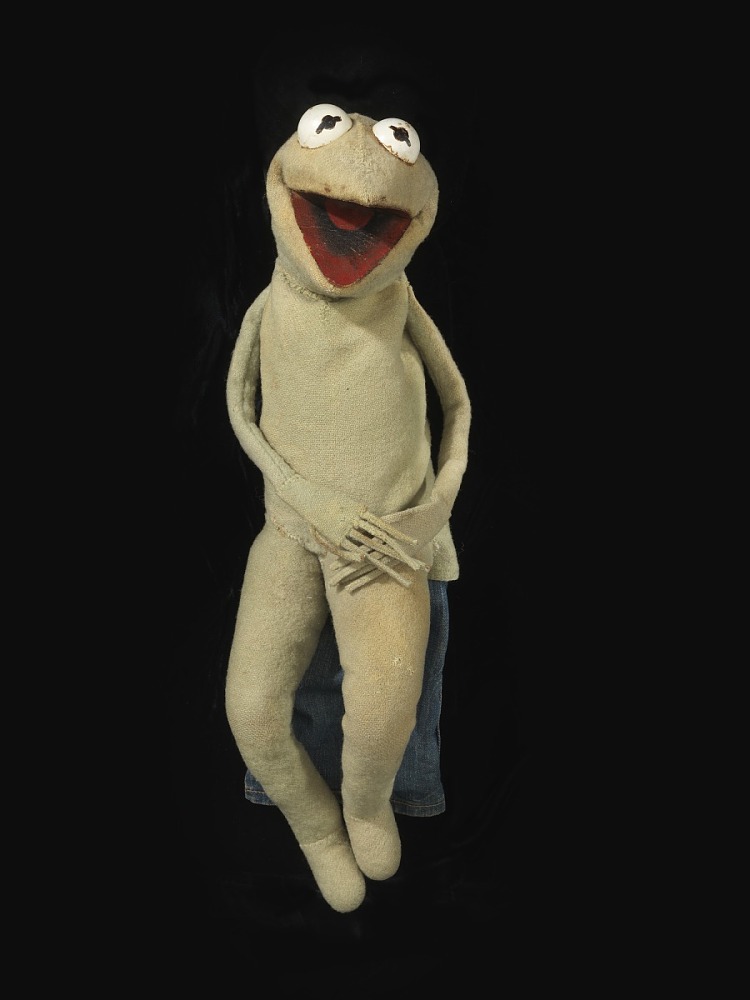 While Hen­son voiced Sam and all of his pup­pet friends, Ker­mit wound up sound­ing the clos­est to Hen­son him­self.
Kermit's sig­na­ture face-crum­pling reac­tions were by design. Where­as oth­er pup­pets of the peri­od, like the tit­u­lar Sam, had stiff heads with the occa­sion­al mov­ing jaw, Kermit's was as soft as a foot­less sock, allow­ing for far greater expres­sive­ness.
Hen­son honed Kermit's expres­sions by plac­ing live feed mon­i­tors on the floor so he and his pup­peteer bride-to-be Jane, could see the pup­pets from the audi­ence per­spec­tive.
Unlike pre­vi­ous­ly tele­vised pup­pet per­for­mances, which pre­served the exist­ing prosce­ni­ums of the the­aters to which the play­ers had always been con­fined, Hen­son con­sid­ered the TV set frame enough. Lib­er­at­ing the pup­pets thus­ly gave more of a sketch com­e­dy feel to the pro­ceed­ings, some­thing that would car­ry over to Sesame Street and lat­er, The Mup­pet Show.
By the 12th episode, Ker­mit has found a niche as wry straight man for wack­i­er char­ac­ters like jazz afi­ciona­do Har­ry the Hip­ster who intro­duced an ele­ment of musi­cal nota­tion to the ani­mat­ed let­ters and num­bers that would become a Sesame Street sta­ple.
And sure­ly we're not the only ones who think the Mup­pets' recent appear­ance in a Super Bowl ad pales in com­par­i­son to Ker­mit and Harry's live com­mer­cial for Sam and Friends' spon­sor, a region­al brand of bacon and lunch meat.
Sam and Friends ran from 1955 to 1961, but Kermit's first per­for­mance on The Tonight Show in 1956, lip sync­ing to Rose­mary Clooney's record­ing of "I've Grown Accus­tomed to Your Face" and mug­ging in a blonde braid­ed wig, hint­ed that he and Hen­son would soon out­grow the local tele­vi­sion pond.
Relat­ed Con­tent:
Jim Hen­son Cre­ates an Exper­i­men­tal Ani­ma­tion Explain­ing How We Get Ideas (1966)
The Cre­ative Life of Jim Hen­son Explored in a Six-Part Doc­u­men­tary Series
Watch The Sur­re­al 1960s Films and Com­mer­cials of Jim Hen­son
Jim Hen­son Teach­es You How to Make Pup­pets in Vin­tage Primer From 1969
Ayun Hal­l­i­day is an author, illus­tra­tor, the­ater mak­er and Chief Pri­ma­tol­o­gist of the East Vil­lage Inky zine, cur­rent issue #63. Fol­low her @AyunHalliday.