What do ideas look like?
Jim Henson's looked very much like a Mup­pet nose, as evi­denced by "The Idea Man," a 1966 three-minute ani­ma­tion, above.
The film was orig­i­nal­ly intend­ed to be part of a live mul­ti­me­dia per­for­mance on The Mike Dou­glas Show. The real star of that seg­ment was Lim­bo, an abstract Mup­pet, whose phys­i­cal man­i­fes­ta­tion was but a dis­em­bod­ied mouth and a pair of eyes, oper­at­ed by two pup­peteers.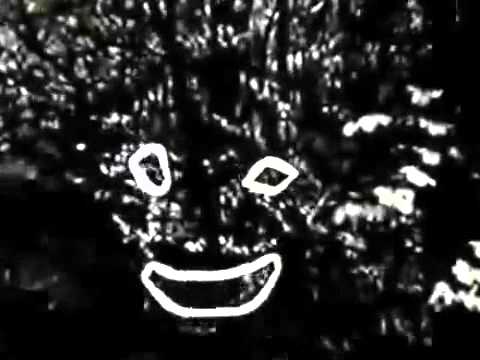 Hen­son favored the bod­i­less Lim­bo (who even­tu­al­ly mor­phed in Sesame Street's Nobody) as a deliv­ery mech­a­nism for some of his more pro­found mus­ings.
His vocal char­ac­ter­i­za­tion imbued Lim­bo with a fair­ly Eey­ore-ish out­look, though occa­sion­al­ly one catch­es an echo of Henson's most famous cre­ation—Ker­mit the Frog, mak­ing a brief, unbilled appear­ance, here, along with John F. Kennedy, Mad mag­a­zine's Alfred E. Neu­man, and Kuk­la of Kuk­la, Fran and Ollie.
Lim­bo, now just a dis­em­bod­ied voice as far as you and I are con­cerned, bemoans that all the real­ly good ideas have already been taken—the safe­ty pin, tele­vi­sion, Atom­ic ener­gy…
Even­tu­al­ly, though, he suc­cumbs to the sort of excit­ed curios­i­ty that fired his cre­ator, con­ced­ing the pos­si­bil­i­ty of one "glo­ri­ous­ly mar­velous, great big beau­ti­ful idea," visu­al­ized as the sort of gid­dy, col­lage pile-up beloved by Ter­ry Gilliam.
Watch more of Henson's exper­i­men­tal short films here.
"The Idea Man" will be added to the Ani­ma­tion sec­tion of our col­lec­tion, 4,000+ Free Movies Online: Great Clas­sics, Indies, Noir, West­erns, Doc­u­men­taries & More.
Relat­ed Con­tent:
Watch The Sur­re­al 1960s Films and Com­mer­cials of Jim Hen­son
Jim Henson's Vio­lent Wilkins Cof­fee Com­mer­cials (1957–1961)
A Young Jim Hen­son Teach­es You How to Make Pup­pets with Socks, Ten­nis Balls & Oth­er House­hold Goods (1969)
Ayun Hal­l­i­day is an author, illus­tra­tor, the­ater mak­er and Chief Pri­ma­tol­o­gist of the East Vil­lage Inky zine. Her play Zam­boni Godot is open­ing in New York City in March 2017. Fol­low her @AyunHalliday.