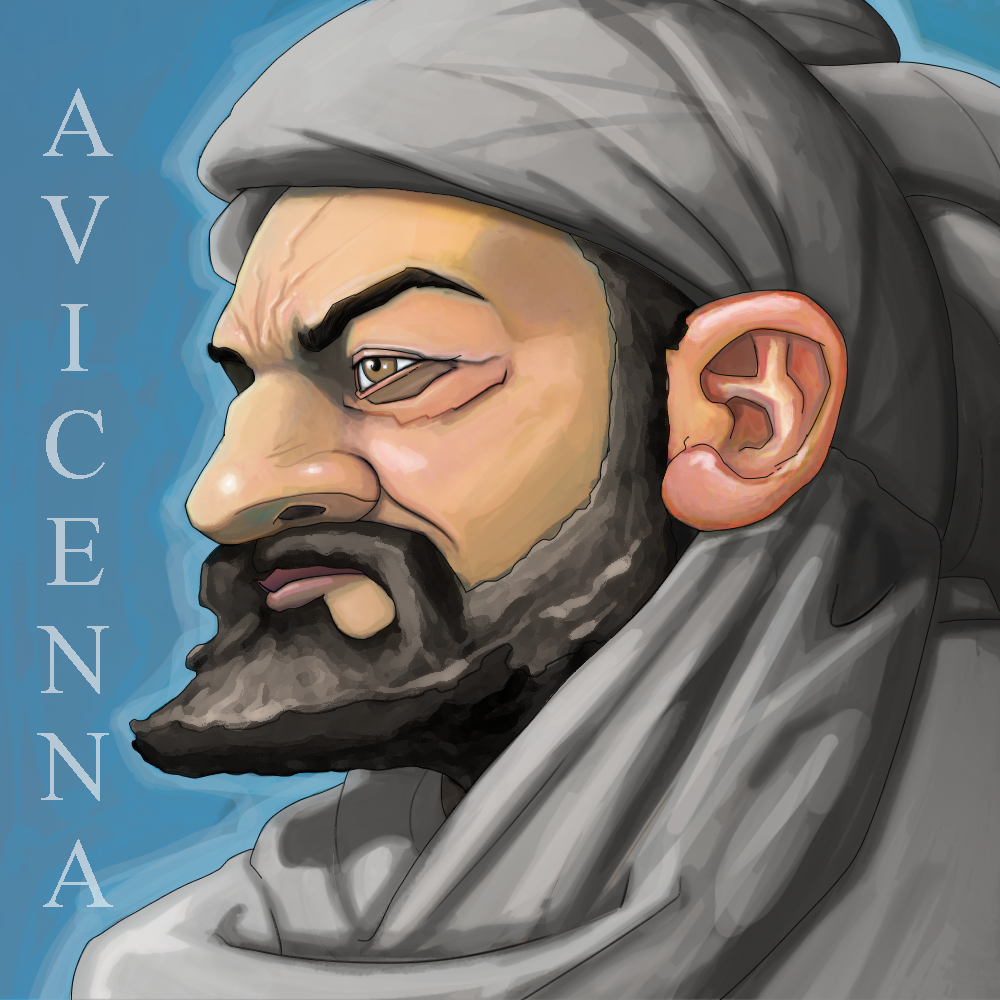 Most American students in philosophy live on a diet of ancient Greek philosophy on the one hand, and then "modern" philosophy, which starts around the time of Descartes (the 17th century), with numerous schools and approaches spilling into the present day. If you get anything from between those ancient days and modernity, it's probably some churchmen, i.e. Augustine (from the 4th century) and Thomas Aquinas (the 13th century), with perhaps a few Romans thrown in there and (if you're Jewish) Maimonides (12th century).
But a key part of this lineage was the Eastward turn that the great works of Greek and Roman philosophy took during the so-called Dark Ages, when they were preserved and copied in the Islamic world, and this period produced a wealth of philosophy including two figures who became influential enough in the West that their names were Latinized: Ibn Sīnā (980-1037 C.E.) and Ibn Rushd, a.k.a. Averroes (1126-1198). Aquinas was very familiar with these figures and incorporated them into his influential works, and in the case of Ibn Sina, at least, important figures like John Locke had definitely known at least about his views, if not his actual works.
On the Partially Examined Life Philosophy Podcast, which has been going for 13 years now, we range widely over the history of philosophy but had not actually cracked the Islamic world. Luckily, Ibn Sīnā is one of the favorite philosophers of one of our favorite guests, Peter Adamson of King's College London. Peter runs his own podcast, The History of Philosophy (Without Any Gaps), which as the name implies, covers Medieval philosophy with admirable thoroughness, covering not only Ibn Sīnā and Ibn Rushd, but also figures like al-Rāzī, al-Fārābī, Al-Ghazālī, and many others.
Peter was good enough to recommend some readings to introduce us and our listeners to this figure, some of which he actually wrote. Because of the volume, redundancy, and style of Ibn Sīnā's writings, some sort of guide to collect and to some degree explain passages is essential for getting a handle on this idiosyncratic and brilliant thinker. He wrote at least three different versions of his all-encompassing system, which was influenced by and meant to supplant Aristotle's. In addition to philosophical/theological topics, it included mathematics, science, psychology, and more. So instead of trying to read a whole work covering all that, it makes more sense to pick individual topics and then look at the various formulations he gave about these.
Our two topics for this discussion were a peculiar argument for the existence of God — with important implications for talking about metaphysics more generally — and an argument for the immateriality of the soul, which likewise tells us a lot about the way that Ibn Sīnā thought about knowledge and its relation to the world.
The argument for the existence of God was later called by Thomas Aquinas "the argument from contingency." It posits that things in the world don't simply exist, but that they require something else to support their existence. This isn't a cause is the chronological sense that we talk about it: a prior event that gave rise to the thing. Rather, the material components of something in a certain arrangement make it continue to exist as that thing right now; for example, a house exists because its component wood parts exist, with nails and such holding them in place. And the wood in turn has its character because of its physical/chemical components, etc. If these component causes weren't in place, the thing would not exist; the thing is thus "contingent," meaning it might well not have existed were it not for those causes.
This picture of the universe thus includes a giant network of causality, but does that network itself rest on anything? According to Ibn Sīnā, there must be something that is not contingent that holds everything else up. But is this thing God (in the sense that a good Muslim of his time would recognize it)? Ibn Sīnā then has a long series of arguments to show one by one that just by being "the necessary being," this entity also must be unique, must be all-powerful, generous, and all the other things one would expect God to be.
The argument for the immortality of the soul is perhaps Ibn Sīnā's most famous argument, often called the flying or floating man argument. It's a thought experiment whereby you imagine you've just been created, but fully mature, so you can think, but with no memory, and your senses are inoperable. You can't even feel gravity or the ground under your feet (thus the "flying" part). According to Ibn Sīnā, you would still in such a situation know that you exist. Since your apprehension of self did not include any part of your body (you couldn't feel your body at all), that is supposed to prove that your body is not an essential part of what you are.
Ibn Sīnā thought this argument definitive because of his theory of knowledge by which if you know anything at all, then you know about the essential components of that thing. If you know what a triangle is, you know that it's an abstract geometrical figure with three straight sides. If you know what a horse is, you know that it's a biological animal with a particular character that you can identify. And to know what you are essentially, you only need know that feeling of your own mind; anything else about that mind being associated with a particular body that lives in a particular part of the world and is just knowledge of contingent, relational facts about yourself.
PEL hosts Mark Linsenmayer and Dylan Casey grapple in detail with Peter about these arguments, both on this recording and on a second part of the discussion for those that want to hear more. To read more about these arguments and get the citations to the texts we read for this discussion, see the essay for this episode at partiallyexaminedlife.com. The History of Philosophy podcast also features four monologues and an interview about Ibn Sīnā. Don't let this gap in your knowledge of major figures in intellectual history remain unfilled!
Mark Linsenmayer is the host of the Partially Examined Life, Pretty Much Pop, and Nakedly Examined Music podcasts. He is a writer and musician working out of Madison, Wisconsin. Read more Open Culture posts about The Partially Examined Life.
Image by Solomon Grundy.