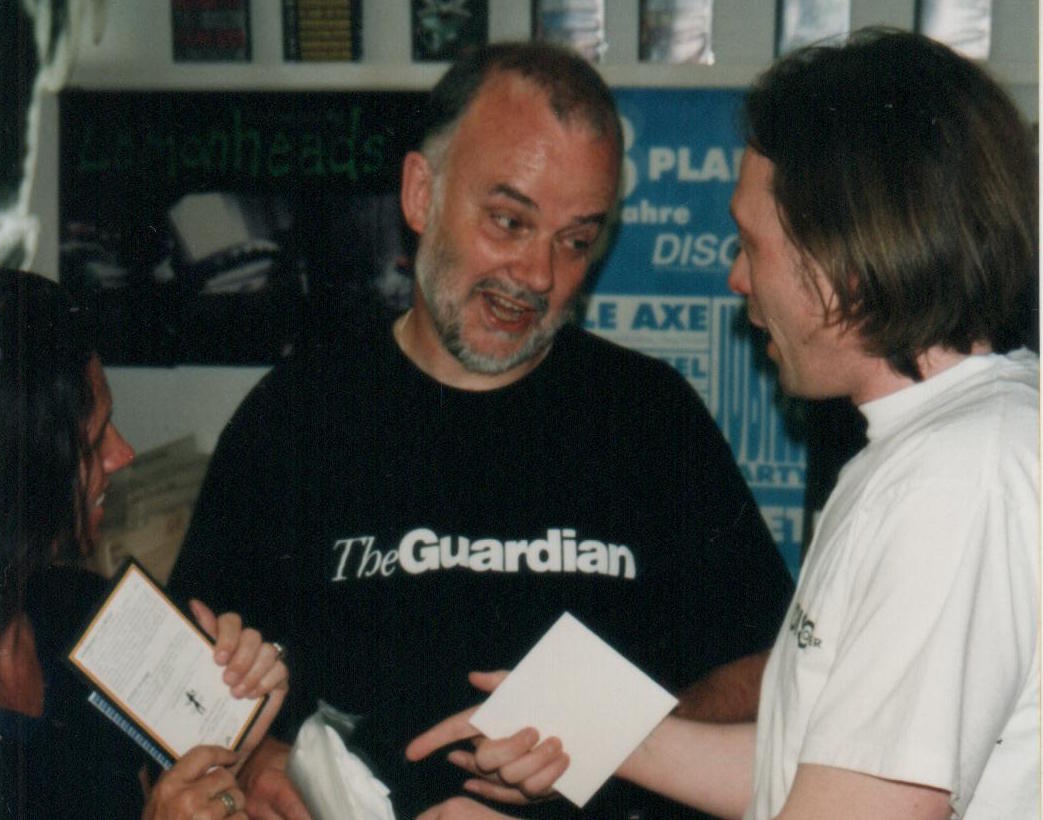 Image by Zetkin, via Wikimedia Commons
Before there were influencers, there was John Peel. The BBC radio DJ and journeyman music writer's tastes helped define listening habits for generations — from his early championing of Pink Floyd and Captain Beefheart to his early championing of The Smiths and Nirvana, to… well, most everything he played, wrote about and recorded in his legendary John Peel sessions from the 1960s until his death in 2004.
For someone with such influence, Peel had a singularly humble attitude about his own importance and that of music tastemakers generally. In a 1970 interview for Radio Times, "Peel plays down the role of DJs as celebrities," notes the John Peel Wiki, "and is quoted as saying among other things, 'Some disc jockeys don't realise the essential insignificance of their role.'"
His was an attitude shared by few in the music business. One person who comes to mind, producer and musician Steve Albini — an early champion of too many bands to name — likes to similarly exempt himself from the process, treating his opinions about music as incidental to the vital experience of making music itself. In an interview the year after Peel's death, Albini ruminated on this quality in Peel:
Before he died, John Peel said something that I thought was really profound. He said when he gets a record from somebody and he doesn't like it, he assumes that it's his problem and that the band would not have made that record if there wasn't something valuable about it.
Of course, John Peel had his opinions about music — once saying in 1978, for example, that he wished the Rolling Stones had broken up in 1965. He even had his opinions about Steve Albini, whose brutal three-piece 80s band Big Black ranked at number 15 for their Songs About Fuc&ing on a list Peel made of his 20 favorite albums. The list, below, should be read with all kinds of caveats.
In no way would Peel ever assert that these 20 records are the "20 best" of anything. These are the albums that rose to the top for him, for reasons he declined to specify, at a particular point in time 1997 when The Guardian asked him for his opinion. Peel himself found these exercises "terribly self-indulgent" notes Jon Dennis in brief commentary on each album on the list. Narrowing down one's favorites was a particularly painful experience for someone who listened to so much music, and Peel didn't value his own tastes over those of his listeners.
For example, in his "Festive 50," a fifty-song roundup of his listeners' top three songs of the year each Christmas, Peel resisted the urge to insert his picks and counterbalance what he saw as an overabundance of "white boys with guitars." (Peel was a big promoter of reggae bands like Misty in Roots, who come in at number 5 below, as well as various other world musics on his radio show.) He admitted that coming up with his three top songs in any given year was close to impossible: "I couldn't get any fewer than a list of 250."
1. Captain Beefheart & The Magic Band: Trout Mask Replica (1969)
2. Velvet Underground: The Velvet Underground and Nico (1967)
3. Ramones: The Ramones (1976)
4. Pulp: Different Class (1995)
5. Misty In Roots: Live At Counter Eurovision 79 (1979)
6. Nirvana: Nevermind (1991)
7. Smiths: The Smiths (1984)
8. Neil Young: Arc Weld (1991)
9. Jimi Hendrix Experience: Are You Experienced? (1967)
10. Wawali Bonané: Enzenzé
11. Pink Floyd: Piper At The Gates Of Dawn (1967)
12. Dreadzone: Second Light (1995)
13. Four Brothers: Makorokoto (1988)
14. Dave Clarke: Dave Archive One (1996)
15. Big Black: Songs About Fucking (1987)
16. PJ Harvey: Dry (1992)
17. Richard & Linda Thompson: I Want to See the Bright Lights Tonight (1974)
18. Elastica: Elastica (1995)
19. Hole: Live Through This (1994)
20. Rolling Stones: The Rolling Stones (1964)
Related Content:
An Archive of 1,000 "Peel Sessions" Available Online: Hear David Bowie, Bob Marley, Elvis Costello & Others Play in the Studio of Legendary BBC DJ John Peel
Hear a 9-Hour Tribute to John Peel: A Collection of His Best "Peel Sessions"
Stream 935 Songs That Appeared in "The John Peel Festive 50" from 1976 to 2004: The Best Songs of the Year, as Selected by the Beloved DJ's Listeners
Josh Jones is a writer and musician based in Durham, NC. Follow him at @jdmagness