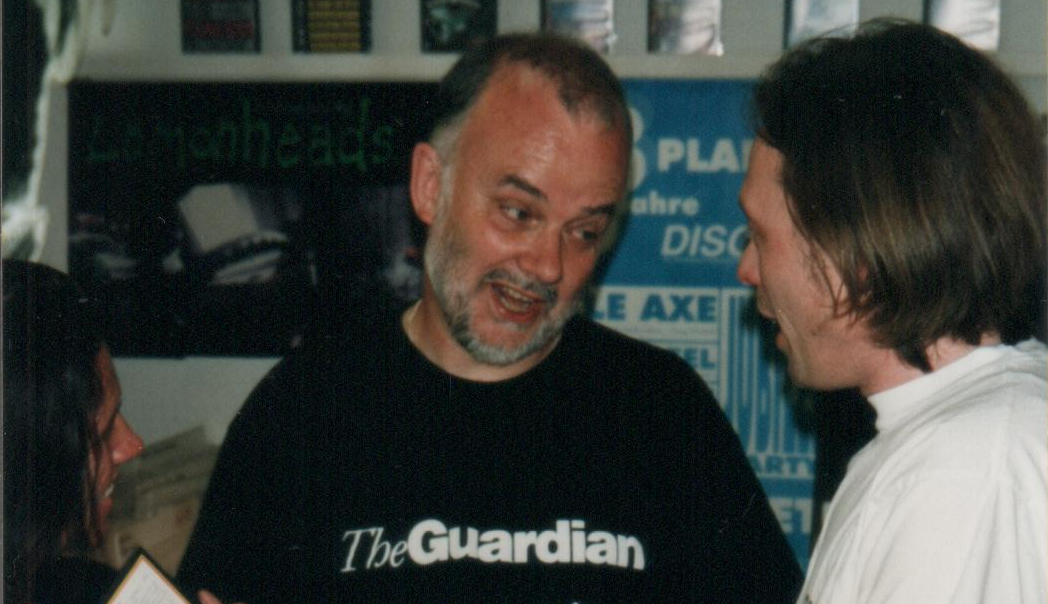 Image by Zetkin, via Wikimedia Commons
We've devoted space here before to legendary BBC DJ John Peel's musical legacy, from his formidable record collection to his many hours of "Peel Sessions," the recordings he made in BBC studios of artists like David Bowie, Joy Division, The Smiths, The Specials, Siouxsie and the Banshees and so, so many more–usually when they were on the cusp of superstardom or enduring cult status. It was Peel's particular talent for discovering and promoting such artists that set him apart from his peers. Rather than riding the cultural wave of the moment, he listened at the margins, cultivating and curating what he heard. Whether punk, glam, new wave, hardcore, ska, techno, or industrial, it seems John Peel got there first, and the rest of the industry followed after him.
Peel did not approach his role in a critical vein—sitting in judgment of the music around him. He approached it as an enthusiastic and obsessive fan, which explains much of his appeal to the listeners who loved his broadcasts. He honored those listeners each year by compiling a list of their favorites in what he called "The John Peel Festive 50." This end-of-the-year event "became a Christmas institution, writes the BBC, "more loved than fairy lights and Christmas crackers."
Listeners of Peel's show voted for their three favorite tracks in November. The following month, the highest-ranked "Festive 50" were all played on the air. He described the process as a truly democratic, crowdsourced endeavor, as we would say today.
It's really just me marking every single vote down in a ledger. There is obviously the temptation to slip something in that I like, especially if it's just outside the 50, and something crap has gone above it. But I have a very workman-like brain so it just wouldn't be on to fix it.
Peel "wasn't always happy with what the listeners voted for," often feeling "there were too many 'white boys with guitars' making an appearance." The predictability of several of the lists irked him, and seemed to work against the spirit of his mission to tirelessly promote adventurous, experimental music. Peel may have been popular, but in matters of taste, he was no populist. For the most part, however, he remained faithful to the fans' picks, and noted that he never would have been able to choose the top three songs of the year himself: "I couldn't get any fewer than a list of 250."
The tradition, with a few hiccups, continued from its inception in 1976 till Peel's death in 2004, and the massive Spotify playlist above aggregates the hundreds of those picks—932 songs, to be exact, over 70 hours of music. From Dylan, Clapton, and the Stones to Neko Case—and along the way, no shortage of tracks from the punk and post-punk artists most closely associated with Peel's show. While the listener's picks do fall heavily into the "white boys with guitars" category, there's plenty more besides, including early tracks from Eric B. & Rakim, P.J. Harvey, Stereolab, 10,000 Maniacs, Cocteau Twins, and many more. You can explore the tracks in Peel's "Festive 50" lists here. They're sorted by decade: 1970s – 1980s – 1990s – 2000s.
Note: Here's a direct link to the Spotify playlist, and if you need Spotify's software, download it here.
Related Content:
Stream 15 Hours of the John Peel Sessions: 255 Tracks by Syd Barrett, David Bowie, Siouxsie and the Banshees & Other Artists
Hear a 9-Hour Tribute to John Peel: A Collection of His Best "Peel Sessions"
Revisit the Radio Sessions and Record Collection of Groundbreaking BBC DJ John Peel
Josh Jones is a writer and musician based in Durham, NC. Follow him at @jdmagness