Ani­ta Berber, the taboo-bust­ing, sex­u­al­ly omniv­o­rous, fash­ion for­ward, fre­quent­ly naked star of the Weimar Repub­lic cabaret scene, tops our list of per­form­ers we real­ly wish we'd been able to see live.
While Berber act­ed in 27 films, includ­ing Pros­ti­tu­tion, direc­tor Fritz Lang's Dr. Mabuse: The Gam­bler, and Dif­fer­ent from the Oth­ers, which film crit­ic Den­nis Har­vey describes as "the first movie to por­tray homo­sex­u­al char­ac­ters beyond the usu­al innu­en­do and ridicule," we have a strong hunch that none of these appear­ances can com­pete with the sheer audac­i­ty of her stage work.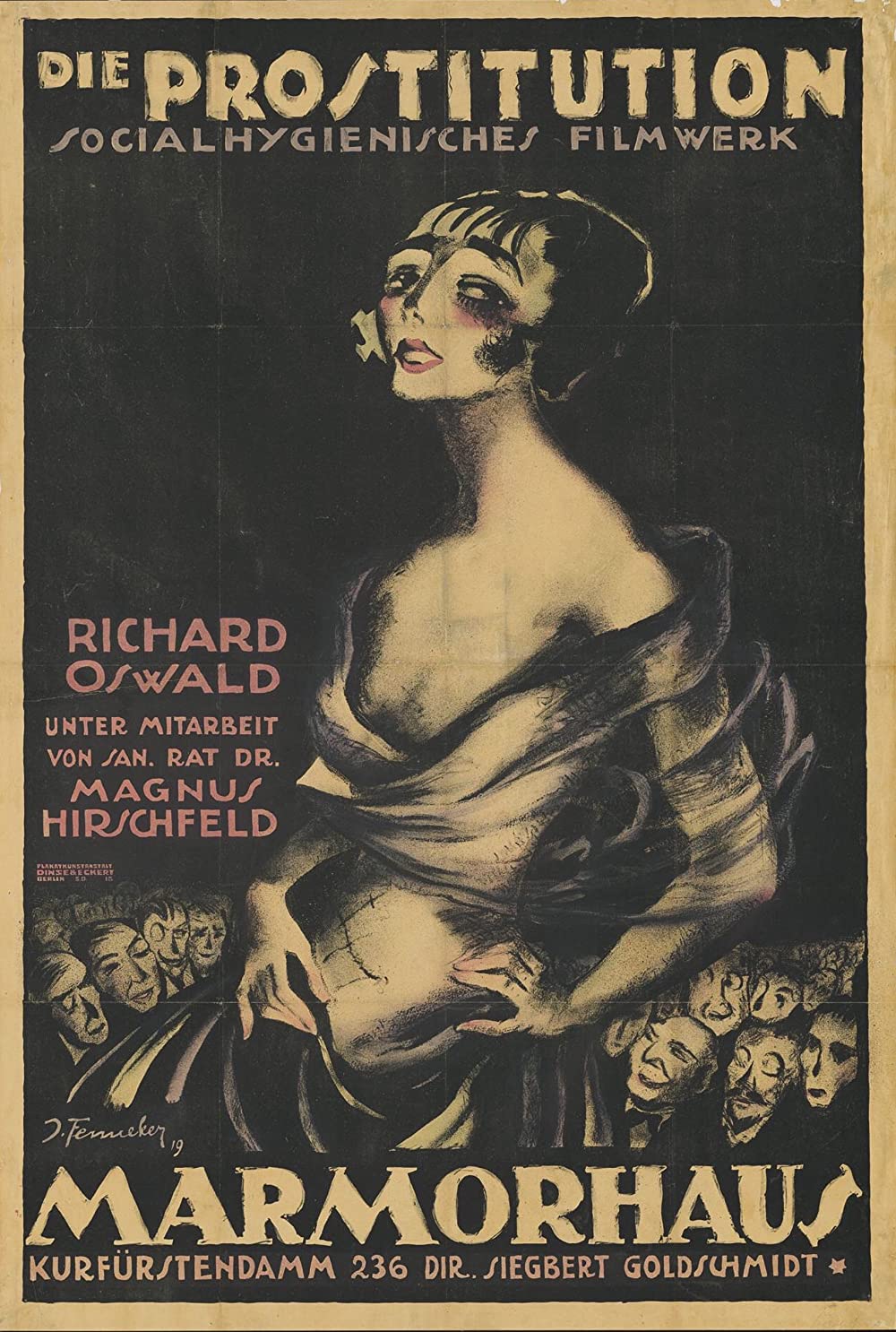 Audi­ences at Berlin's White Mouse cabaret (some wear­ing black or white masks to con­ceal their iden­ti­ties) were tit­il­lat­ed by her Expres­sion­is­tic nude solo chore­og­ra­phy, as well as the troupe of six teenaged dancers under her com­mand.
As biog­ra­ph­er Mel Gor­don writes in The Sev­en Addic­tions and Five Pro­fes­sions of Ani­ta Berber: Weimar Berlin's Priest­ess of Deprav­i­ty, Berber, often described as a "strip­per", dis­played the pas­sion of a seri­ous artist, "respond(ing) to the audience's heck­ling with show-stop­ping obscen­i­ties and inde­cent provo­ca­tions:"
Berber had been known to spit brandy on them or stand naked on their tables, dous­ing her­self in wine whilst simul­ta­ne­ous­ly uri­nat­ing… It was not long before the entire cabaret one night sank into a groundswell of shout­ing, screams and laugh­ter. Ani­ta jumped off the stage in fum­ing rage, grabbed the near­est cham­pagne bot­tle and smashed it over a businessman's head.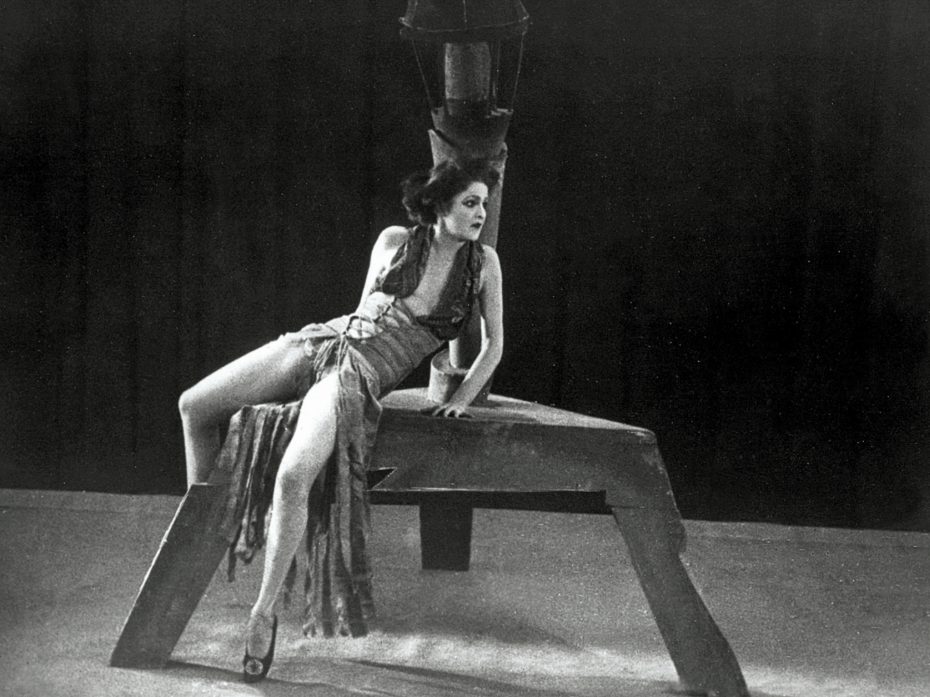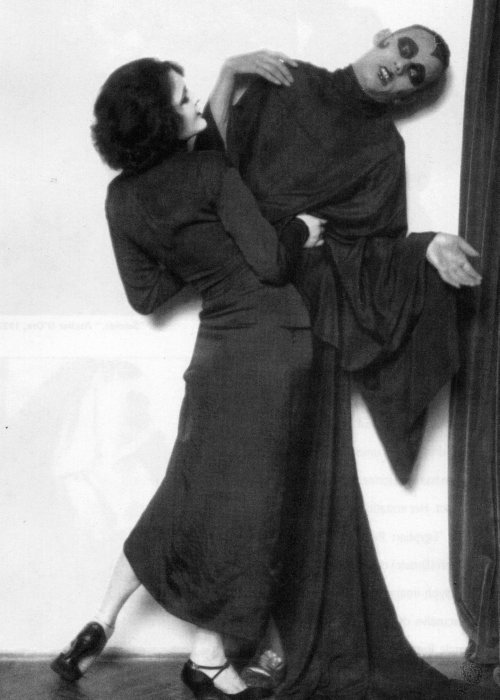 Her col­lab­o­ra­tions with her sec­ond hus­band, dancer Sebas­t­ian Droste, car­ried Berber into increas­ing­ly trans­gres­sive ter­ri­to­ry, both onstage and off.
Accord­ing to trans­la­tor Mer­rill Cole, in the intro­duc­tion to the 2012 reis­sue of Dances of Vice, Hor­ror and Ecsta­sy, a book of Expres­sion­ist poems, essays, pho­tographs, and stage designs which Droste and Berber co-authored, "even the bio­graph­i­cal details seduce:"
…a bisex­u­al some­times-pros­ti­tute and a shady fig­ure from the male homo­sex­u­al under­world, unit­ed in addic­tion to cocaine and dis­dain for bour­geois respectabil­i­ty, both high­ly tal­ent­ed, Expres­sion­ist-trained dancers, both beau­ti­ful exhi­bi­tion­ists, set out to pro­vide the Baby­lon on the Spree with the ulti­mate expe­ri­ence of deprav­i­ty, using an art form they had helped to invent for this pur­pose. Their brief mar­riage and artis­tic inter­ac­tion end­ed when Droste became des­per­ate for drugs and abscond­ed with Berber's jew­el col­lec­tion.
This, and the descrip­tion of Berber's pen­chant for "haunt(ing) Weimar Berlin's hotel lob­bies, night­clubs and casi­nos, radi­ant­ly naked except for an ele­gant sable wrap, a pet mon­key hang­ing from her neck, and a sil­ver brooch packed with cocaine," do a far more evoca­tive job of res­ur­rect­ing Berber, the Weimar sen­sa­tion, than any wordy, blow-by-blow attempt to recre­ate her shock­ing per­for­mances, though we can't fault author Karl Toepfer, Pro­fes­sor Emer­i­tus of The­ater Arts at San Jose State Uni­ver­si­ty, for try­ing.
In Empire of Ecsta­sy: Nudi­ty and Move­ment in Ger­man Body Cul­ture, 1910–1935, Toepfer draws heav­i­ly on Czech chore­o­g­ra­ph­er Joe Jenčík's eye­wit­ness obser­va­tions, to recon­struct Berber's most noto­ri­ous dance, Cocaine, begin­ning with the "omi­nous scenery by Har­ry Täu­ber fea­tur­ing a tall lamp on a low, cloth-cov­ered table:"
This lamp was an expres­sion­ist sculp­ture with an ambigu­ous form that one could read as a sign of the phal­lus, an abstrac­tion of the female dancer's body, or a mon­u­men­tal image of a syringe, for a long, shiny nee­dle pro­trud­ed from the top of it…It is not clear how nude Berber was when she per­formed the dance. Jenčík, writ­ing in 1929, flat­ly stat­ed that she was nude, but the famous Vien­nese pho­tog­ra­ph­er Madame D'O­ra (Dora Kalmus) took a pic­ture enti­tled "Kokain" in which Berber appears in a long black dress that expos­es her breasts and whose lac­ing, up the front, reveals her flesh to below her navel.
In any case, accord­ing to Jenčík, she dis­played "a sim­ple tech­nique of nat­ur­al steps and unforced pos­es." But though the tech­nique was sim­ple, the dance itself, one of Berber's most suc­cess­ful cre­ations, was appar­ent­ly quite com­plex. Ris­ing from an ini­tial con­di­tion of paral­y­sis on the floor (or pos­si­bly from the table, as indi­cat­ed by Täu­ber's sceno­graph­ic notes), she adopt­ed a pri­mal move­ment involv­ing a slow, sculp­tured turn­ing of her body, a kind of slow-motion effect. The turn­ing rep­re­sent­ed the unrav­el­ing of a "knot of flesh." But as the body uncoiled, it con­vulsed into "sep­a­rate parts," pro­duc­ing a vari­ety of rhythms with­in itself. Berber used all parts of her body to con­struct a "trag­ic" con­flict between the healthy body and the poi­soned body: she made dis­tinct rhythms out of the move­ment of her mus­cles; she used "unex­pect­ed counter-move­ments" of her head to cre­ate an anguished sense of bal­ance; her "porce­lain-col­ored arms" made hyp­not­ic, pen­du­lum­like move­ments, like a mar­i­onet­te's; with­in the pri­mal turn­ing of her body, there appeared con­tra­dic­to­ry turns of her wrists, tor­so, ankles; the rhythm of her breath­ing fluc­tu­at­ed with dra­mat­ic effect; her intense dark eyes fol­lowed yet anoth­er, slow­er rhythm; and she intro­duced the "most refined nuances of agili­ty" in mak­ing spasms of sen­sa­tion rip­ple through her fin­gers, nos­trils, and lips. Yet, despite all this com­plex­i­ty, she was not afraid of seem­ing "ridicu­lous" or "painful­ly swollen." The dance con­clud­ed when the con­vulsed dancer attempt­ed to cry out (with the "blood-red open­ing of the mouth") and could not. The dancer then hurled her­self to the floor and assumed a pose of motion­less, drugged sleep. Berber's dance dra­ma­tized the intense ambi­gu­i­ty involved in link­ing the ecsta­t­ic lib­er­a­tion of the body to nudi­ty and rhyth­mic con­scious­ness. The dance tied ecsta­t­ic expe­ri­ence to an encounter with vice (addic­tion) and hor­ror (acute aware­ness of death).
A noble attempt, but for­give us if we can't quite pic­ture it…
And what lit­tle evi­dence has been pre­served of her screen appear­ances exists at a sim­i­lar remove from the dark sub­ject mat­ter she explic­it­ly ref­er­enced in her chore­o­graphed work — Mor­phine, Sui­cide, The Corpse on the Dis­sect­ing Table…
Cole opines:
There are a num­ber of nar­ra­tive accounts of her dances, some pinned by pro­fes­sion­al crit­ics, and almost all com­mend­ing her tal­ent, finesse, and mes­mer­iz­ing stage pres­ence. We also have film images from the var­i­ous silent films in which she played bit parts. There exist, too, many still pho­tographs of Berber and Droste, as well as ren­di­tions of Berber by oth­er artists, most promi­nent­ly the Dadaist Otto Dix's famous scar­let-sat­u­rat­ed por­trait. In regard to the naked dances, unfor­tu­nate­ly, we have no mov­ing images, no way to watch direct­ly how they were per­formed.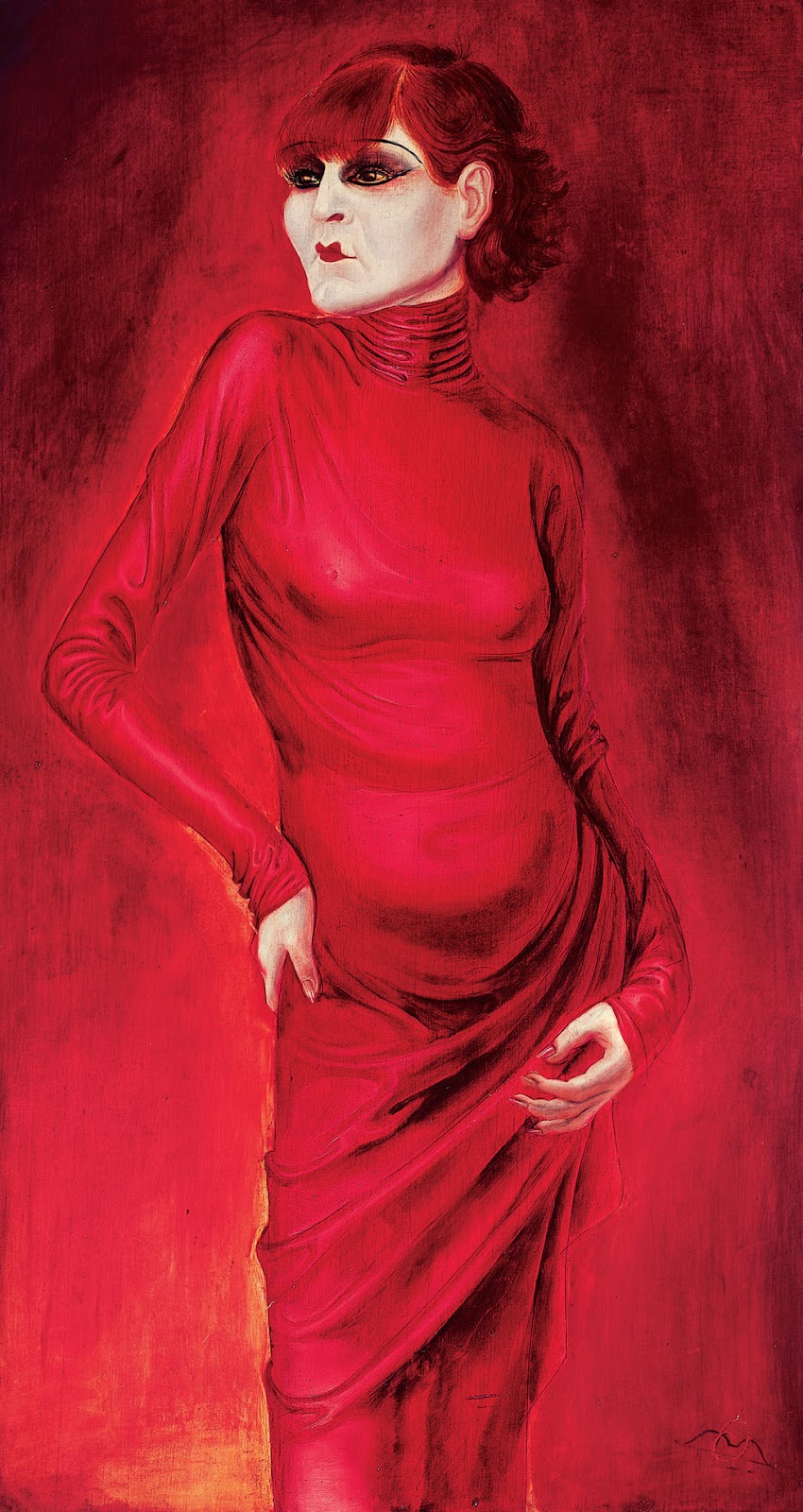 For a dishy overview of Ani­ta Berber's per­son­al life, includ­ing her alleged dal­liances with actress Mar­lene Diet­rich, author Lawrence Dur­rell, and the King of Yugoslavia, her influ­en­tial effect on direc­tor Leni Riefen­stahl, and her sad demise at the age of 29, a "car­rion soul that even the hye­nas ignored," take a peek at Vic­to­ria Linchong's bio­graph­i­cal essay for Messy Nessy Chic, or bet­ter yet, Iron Spike's Twit­ter thread.
Berber was addict­ed to alco­hol, cocaine, opi­um, and mor­phine. But one of her favorite drugs was chlo­ro­form and ether, mixed in a bowl. She would stir the bowl with the bloom of a white rose, and then eat the petals.

Have you ever heard any­thing so extra in your ENTIRE LIFE. pic.twitter.com/sh9xL3it0E

— Iron Spike (@Iron_Spike) Jan­u­ary 11, 2020
- Ayun Hal­l­i­day is the Chief Pri­ma­tol­o­gist of the East Vil­lage Inky zine and author, most recent­ly, of Cre­ative, Not Famous: The Small Pota­to Man­i­festo. Fol­low her @AyunHalliday.
Relat­ed Con­tent
Expe­ri­ence Footage of Roar­ing 1920s Berlin, Restored & Col­orized with Arti­fi­cial Intel­li­gence
The Nazis' 10 Con­trol-Freak Rules for Jazz Per­form­ers: A Strange List from World War II
Down­load Hun­dreds of Issues of Jugend, Germany's Pio­neer­ing Art Nou­veau Mag­a­zine (1896–1940)