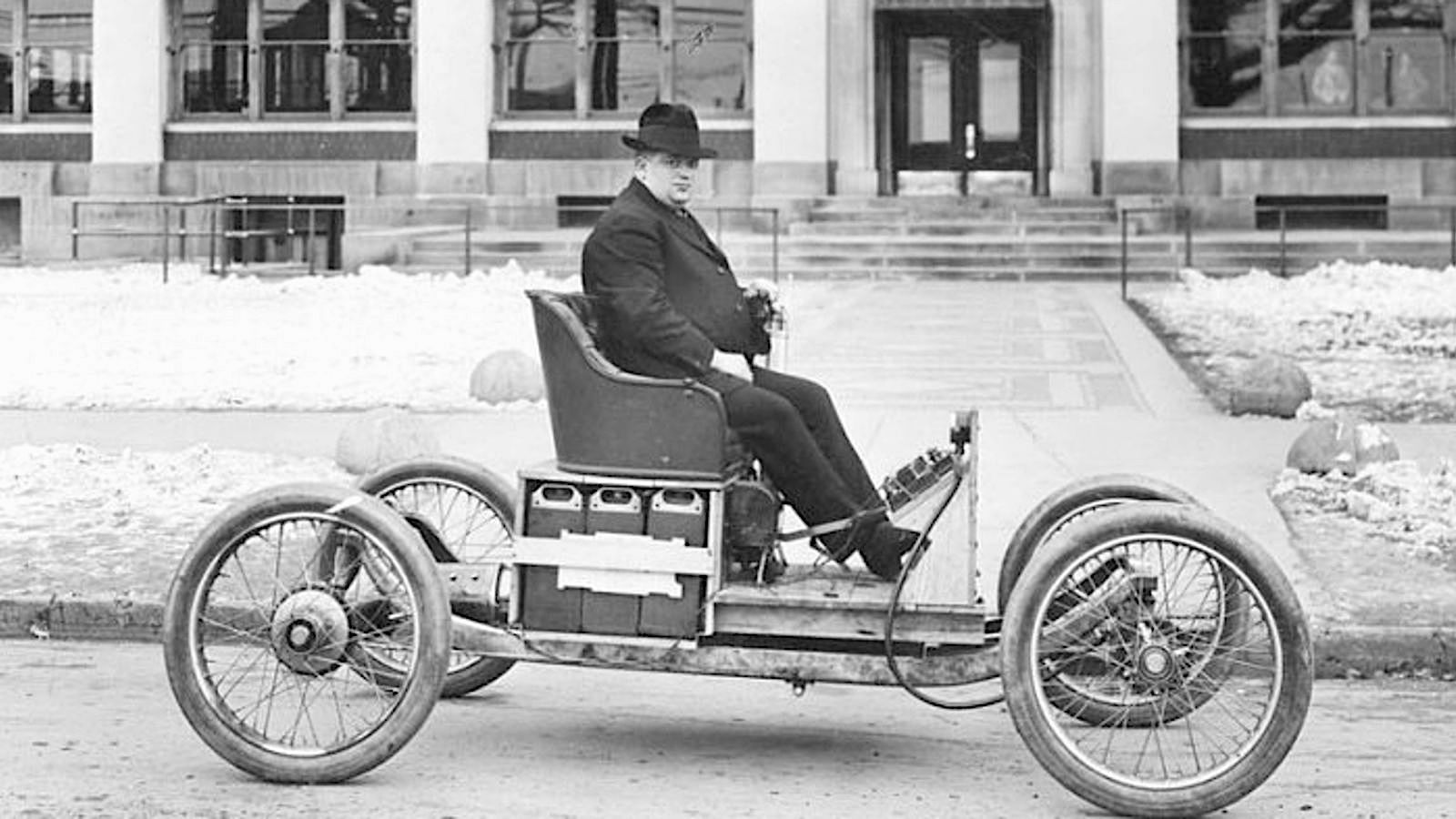 Few inventions have come to define twenty-first century mobility as much as the electric car. As reported at EVBox by Joseph D. Simpson and Wesley van Barlingen, the number of electric vehicles on the road has exploded from "negligible" in 2010 to "as many as 10 million" by the end of 2021. Electric vehicle manufacturer Tesla "is the most valuable automotive company on the planet," worth "an estimated $1 trillion." That company takes its name from inventor and alternating-current pioneer Nikola Tesla, but it was under the influence of Tesla's rival Thomas Edison that the electric car went through much of its early evolution.
"At about the time Ford Motor Co. was founded in 1903, Edison had made inroads with battery technology and started offering nickel-iron batteries for several uses, including automobiles," writes Wired's Dan Strohl. At the turn of the 20th century, the vehicles on American roads ran on three different kinds of power: 40 percent used steam, almost as many used electricity, and round 20 percent used gasoline.
Never hesitant to promote his own technologies, Edison declared that "electricity is the thing," with its lack of "whirring and grinding gears with their numerous levers to confuse," of "that almost terrifying uncertain throb and whirr of the powerful combustion engine," of a "water-circulating system to get out of order," of "dangerous and evil-smelling gasoline."
As BBC Future Planet's Allison Hirschlag tells it, "Edison claimed the nickel-iron battery was incredibly resilient, and could be charged twice as fast as lead-acid batteries." He even had a deal in place with Ford Motors to produce this purportedly more efficient electric vehicle." Alas, "by the time Edison had a more refined prototype" — one that could be driven from Scotland to London — "electric vehicles were on the way out in favor of fossil-fuel-powered vehicles that could go longer distances before needing to refuel or recharge." It didn't help, as Simpson and van Barlingen add, that "after the discovery of oil in Texas, gasoline became cheap and readily available for many, while electricity only remained available in cities." As a result, electric vehicles had "almost completely disappeared from the market" by the mid-nineteen-thirties.
By the mid-twenty-thirties, however, electric vehicles will quite possibly dominate the market, and 200 years after their invention at that. "It is said that the first electric vehicle was displayed at an industry conference in 1835 by a British inventor by the name of Robert Anderson," write Simpson and van Barlingen. The twentieth century century saw its development set back by the slow development of battery technology, combined with the sudden development of gasoline-related technologies and infrastructure. But economic, environmental, and political factors have converged to make it seem as if electricity is, indeed, the thing after all, and cars powered by it are positioned to come roaring — or at least humming — back.
Related content:
A Flying Car Took to the Skies Back in 1949: See the Taylor Aerocar in Action
Newly Unearthed Footage Shows Albert Einstein Driving a Flying Car (1931)
The Timeless Beauty of the Citroën DS, the Car Mythologized by Roland Barthes (1957)
A Harrowing Test Drive of Buckminster Fuller's 1933 Dymaxion Car: Art That Is Scary to Ride
Behold the First Electric Guitar: The 1931 "Frying Pan"
Based in Seoul, Colin Marshall writes and broadcasts on cities, language, and culture. His projects include the Substack newsletter Books on Cities, the book The Stateless City: a Walk through 21st-Century Los Angeles and the video series The City in Cinema. Follow him on Twitter at @colinmarshall, on Facebook, or on Instagram.