The Châtelaine de Vergy, a courtly romance that was wildly popular in the mid-13th century, would've made a crowd pleasing graphic novel adaptation. It's got sex, treachery, a trio of violent deaths, and a cute pup in a supporting role.
Seeing as how the form had yet to be invented, medieval audiences got the next best thing – a Gothic ivory casket on which the story is rendered as a series of carved pictures that start on the lid and wrap around the sides.
In an earlier video for the British Museum's Curator's Corner series, Late Medieval Collections Curator Naomi Speakman admitted that the purpose of such deluxe caskets is difficult to pin down. Were they tokens from one lover to another? Wedding gifts? Jewelry boxes? Document cases?
Unclear, but the intricate carvings' narrative has definitely been identified as that of The Châtelaine de Vergy, a steamy secular alternative to the religious scenes whose depiction consumed a fair number of medieval elephant tusks.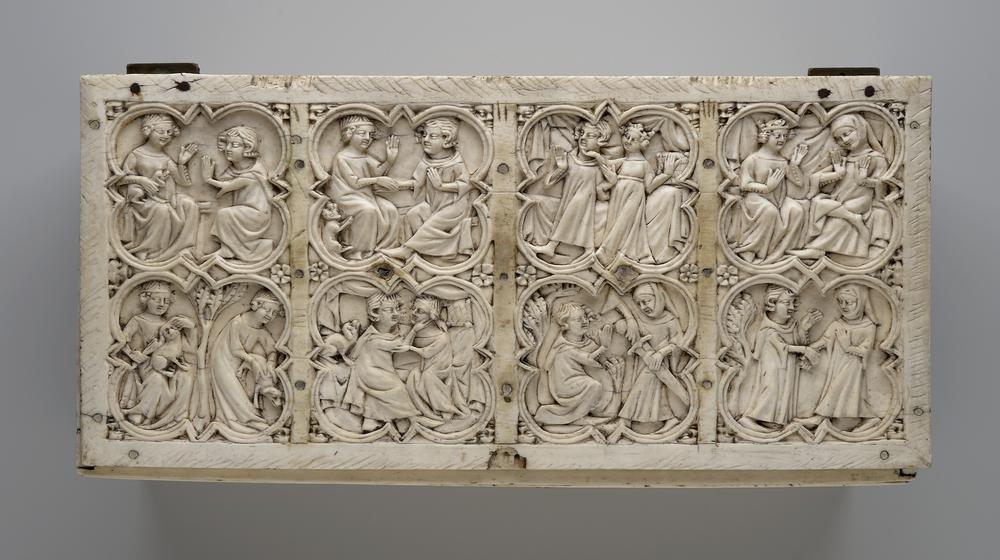 In addition to the early-14th century example in the British Museum's collection, the Courtauld Institute of Art's Gothic Ivories database catalogues a number of other medieval caskets and casket fragments depicting The Châtelaine de Vergi, currently housed in museums in Milan, Florence, Paris, Vienna, New York City and Kansas.
A very graphic novelesque conceit Speakman points to in the British Museum's casket finds the Duke of Burgundy breaking the frame (to use comics terminology), reaching behind the gutter to help himself to the sword the Châtelaine's knightly lover has just plunged into his own breast.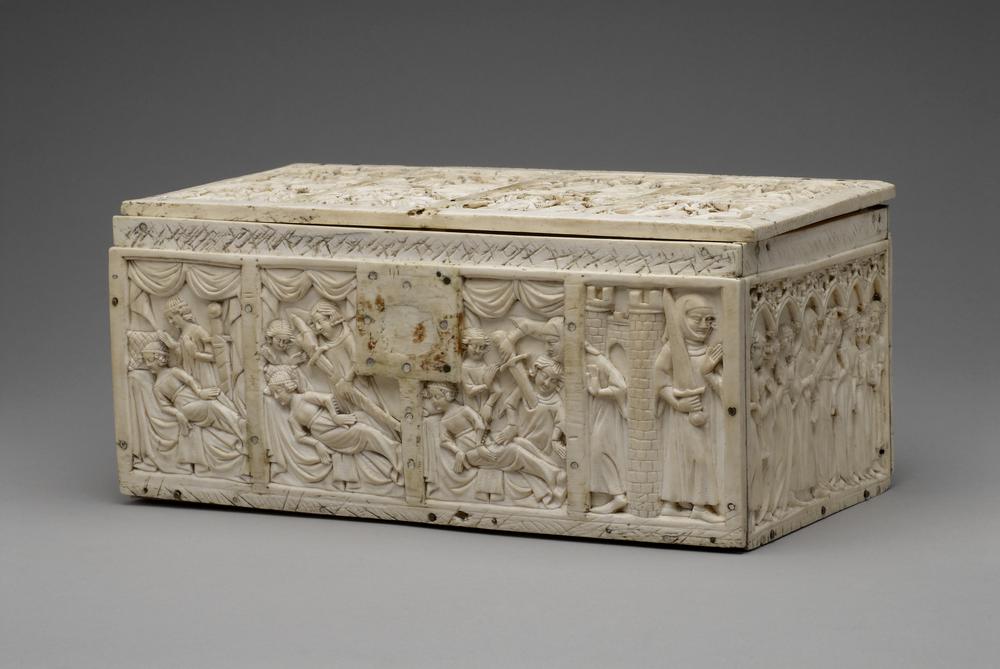 Peer around to the far side of the casket to find out what the Duke intends to do with that sword. It's a shocker that silences the trumpets, quiets the dancing ladies, and might even have laid ground for a sequel: Chatelaine: The Duke's Wrath.
Read Eugene Mason's early 20th century translation of The Chatelaine of Vergi here.
Watch more episodes of the British Museum's Curator's Corner here.
Related Content 
The Book of St Albans, One of the Finest Medieval Manuscripts, Gets Digitized and Put Online
A Medieval Book That Opens Six Different Ways, Revealing Six Different Books in One
Behold Medieval Snowball Fights: A Timeless Way of Having Fun
– Ayun Halliday is the Chief Primatologist of the East Village Inky zine and author, most recently, of Creative, Not Famous: The Small Potato Manifesto.  Follow her @AyunHalliday.