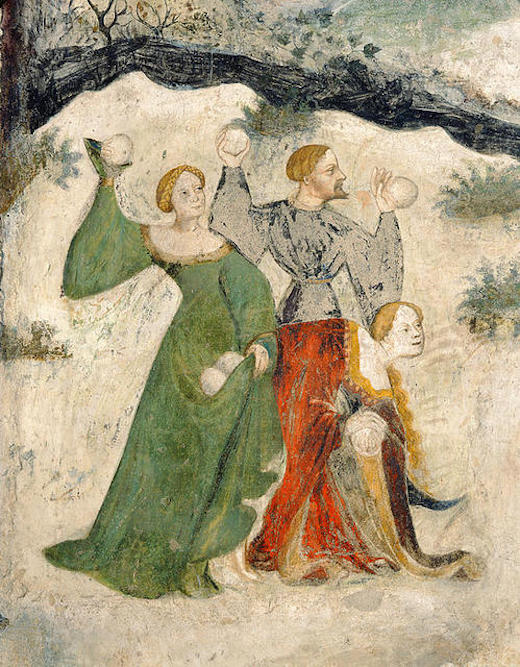 You can't get too much winter in the winter

— Robert Frost, "Snow"

Snowy winter then responded with a voice severe:
May the cuckoo not come, let it sleep in dark hollows.
He is accustomed to bring hunger with him.

— Anonymous poem in Medieval Latin, translated by Heather Williams
Winter may starve and freeze, but in each place where snow accumulates, we also find depictions of informal holidays — snow days — and one of their most exuberant pursuits. "Few seasonal activities are as universal — across time, place, or culture — as the snowball fight," writes Public Domain Review. Some have even made it "into the annals of history…. According to what might be more fable than history, the teenage Napoleon Bonaparte famously organized a ten day snowball fight at his military school, complete with trenches, regimens, and rules of engagement."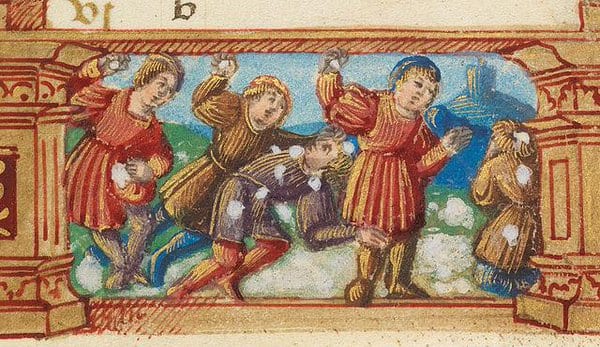 Snowball fights weren't "confined to children either," Arendse Lund writes. In the pages of illuminated Medieval manuscripts, "people of all ages, men and women, can be seen hefting an icy ball." Such images defy a "conventional topos" — "the threat of winter" found in Old English poetry.
In one calendar poem, The Menologium, for example, "winter comes in like an invading warrior," notes A Clerk of Oxford, "and puts autumn in chains, and the green fields which decorate the earth are permitted to stay with us no longer…. There are many, many examples of winter as danger and sorrow" in Medieval poetry.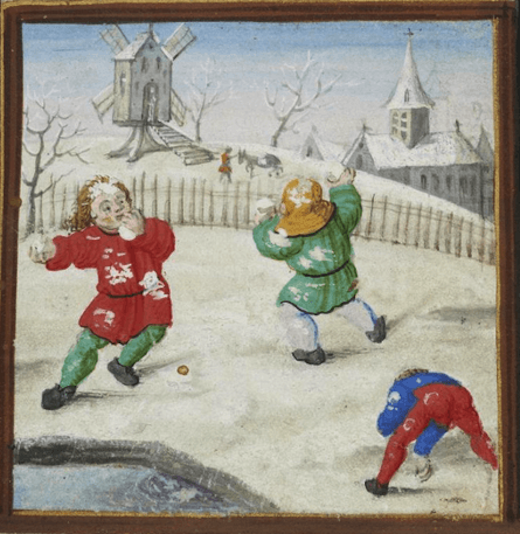 The tradition of winter as a martial invader continues in modern verse. In Robert Frost, snow forms "soft bombs." Even when one is safe and warm at home, snow banked high around the walls outside, winter threatens: the house is "frozen, brittle, all except this room you sit in." But alongside these literary scenes of unbearable cold, we have the playfulness and sublimity of winter, its ability to elevate the ordinary, break up monotony, put a temporary end to daily drudgery. Winter brings its own form of beauty, and its own fun: the soft bomb of the snow ball.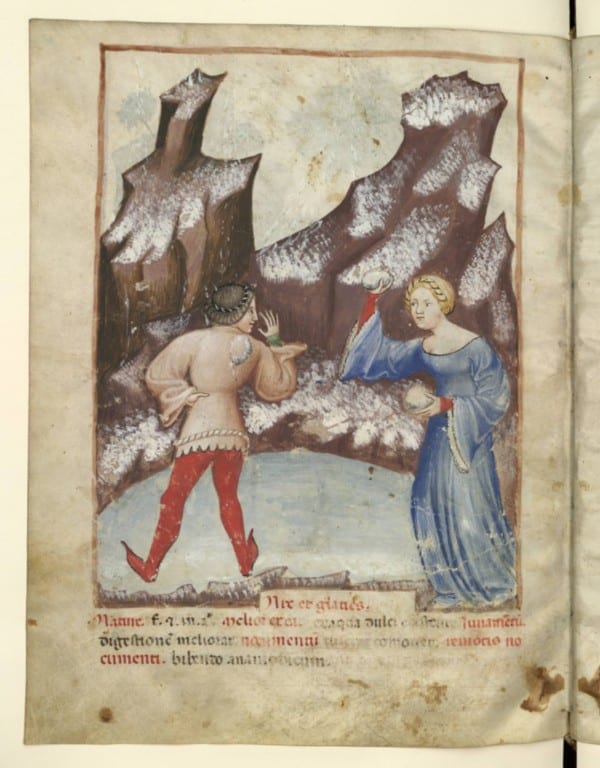 In one Middle English poem by Nicolas Bacon, titled "Of a Snow balle," spring has nothing on winter even when it comes to love; the snowball fight becomes a pretext for a romantic encounter:
A wanton wenche vppon a colde daye
With Snowe balles prouoked me to playe:
But theis snowe balles soe hette my desyer
That I maye calle them balles of wylde fyer.
In the delightful images here, culled from a number of illuminated manuscripts (and one fresco, at the top), see Medieval Europeans play, flirt, and scoff at winter's warning in lighthearted snowball fights of yore.

Related Content: 
The Illuminated Manuscripts of Medieval Europe: A Free Online Course from the University of Colorado
Medieval Scribes Discouraged Theft of Manuscripts by Adding Curses Threatening Death & Damnation to Their Pages
Killer Rabbits in Medieval Manuscripts: Why So Many Drawings in the Margins Depict Bunnies Going Bad
Josh Jones is a writer and musician based in Durham, NC. Follow him at @jdmagness