I've con­clud­ed that one shouldn't lend a book unless one is pre­pared to part with it for good. But most books are fair­ly easy to replace. Not so in the Mid­dle Ages, when every man­u­script count­ed as one of a kind. Theft was often on the minds of the scribes who copied and illus­trat­ed books, a labo­ri­ous task requir­ing lit­er­al hours of blood, sweat and tears each day.
Scrib­al copy­ing took place "only by nat­ur­al light — can­dles were too big a risk to the books," Sarah Laskow writes at Atlas Obscu­ra. Bent over dou­ble, scribes could not let their atten­tion wan­der. The art, one scribe com­plained, "extin­guish­es the light from the eyes, it bends the back, it crush­es the vis­cera and the ribs, it brings forth pain to the kid­neys, and weari­ness to the whole body."
The results deserved high secu­ri­ty, and Medieval monks "did not hes­i­tate to use the worst pun­ish­ments they knew" for man­u­script theft, writes Laskow, name­ly threats of "excom­mu­ni­ca­tion from the church and hor­ri­ble, painful death."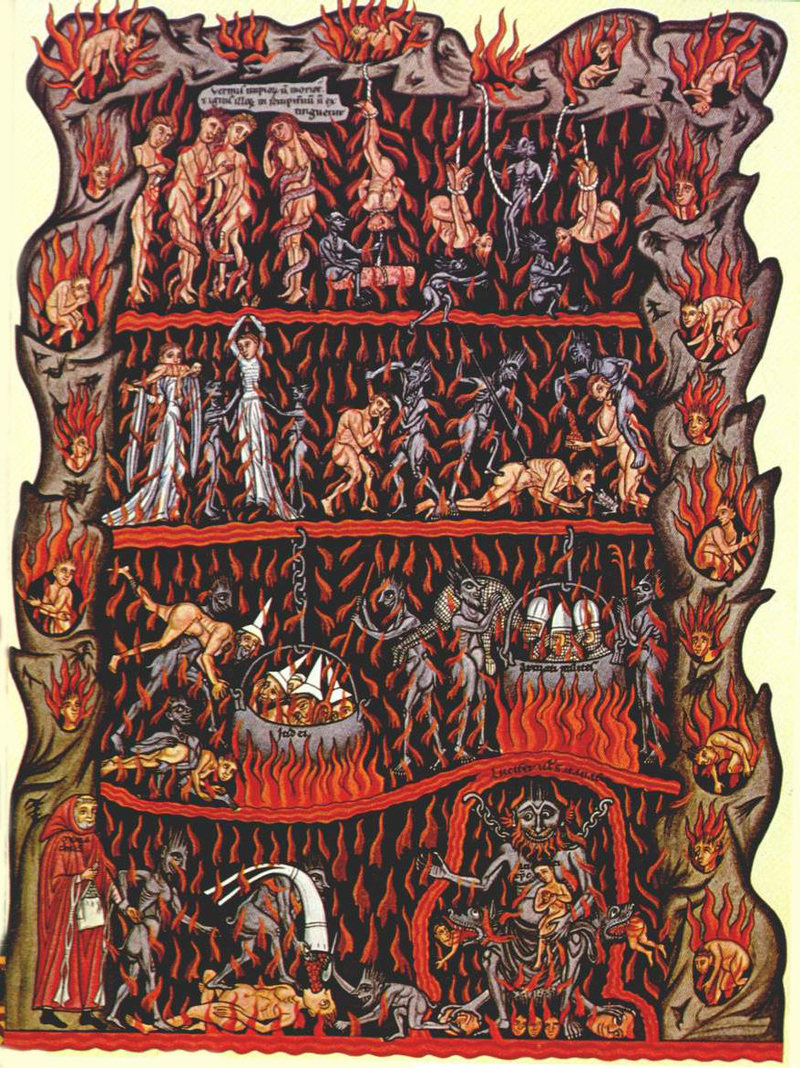 Theft deter­rence came in the form of inge­nious curs­es, writ­ten into the man­u­scripts them­selves, going "back to the 7th cen­tu­ry BCE," Rebec­ca Rom­ney writes at Men­tal Floss. Appear­ing "in Latin, ver­nac­u­lar Euro­pean lan­guages, Ara­bic, Greek, and more," they came in such cre­ative fla­vors as death by roast­ing, as in a Bible copied in Ger­many around 1172: "If any­one steals it: may he die, may he be roast­ed in a fry­ing pan, may the falling sick­ness [epilep­sy] and fever attack him, and may he be rotat­ed [on the break­ing wheel] and hanged. Amen."
A few hun­dred years lat­er, a man­u­script curse from 15th-cen­tu­ry France also promis­es roast­ing, or worse:
Who­ev­er steals this book
Will hang on a gal­lows in Paris,
And, if he isn't hung, he'll drown,
And, if he doesn't drown, he'll roast,
And, if he doesn't roast, a worse end will befall him.
The pluck­ing out of eyes also appears to have been a theme. "Who­ev­er to steal this vol­ume tries, Out with his eyes, out with his eyes!" warns the final cou­plet in a 13th-cen­tu­ry curse from a Vat­i­can Library man­u­script. Anoth­er curse in verse, found by author Marc Dro­gin, author of Anath­e­ma! Medieval Scribes and the His­to­ry of Book Curs­es, gets espe­cial­ly graph­ic with the eye goug­ing:
To steal this book, if you should try,
It's by the throat you'll hang high.
And ravens then will gath­er 'bout
To find your eyes and pull them out.
And when you're scream­ing 'oh, oh, oh!'
Remem­ber, you deserved this woe.
The hoped-for con­se­quences were not always so grim­ly humor­ous. "Grue­some as these pun­ish­ments seem," the British Library writes, "to most medieval read­ers the worst curs­es were those that put the eter­nal fate of their souls at risk rather than their bod­i­ly health." These would often be marked with the Greek word "Anath­e­ma," some­times "fol­lowed by the Ara­ma­ic for­mu­la 'Maranatha' ('Come, Lord!')." Both appear in a curse added to a man­u­script of let­ters and ser­mons from Lesnes Abbey. Yet, unlike most medieval curs­es, here the thief is giv­en a chance to make resti­tu­tion. "Any­one who removes it or does dam­age to it: if the same per­son does not repay the church suf­fi­cient­ly, may he be cursed."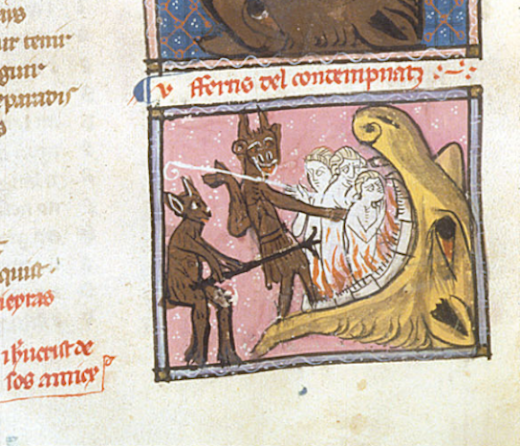 Curs­es were not the only secu­ri­ty solu­tions of man­u­script cul­ture. Medieval monks also used book chains and locked chests to secure the fruit of their hard labor. As the old say­ing goes, "trust in God, but tie your camel." But if locks and divine prov­i­dence should fail, scribes trust­ed that the fear of pun­ish­ment – even eter­nal damna­tion — down the road would be enough to make would-be book thieves think again.
Relat­ed Con­tent:
160,000+ Medieval Man­u­scripts Online: Where to Find Them
The Illu­mi­nat­ed Man­u­scripts of Medieval Europe: A Free Online Course from the Uni­ver­si­ty of Col­orado
Why Butt Trum­pets & Oth­er Bizarre Images Appeared in Illu­mi­nat­ed Medieval Man­u­scripts
Josh Jones is a writer and musi­cian based in Durham, NC. Fol­low him at @jdmagness