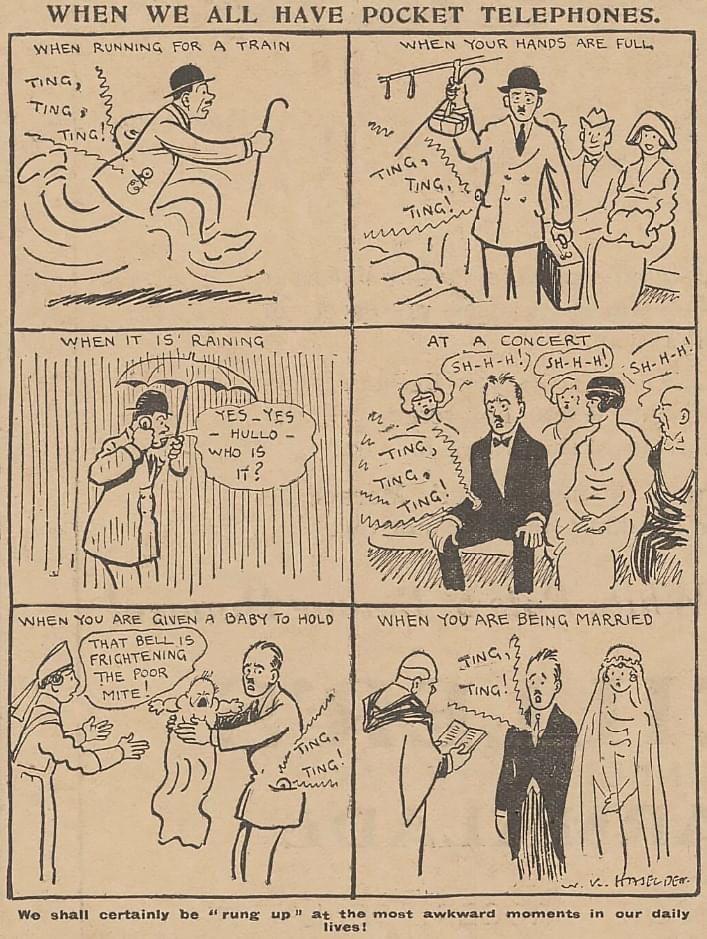 Much has been said lately about jokes that "haven't aged well." Sometimes it has do to with shifting public sensibilities, and sometimes with a gag's exaggeration having been surpassed by the facts of life. As a Twitter user named Max Saltman posted not long ago, "I love finding New Yorker cartoons so dated that the joke is lost entirely and the cartoons become just descriptions of people doing normal things." The examples included a partygoer admitting that "I haven't read it yet, but I've downloaded it from the internet," and a teacher admonishing her students to "keep your eyes on your own screen."
All of those New Yorker cartoons appear to date from the nineteen-nineties. Even more prescient yet much older is the Daily Mirror cartoon at the top of the post, drawn by artist W. K. Haselden at some point between 1919 and 1923. It envisions a time "when we all have pocket telephones," liable to ring at the most inconvenient times: "when running for a train," "when your hands are full," "at a concert," even "when you are being married." Such a comic strip could never, as they say, be published today — not because of its potential to offend modern sensitivities, but because of its sheer mundanity.
For here in the twenty-twenties, we all, indeed, have pocket telephones. Not only that, we've grown so accustomed to them that Haselden's cartoon feels reminiscent of the turn of the millennium, when the novelty and prestige of cellphones (to say nothing of their gratingly simple ringtones) made them feel more intrusive in day-to-day-life. Now, increasingly, cellphones are day-to-day life. Far from the literal "pocket telephones" envisioned a century ago, they've worked their way into nearly every aspect of human existence, including those Haselden could never have considered.
Yet this wasn't the first time anyone had imagined such a thing. "Rumors of a 'pocket phone' had been ringing around the world since 1906," writes Laughing Squid's Lori Dorn. "A man named Charles E. Alden claimed to have created a device that could easily fit inside a vest pocket and used a 'wireless battery.'" In the event, it would take nearly eight decades for the first cellphone to arrive on the market, and three more on top of that for them to become indispensable in the West. Now the "pocket telephone" has become the defining device of our era all over the world, though the social norms around its use do remain a work in progress.
via Laughing Squid
Related content:
The First Cellphone: Discover Motorola's DynaTAC 8000X, a 2-Pound Brick Priced at $3,995 (1984)
Lynda Barry on How the Smartphone Is Endangering Three Ingredients of Creativity: Loneliness, Uncertainty & Boredom
Filmmaker Wim Wenders Explains How Mobile Phones Have Killed Photography
A 1947 French Film Accurately Predicted Our 21st-Century Addiction to Smartphones
The World's First Mobile Phone Shown in 1922 Vintage Film
Based in Seoul, Colin Marshall writes and broadcasts on cities, language, and culture. His projects include the Substack newsletter Books on Cities, the book The Stateless City: a Walk through 21st-Century Los Angeles and the video series The City in Cinema. Follow him on Twitter at @colinmarshall, on Facebook, or on Instagram.