Renais­sance artist Albrecht Dür­er (1471–1528) nev­er saw a rhi­no him­self, but by rely­ing on eye­wit­ness descrip­tions of the one King Manuel I of Por­tu­gal intend­ed as a gift to the Pope, he man­aged to ren­der a fair­ly real­is­tic one, all things con­sid­ered.
Medieval artists' ren­der­ings of cats so often fell short of the mark, Youtu­ber Art Deco won­ders if any of them had seen a cat before.
Point tak­en, but cats were well inte­grat­ed into medieval soci­ety.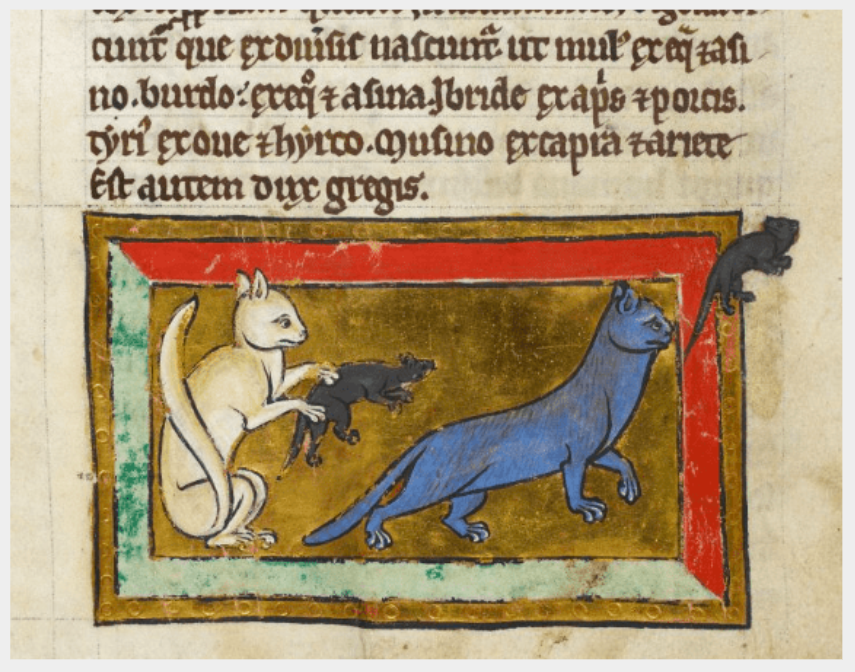 Roy­al 12 C xix f. 36v/37r (13th cen­tu­ry)
Cats pro­vid­ed medieval cit­i­zens with the same pest con­trol ser­vices they'd been per­form­ing since the ancient Egyp­tians first domes­ti­cat­ed them.
Ancient Egyp­tians con­veyed their grat­i­tude and respect by regard­ing cats as sym­bols of divin­i­ty, pro­tec­tion, and strength.
Cer­tain Egypt­ian god­dess­es, like Bastet, were imbued with unmis­tak­ably feline char­ac­ter­is­tics.
The Vin­tage News reports that harm­ing a cat in those days was pun­ish­able by death, export­ing them was ille­gal, and, much like today, the death of a cat was an occa­sion for pub­lic sor­row:
When a cat died, it was buried with hon­ors, mum­mi­fied and mourned by the humans. The body of the cat would be wrapped in the finest mate­ri­als and then embalmed in order to pre­serve the body for a longer time. Ancient Egyp­tians went so far that they shaved their eye­brows as a sign of their deep sor­row for the deceased pet.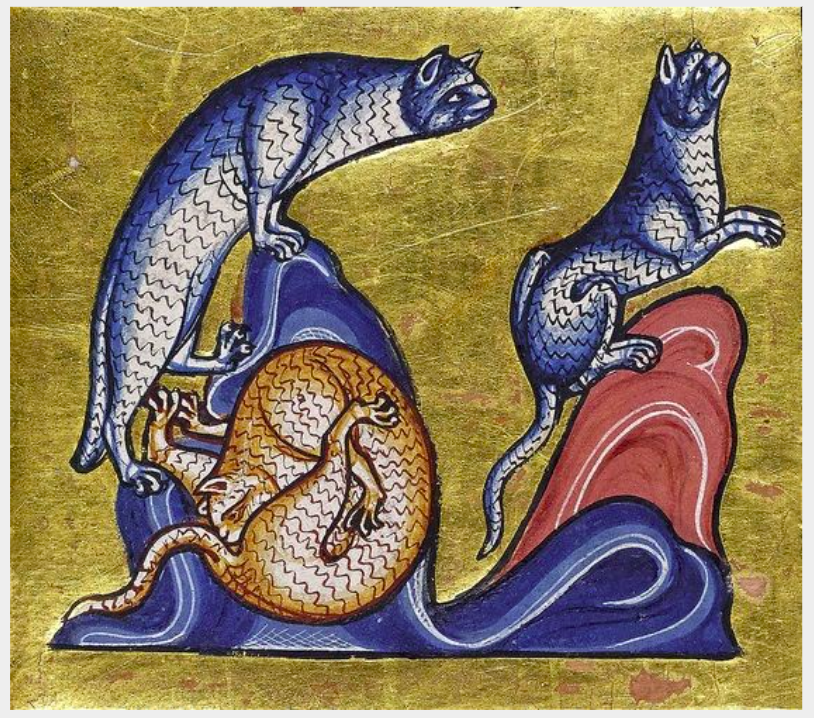 Aberdeen Uni­ver­si­ty Library, MS 24 f. 23v (Eng­land, c 1200)
The medieval church took a much dark­er view of our feline friends.
Their close ties to pagan­ism and ear­ly reli­gions were enough for cats to be judged guilty of witch­craft, sin­ful sex­u­al­i­ty, and frat­er­niz­ing with Satan.
In the late 12th-cen­tu­ry, writer Wal­ter Map, a soon-to-be archdea­con of Oxford, declared that the dev­il appeared before his devo­tees in feline form:
… hang­ing by a rope, a black cat of great size. As soon as they see this cat, the lights are turned out. They do not sing or recite hymns in a dis­tinct way, but they mut­ter them with their teeth closed and they feel in the dark towards where they saw their lord], and when they find it, they kiss it, the more humbly depend­ing on their fol­ly, some on the paws, some under the tail, some on the gen­i­tals. And as if they have, in this way, received a license for pas­sion, each one takes the near­est man or woman and they join them­selves with the oth­er for as long as they choose to draw out their game.
Pope Inno­cent VIII issued a papal bull in 1484 con­demn­ing the "devil's favorite ani­mal and idol of all witch­es" to death, along with their human com­pan­ions to death.
13th-cen­tu­ry Fran­cis­can monk Bartholo­maeus Angli­cus refrained from demon­ic tat­tle, but nei­ther did he paint cats as angels:
He is a full lech­er­ous beast in youth, swift, pli­ant, and mer­ry, and leapeth and reseth on every­thing that is to fore him: and is led by a straw, and playeth there­with: and is a right heavy beast in age and full sleepy, and lieth sly­ly in wait for mice: and is aware where they be more by smell than by sight, and hunteth and reseth on them in privy places: and when he taketh a mouse, he playeth there­with, and eateth him after the play. In time of love is hard fight­ing for wives, and one scratch­eth and ren­deth the oth­er griev­ous­ly with bit­ing and with claws. And he maketh a ruth­ful noise and ghast­ful, when one prof­fer­eth to fight with anoth­er: and unneth is hurt when he is thrown down off an high place. And when he hath a fair skin, he is as it were proud there­of, and goeth fast about: and when his skin is burnt, then he bideth at home; and is oft for his fair skin tak­en of the skin­ner, and slain and flayed.
Pigs and rats also had a bad rep, and like cats, were tor­tured and exe­cut­ed in great num­bers by pious humans.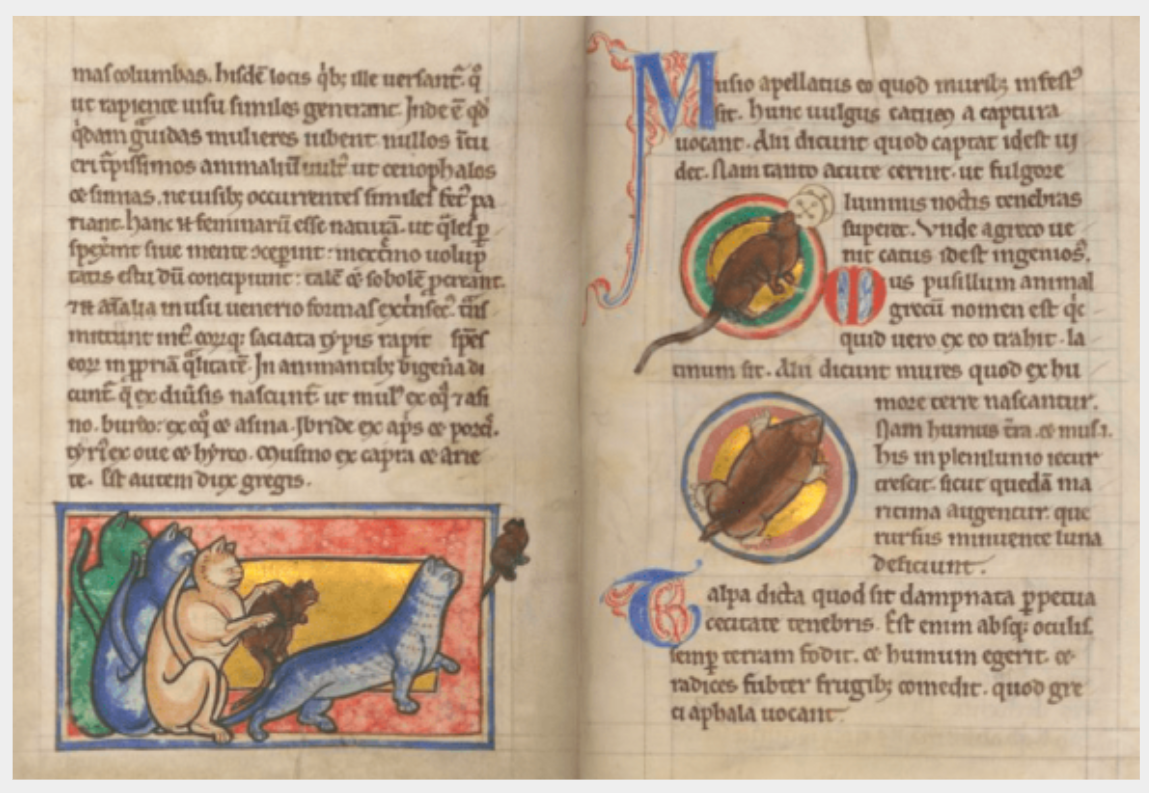 The Work­sop Bes­tiary Mor­gan Library, MS M.81 f. 47r (Eng­land, c 1185)
Not every medieval city was anti-cat. As the Aca­d­e­m­ic Cat Lady Johan­na Feen­stra writes of the above illus­tra­tion from The Work­sop Bes­tiary, one of the ear­li­est Eng­lish bes­tiaries:
Some would have inter­pret­ed the image of a cat pounc­ing on a rodent as a sym­bol for the dev­il going after the human soul. Oth­ers might have seen the cat in a com­plete­ly dif­fer­ent light. For instance, as Eucharis­tic guardians, mak­ing sure rodents could not steal and eat the Eucharis­tic wafers.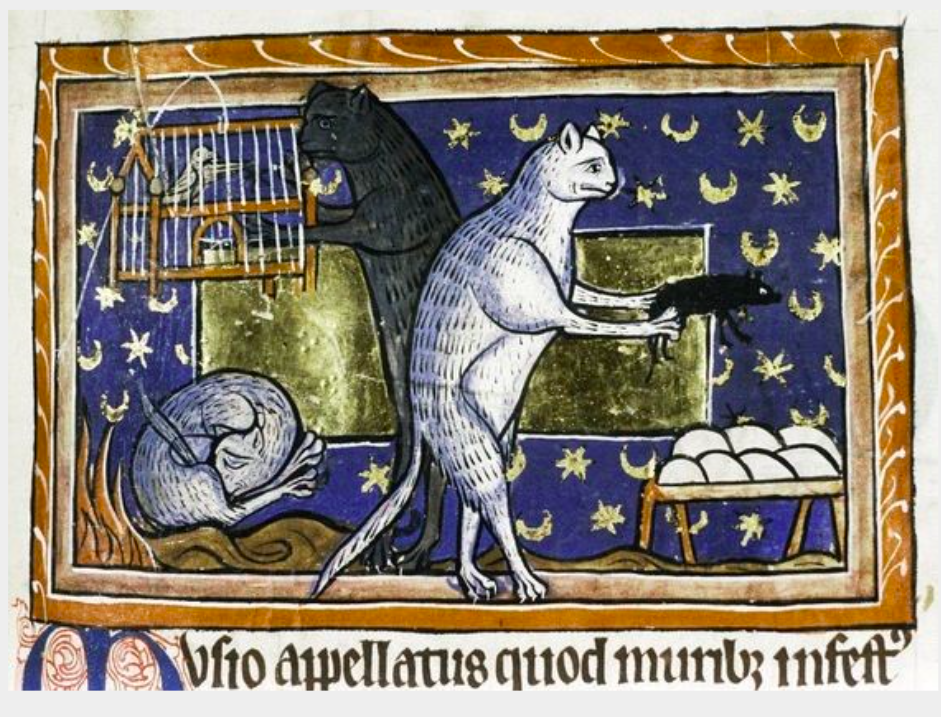 Bodleian Library Bod­ley 764 f. 51r (Eng­land, c 1225–50)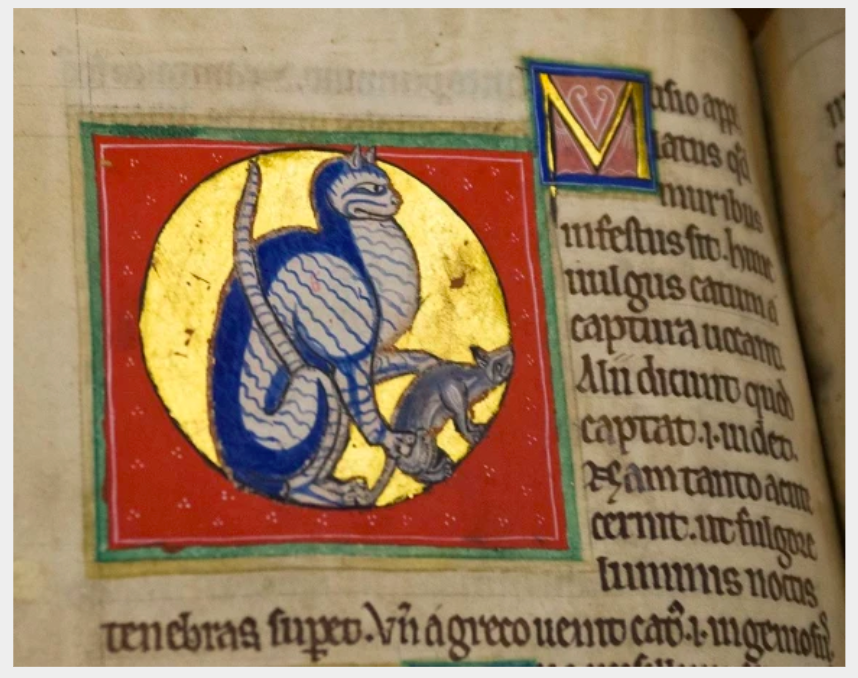 St John's Col­lege Library, MS. 61 (Eng­land (York), 13th cen­tu­ry)
It took cat lover Leonar­do DaVin­ci to turn the sit­u­a­tion around, with eleven sketch­es from life por­tray­ing cats in char­ac­ter­is­tic pos­es, much as we see them today. We'll delve more into that in a future post.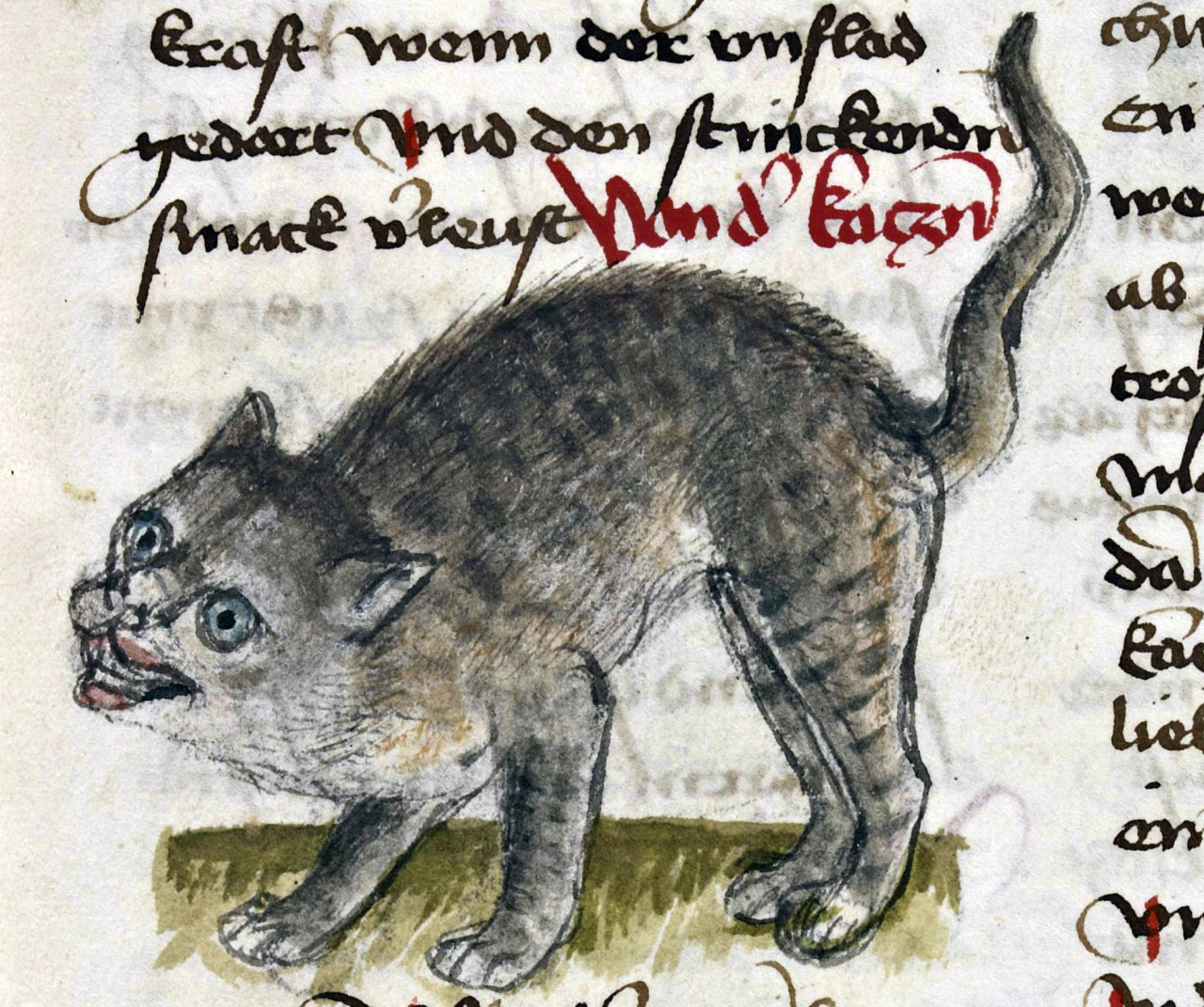 Con­rad of Megen­berg, 'Das Buch der Natur', Ger­many ca. 1434. Stras­bourg, Bib­lio­thèque nationale et uni­ver­si­taire, Ms.2.264, fol. 85r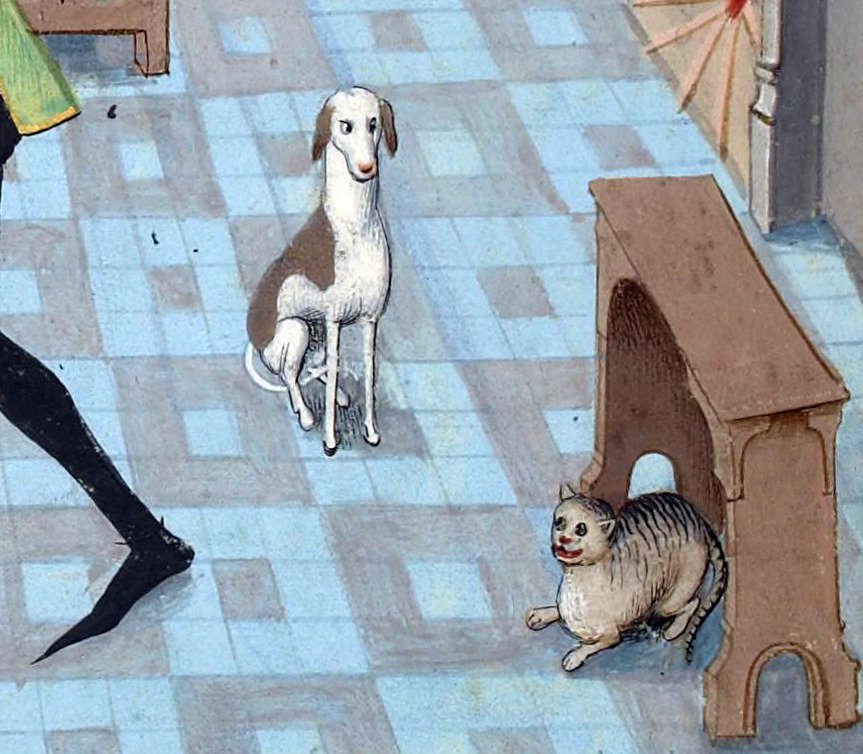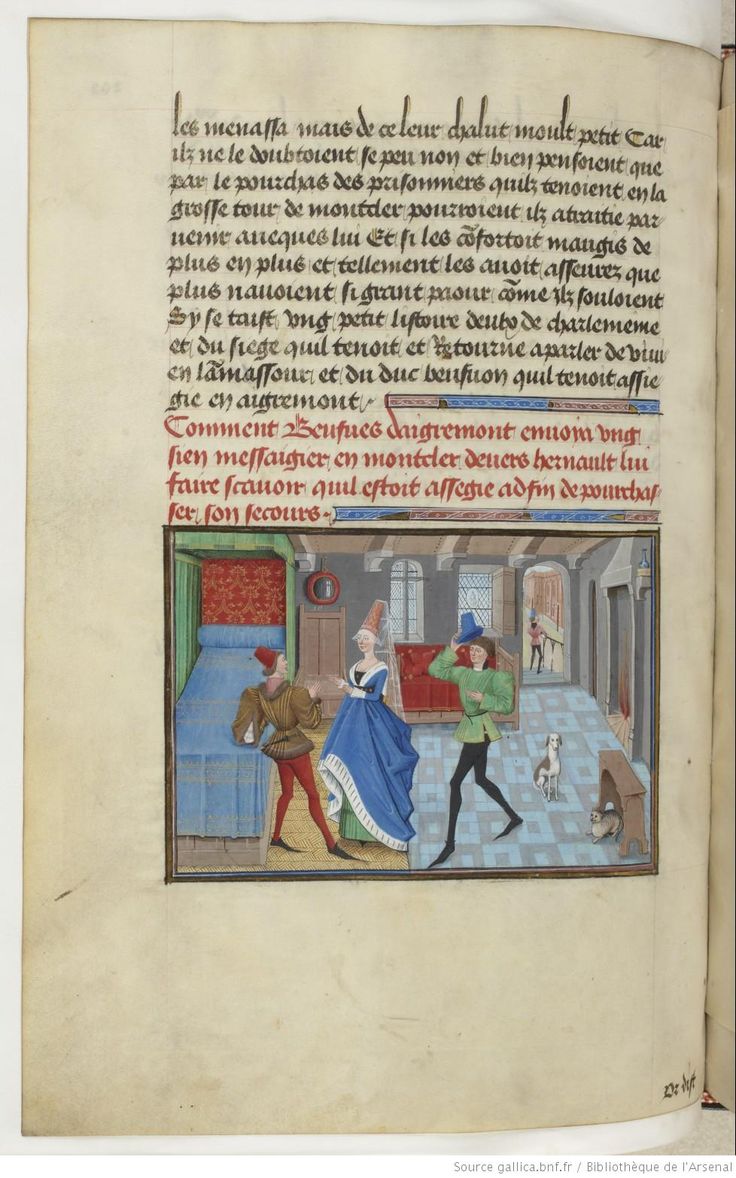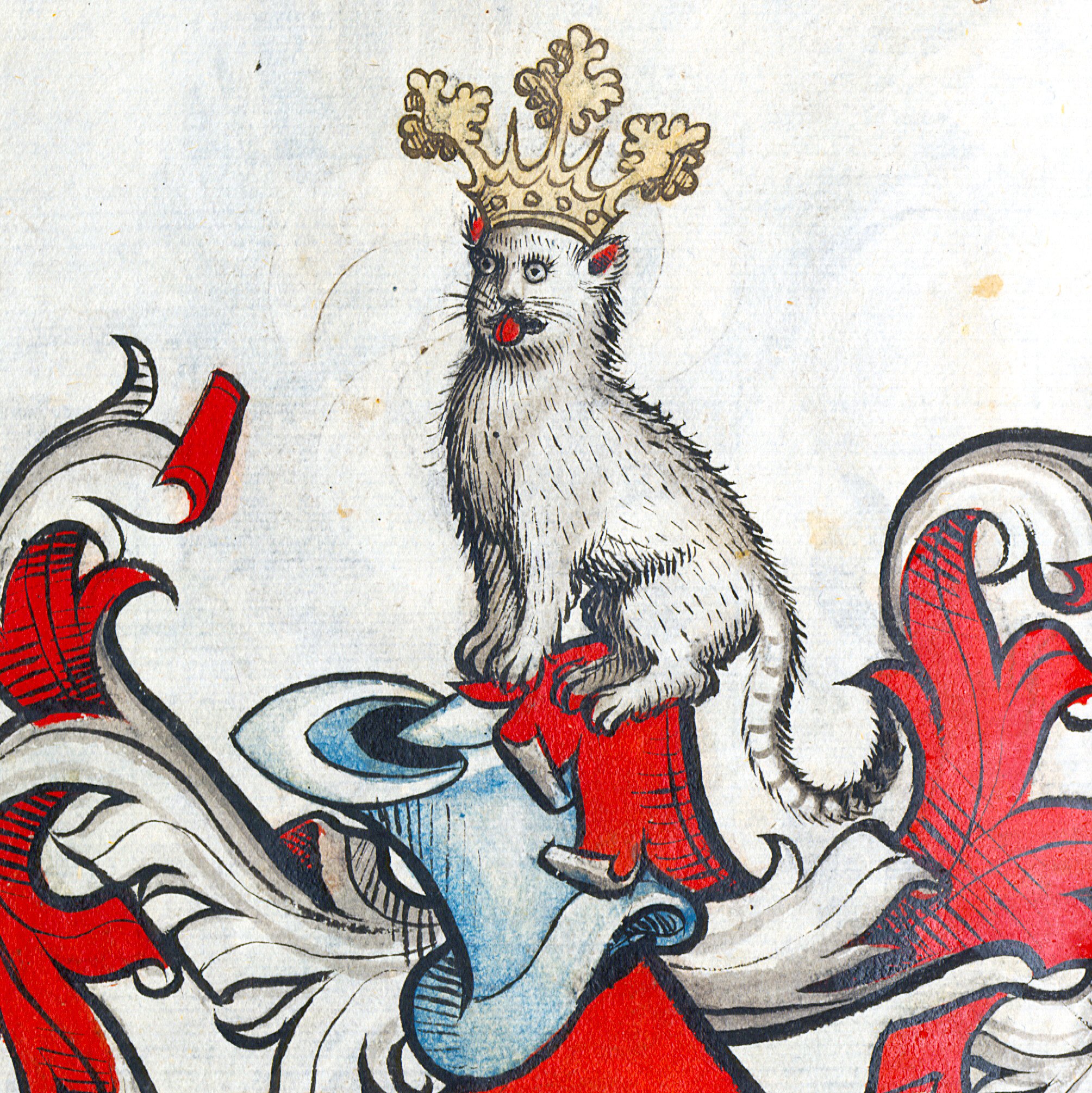 Relat­ed Con­tent
Medieval Cats Behav­ing Bad­ly: Kit­ties That Left Paw Prints … and Peed … on 15th Cen­tu­ry Man­u­scripts
An Ani­mat­ed His­to­ry of Cats: How Over 10,000 Years the Cat Went from Wild Preda­tor to Sofa Side­kick
- Ayun Hal­l­i­day is the Chief Pri­ma­tol­o­gist of the East Vil­lage Inky zine and author, most recent­ly, of Cre­ative, Not Famous: The Small Pota­to Man­i­festo. Fol­low her @AyunHalliday.