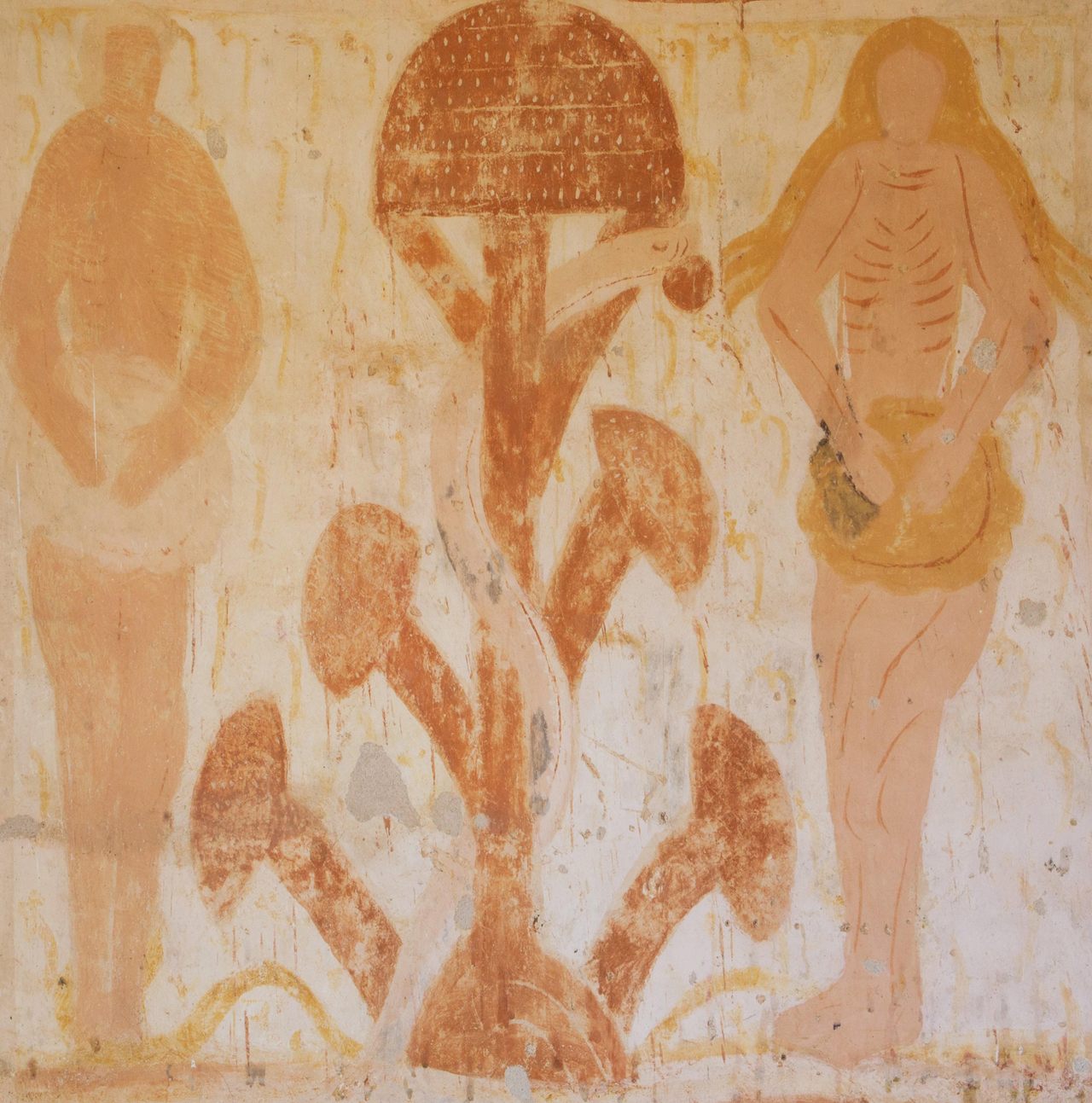 His­tor­i­cal research reveals psy­choac­tive sub­stances to have been in use longer than most of us would assume. But did Adam and Eve do mush­rooms in the Gar­den of Eden? Unsur­pris­ing­ly, that ques­tion is fraught on more than one lev­el. But if you wish to believe that they did, spend some time with the thir­teenth-cen­tu­ry art­work above, known as the Plain­cour­ault fres­co. In it, writes Atlas Obscu­ra's Emma Betuel, "Adam and Eve stand in the Gar­den of Eden, both of them face­less." Between them "stands a large red tree, crowned with a dot­ted, umbrel­la-like cap. The tree's branch­es end in small­er caps, each with their own pat­tern of tiny white spots" — just like you'd see on cer­tain species of fun­gus. "Tourists, schol­ars, and influ­encers come to see the tree that, accord­ing to some enthu­si­asts, depicts the hal­lu­cino­genic mush­room Amani­ta mus­caria."
This image, more than any oth­er piece of evi­dence, sup­ports the the­o­ry that "ear­ly Chris­tians used hal­lu­cino­genic mush­rooms." Sup­ports is prob­a­bly the wrong word, though there have been true believ­ers since at least since 1911, "when a mem­ber of the French Myco­log­i­cal Soci­ety sug­gest­ed the thing sprout­ing between Adam and Eve was a 'bizarre' and 'arbores­cent' mush­room." The video essay just below, "Psy­che­delics in Chris­t­ian Art," presents the cas­es for and against the Tree of Life being a bunch of mag­ic mush­rooms. It comes from Youtu­ber Hochela­ga, whose videos pre­vi­ous­ly fea­tured here on Open Cul­ture have cov­ered sub­jects like the Voyn­ich Man­u­script and the Bib­li­cal apoc­a­lypse. This par­tic­u­lar episode comes as part of a minis­eries on "strange Chris­t­ian art" whose pre­vi­ous install­ments have focused on hell­mouths and the three-head­ed Jesus.
Nev­er­the­less, Hochela­ga can't come down on the side of the mush­rooms-seers. Sim­i­lar veg­e­ta­tion appears in oth­er pieces of medieval art, but "in real­i­ty, these are draw­ings of trees, ren­dered with strange forms and bright col­ors," as dic­tat­ed by the rel­a­tive­ly loose and exag­ger­at­ed aes­thet­ic of the era. But that does­n't mean the Plain­cour­ault fres­co has noth­ing to teach us, and the same holds for oth­er "psy­che­del­ic" Chris­t­ian cre­ations, like the paint­ings of Hierony­mus Bosch or the art-inspir­ing music of Hilde­gard von Bin­gen. Judg­ing by the inves­ti­ga­tions this sort of thing has inspired — Tom Hat­sis' "The Psy­che­del­ic Gospels, The Plain­cour­ault fres­co, and the Death of Psy­che­del­ic His­to­ry," Jer­ry B. Brown and Julie M. Brown's Jour­nal of Psy­che­del­ic Stud­ies arti­cle "Entheogens in Chris­t­ian Art: Was­son, Alle­gro, and the Psy­che­del­ic Gospels" — the rel­e­vant his­to­ry con­sti­tutes quite a trip by itself.
Relat­ed Con­tent:
Pipes with Cannabis Traces Found in Shakespeare's Gar­den, Sug­gest­ing the Bard Enjoyed a "Not­ed Weed"
The Drugs Used by the Ancient Greeks and Romans
Alger­ian Cave Paint­ings Sug­gest Humans Did Mag­ic Mush­rooms 9,000 Years Ago
A Sur­vival Guide to the Bib­li­cal Apoc­a­lypse
The Mean­ing of Hierony­mus Bosch's The Gar­den of Earth­ly Delights Explained
Michael Pol­lan, Sam Har­ris & Oth­ers Explain How Psy­che­delics Can Change Your Mind
Based in Seoul, Col­in Mar­shall writes and broad­casts on cities, lan­guage, and cul­ture. His projects include the Sub­stack newslet­ter Books on Cities, the book The State­less City: a Walk through 21st-Cen­tu­ry Los Ange­les and the video series The City in Cin­e­ma. Fol­low him on Twit­ter at @colinmarshall or on Face­book.