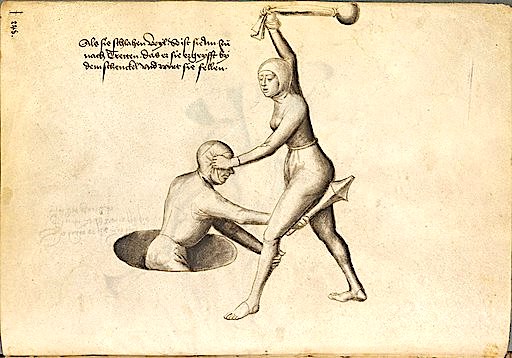 Welcome to Medieval Mixed-Gender Fight Club.
The first rule of Medieval Mixed-Gender Fight Club is: you do not talk about Medieval Mixed-Gender Fight Club.
The second rule of Medieval Mixed-Gender Fight Club is: you DO NOT talk about Medieval Mixed-Gender Fight Club!
Why?
The Public Domain Review's managing editor, Hunter Dukes, wisely argues that it's because we have so little to go on, beyond these startling images of "judicial duels" between men and women in German fencing master Hans Talhoffer's illustrated 15th-century "fight books."
The male combatant, armed with a wooden mace, starts out in a waist-deep hole.
The female, armed with a rock wrapped in a length of cloth, stands above, feet planted to the ground.
Their matching unisex garments wouldn't look out of place at the Met Gala, and provide for maximum movement as evidenced by the acrobatic, and seriously painful-looking paces Talhoffer puts them through.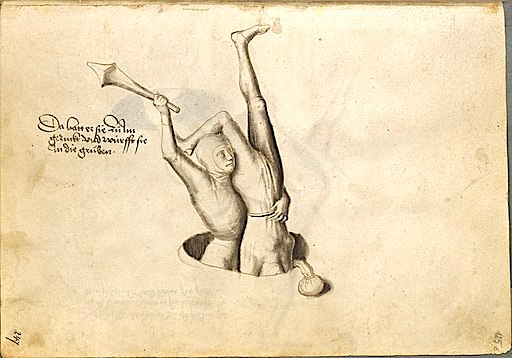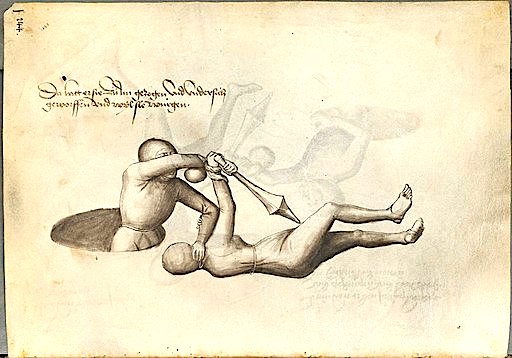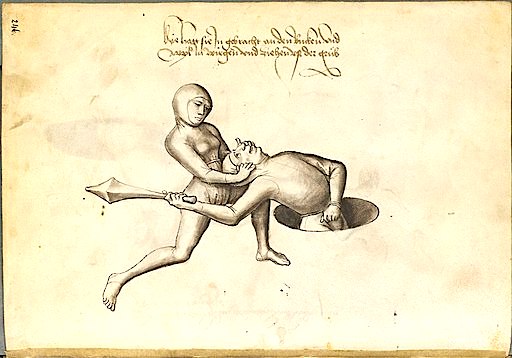 Dukes is not alone in wondering what's going on here, and he doesn't mince words when calling bullshit on those responsible for "hastily researched articles" eagerly pronouncing them to be action shots of divorce-by-combat.
Such brutal methods of formal uncoupling had been rendered obsolete centuries before Talhoffer began work on his instructional manuals. 
In a 1985 article in Source: Notes in the History of Art, Allison Coudert,  a professor of Religious Studies at UC Davis, posits that Talhoffer might have been drawing on the past in these pages:
I would suggest that no records of judicial duels between husbands and wives exists after 1200 because of both changes in the reality and the ideal of what a woman could be and do. Before 1200, women may well have battled their husbands. Women understood and defended the importance of their economic and administrative roles in the household. After the twelfth century, however, law, custom and religion made marital duels all but unthinkable.
Why would Talhoffer bother including archaic material if the focus of his Fechtbuchs was giving less experienced fighters concrete information for their betterment?
We like the notion that he might have been seeking to inject his manuscripts with a bit of an erotic charge, but concede that scholars like Coudert, who have PhDs, research chops, and actual expertise in the subject, are probably warmer when reckoning that he was just covering his historical bases.
For now, let us enjoy these images as art, and possible sources of inspiration for avant-garde circus acts, Halloween couples costumes, and Valentines.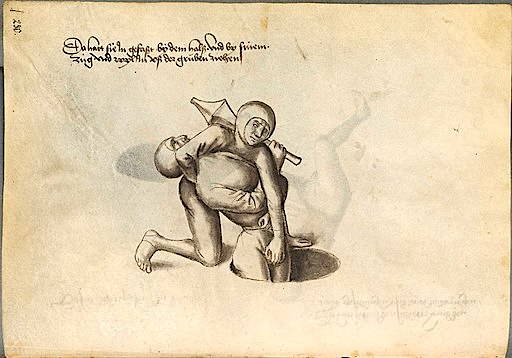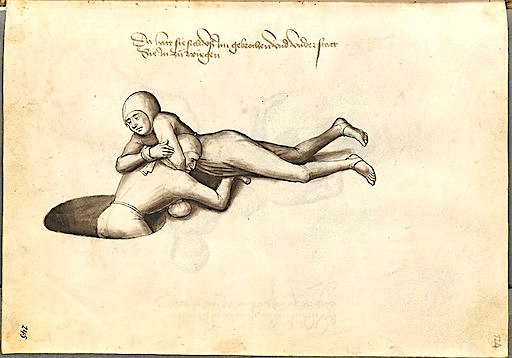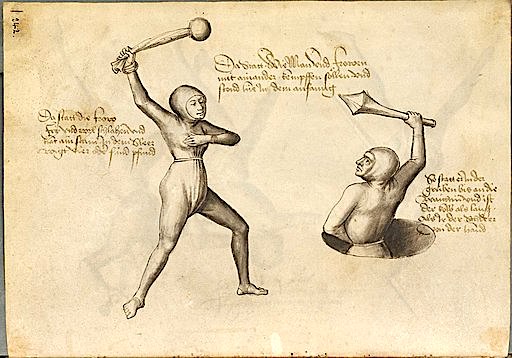 Explore more images from the 15th-century Fechtbuchs of Hans Talhoffer here and here.

Related Content 
What It's Like to Actually Fight in Medieval Armor
How to Get Dressed & Fight in 14th Century Armor: A Reenactment
Watch Accurate Recreations of Medieval Italian Longsword Fighting Techniques, All Based on a Manuscript from 1404
The Medieval Masterpiece, the Book of Kells, Is Now Digitized & Put Online
– Ayun Halliday is the Chief Primatologist of the East Village Inky zine and author, most recently, of Creative, Not Famous: The Small Potato Manifesto and Creative, Not Famous Activity Book. Follow her @AyunHalliday.