In the small town of Clo­quet, Min­neso­ta stands a piece of urban utopia. It takes the sur­pris­ing form of a gas sta­tion, albeit one designed by no less a vision­ary of Amer­i­can archi­tec­ture than Frank Lloyd Wright. He orig­i­nal­ly con­ceived it as an ele­ment of Broad­acre City, a form of mech­a­nized rur­al set­tle­ment intend­ed as a Jef­fer­son­ian democ­ra­cy-inspired rebuke against what Wright saw as the evils of the over­grown twen­ti­eth cen­tu­ry city, first pub­licly pre­sent­ed in his 1932 book The Dis­ap­pear­ing City. "That's an aspi­ra­tional title," says archi­tec­tur­al his­to­ri­an Richard Kro­n­ick in the Twin Cities PBS video above. "He thought that cities should go away."
Cities did­n't go away, and Broad­acre City remained spec­u­la­tive, though Wright did pur­sue every oppor­tu­ni­ty he could iden­ti­fy to bring it clos­er to real­i­ty. "In 1952, Ray and Emma Lind­holm com­mis­sioned Frank Lloyd Wright to build them a home on the south side of Clo­quet," writes pho­tog­ra­ph­er Susan Tre­go­ning.
When Wright "dis­cov­ered that Mr. Lind­holm was in the petro­le­um busi­ness, he men­tioned that he was quite inter­est­ed in gas sta­tion design." When Lind­holm decid­ed to rebuild a Phillips 66 sta­tion a few years lat­er, he accept­ed Wright's design pro­pos­al, call­ing it "an exper­i­ment to see if a lit­tle beau­ty couldn't be incor­po­rat­ed in some­thing as com­mon­place as a ser­vice sta­tion" — though Wright him­self, char­ac­ter­is­ti­cal­ly, was­n't think­ing in quite such hum­ble terms.
Wright's R. W. Lind­holm Ser­vice Sta­tion incor­po­rates a can­tilevered upper-lev­el "cus­tomer lounge," and the idea, as Kro­n­ick puts it, "was that cus­tomers would sit up here and while their time away wait­ing for their cars to be repaired," and no doubt "dis­cuss the issues of the day." In Wright's mind, "this lit­tle room is where the details of democ­ra­cy would be worked out." As with South­dale Cen­ter, Vic­tor Gru­en's pio­neer­ing shop­ping mall that had opened two years ear­li­er in Min­neapo­lis, two hours south of Clo­quet, the com­mu­ni­ty aspect of the design nev­er came to fruition: though its win­dows offer a dis­tinc­tive­ly Amer­i­can (or to use Wright's lan­guage, Uson­ian) vista, the cus­tomer lounge has a bare, dis­used look in the pic­tures vis­i­tors take today.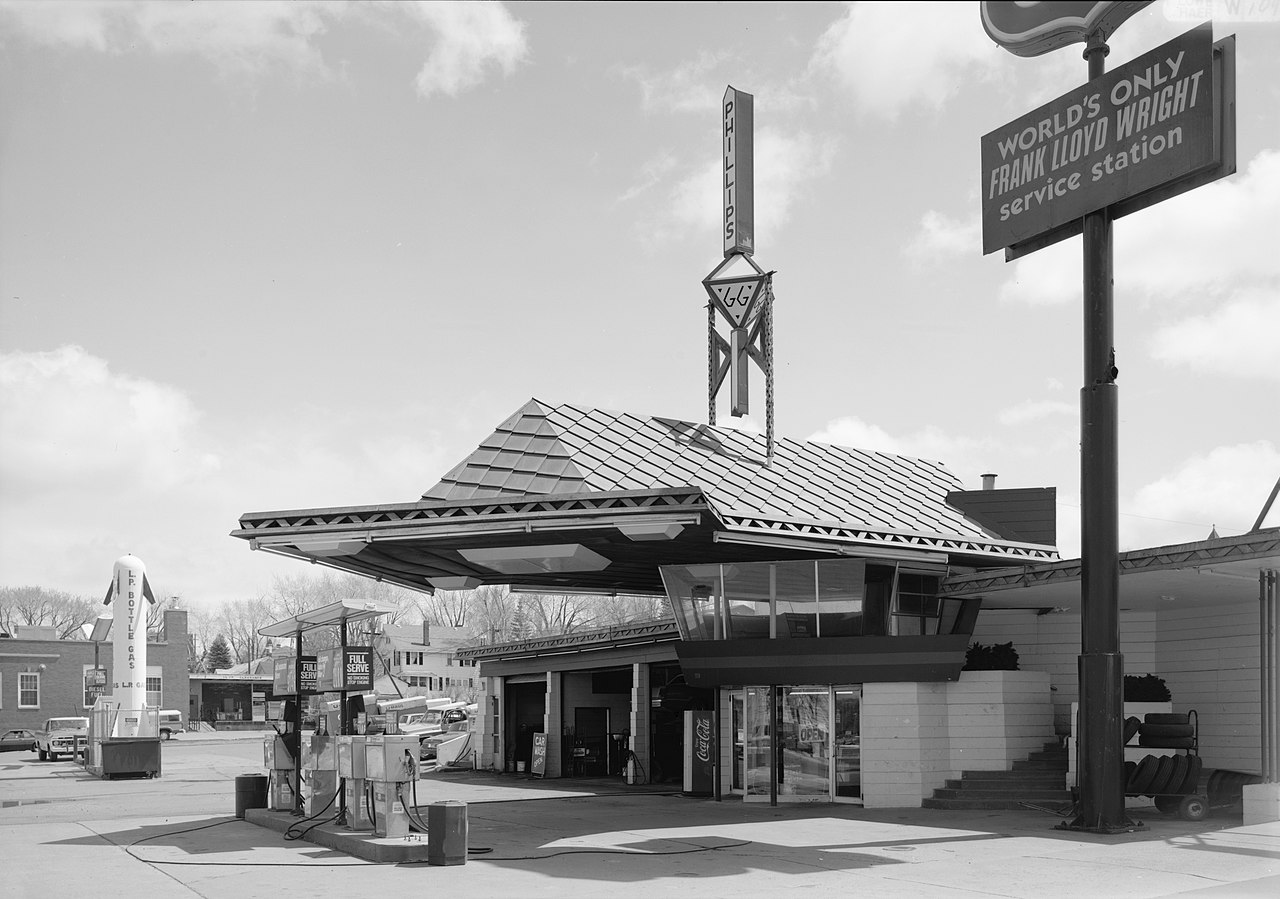 Image by Library of Con­gress, via Wiki­me­dia Com­mons
There are many such vis­i­tors, who arrive from not just all around the coun­try but all around the world. But when it was last sold in 2018, the buy­er it found was rel­a­tive­ly local: Min­neso­ta-born Andrew Vol­na, own­er of such Min­neapo­lis oper­a­tions as vinyl-record man­u­fac­tur­er Noise­land Indus­tries and the once-aban­doned, now-ren­o­vat­ed Hol­ly­wood The­ater. "Wright saw the sta­tion as a cul­tur­al cen­ter, some­where to meet a friend, get your car fixed, and have a cup of cof­fee while you wait­ed," writes Tre­go­ning, though he nev­er did make it back out to the fin­ished build­ing before he died in 1959. These six­ty-odd years lat­er, per­haps Vol­na will be the one to turn this unlike­ly archi­tec­tur­al hot spot into an even less like­ly social one as well.
Relat­ed con­tent:
Frank Lloyd Wright Designs an Urban Utopia: See His Hand-Drawn Sketch­es of Broad­acre City (1932)
12 Famous Frank Lloyd Wright Hous­es Offer Vir­tu­al Tours: Hol­ly­hock House, Tal­iesin West, Falling­wa­ter & More
Build Wood­en Mod­els of Frank Lloyd Wright's Great Build­ing: The Guggen­heim, Uni­ty Tem­ple, John­son Wax Head­quar­ters & More
How Frank Lloyd Wright's Son Invent­ed Lin­coln Logs, "America's Nation­al Toy" (1916)
The Mod­ernist Gas Sta­tions of Frank Lloyd Wright and Mies van der Rohe
When Frank Lloyd Wright Designed a Dog­house, His Small­est Archi­tec­tur­al Cre­ation (1956)
Based in Seoul, Col­in Marshall writes and broad­casts on cities, lan­guage, and cul­ture. His projects include the Sub­stack newslet­ter Books on Cities, the book The State­less City: a Walk through 21st-Cen­tu­ry Los Ange­les and the video series The City in Cin­e­ma. Fol­low him on Twit­ter at @colinmarshall or on Face­book.