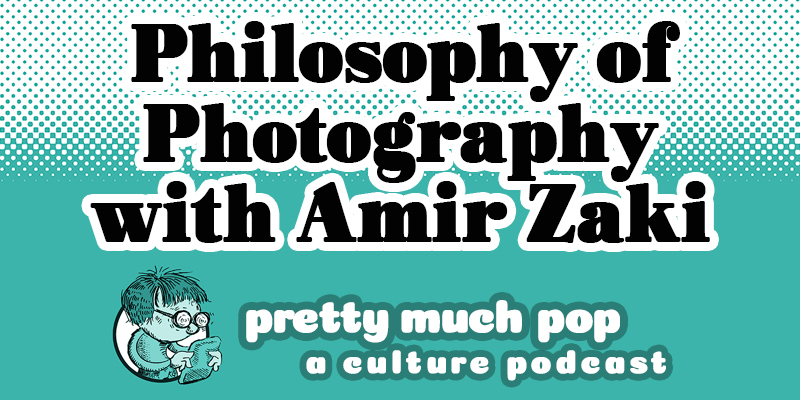 Amir Zaki teach­es at UC-River­side and has had his work dis­played in numer­ous gal­leries, in his recent book Cal­i­for­nia Con­crete: A Land­scape of Skateparks, and pro­filed via a short film.
Amir joins your hosts Mark Lin­sen­may­er, Eri­ca Spyres, and Bri­an Hirt to con­sid­er this com­mon act that can stretch from the mun­dane to the sub­lime. How have our var­i­ous pur­pos­es for pho­tog­ra­phy changed with the advent of dig­i­tal tech­nol­o­gy, the intro­duc­tion of social media, and the ready access to video? What deter­mines what we choose to take pic­tures of, and how does tak­ing pho­tog­ra­phy more seri­ous­ly change the way we expe­ri­ence? We touch on icon­ic and ide­al­ized images, cap­tur­ing the spe­cif­ic vs. the uni­ver­sal, wit­ness­ing vs. inter­ven­ing via pho­tog­ra­phy, and more.
A few of the arti­cles we looked at to pre­pare includ­ed:
Learn more at prettymuchpop.com. This episode includes bonus dis­cus­sion that you can only hear by sup­port­ing the pod­cast at patreon.com/prettymuchpop. This pod­cast is part of the Par­tial­ly Exam­ined Life pod­cast net­work.
Fol­low Amir on Insta­gram @amir_zaki_.
Pret­ty Much Pop: A Cul­ture Pod­cast is the first pod­cast curat­ed by Open Cul­ture. Browse all Pret­ty Much Pop posts