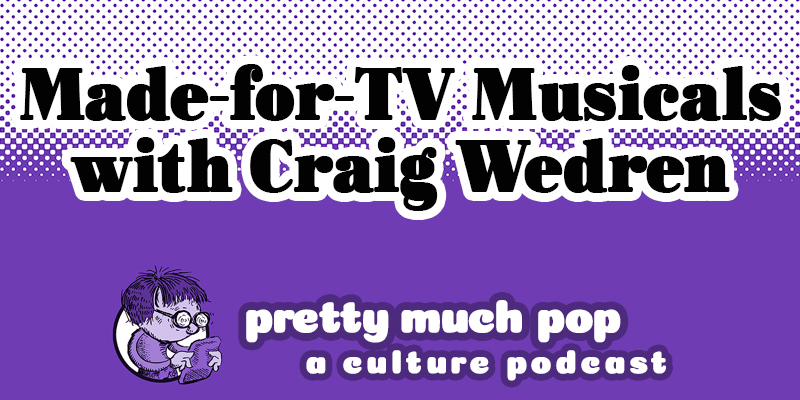 Craig was the front-man of the brainy punk band Shudder to Think from the mid-'80s through the '90s and has created music for many TV shows and films. He joins your hosts Mark Linsenmayer, Erica Spyres, and Brian Hirt due to his involvement with the current NBC musical dramedy Zoey's Extraordinary Playlist, which along with Glee, Crazy Ex-Girlfriend, Nashville, Rise, etc. represents a new era of musicals as mainstream TV.
Why are shows like this being created at this point in our cultural history? These shows all use some narrative explanation for why there's singing (i.e. the songs are diagetic) instead of just having the characters sing as in a classic musical or a film like The Greatest Showman or La La Land. Most of these also make heavy use of cover tunes and/or parodies in a way that stage musicals usually don't. And of course there's often a heavy use of autotune and more star-based casting than is the norm for stage productions.
Some articles to provide an overview of the topic:
Note that Craig doesn't create the actual songs that the cast members sing for Zoey's, just the interstitial music, but he's written heaps of songs and is in a great position to talk with us about everything from Cop Rock to Mama Mia. We also touch on musical episodes in Community and Buffy the Vampire Slayer, Bohemian Rhapsody, karaoke in film, Adam Schlesinger, Stop Making Sense (also see David Byrne's mobile band on Colbert) and a weird Netflix lip-sync drama called Soundtrack,
Listen to Craig talk about his own tunes on Nakedly Examined Music and watch his daily Sabbath Sessions at facebook.com/craigwedrenmusic or on YouTube. Hear the song he wrote for School of Rock.
Learn more at prettymuchpop.com. This episode includes bonus discussion that you can only hear by supporting the podcast at patreon.com/prettymuchpop. This podcast is part of the Partially Examined Life podcast network.
Pretty Much Pop: A Culture Podcast is the first podcast curated by Open Culture. Browse all Pretty Much Pop posts or start with the first episode.