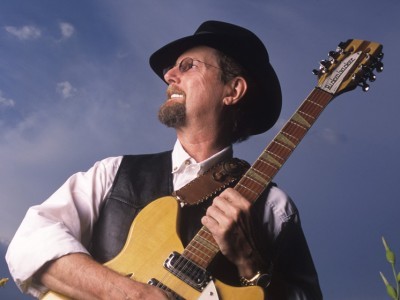 Roger McGuinn of the Byrds was one of the most influential singers and guitarists of the 1960s. Although his own influences range from Ravi Shankar to John Coltrane, McGuinn's roots are in folk music. The Byrds were among the first to fuse folk with rock and roll. "I've always considered myself a folksinger," McGuinn told Neal Conan this week on NPR's Talk of the Nation, "even though we strapped on Rickenbacker guitars and played pretty loud. But I was a folksinger at heart because we always loved folk music. I loved the melodies and the stories."
In the mid 1990s McGuinn was listening to a Smithsonian Folkways record when it occurred to him that he wasn't hearing traditional songs played anymore, even in folk clubs. "So I thought, 'What's going to happen when Odetta dies?' Well, as you know, she just passed away. And Pete Seeger's, what, he's 92, 93. He's getting up there. So I thought I'd do something about it."
McGuinn had always been an early adopter of new technologies. He owned a mobile telephone in the early 1970s and bought his first personal computer in 1981. So in 1995 he got the idea of establishing Folk Den, a website dedicated to preserving the traditional folk music that he loves. On the first day of each month, McGuinn posts a new song.  There are now almost 200 MP3 files online, available for free download. In some of the recordings McGuinn is joined by his wife, Camilla. To get the flavor of what's available, here are three quick examples:
But you really must visit the Folk Den Web site, which includes lyrics, chords, visual material and a little introduction to each song written by McGuinn. And to hear McGuinn's Talk of the Nation interview, which includes musical performances, visit the NPR Web site.