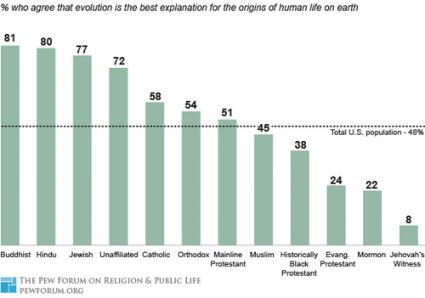 This chart comes from a new Pew Research Center study that looks at the worldwide acceptance of evolution 150 years after Darwin's On the Origin of Species by Means of Natural Selection. At least in the United States, only a minority of the public believes in evolution, largely because evangelical protestants (a large portion of the American population) resist Darwin's thinking far more strongly than other world populations. (The chart makes that simple fact fairly clear.) A piece newly published by the Pew Center goes on to add:
Recent public opinion polls indicate that challenges to Darwinian evolution have substantial support among the American people. According to an August 2006 survey by the Pew Research Center's Forum on Religion & Public Life and the Pew Research Center for the People & the Press, 63 percent of Americans believe that humans and other animals have either always existed in their present form or have evolved over time under the guidance of a supreme being. Only 26 percent say that life evolved solely through processes such as natural selection. A similar Pew Research Center poll, released in August 2005, found that 64 percent of Americans support teaching creationism alongside evolution in the classroom.
For more information, see the Pew Center's larger web collection dedicated to the Darwin debate. Also see a new Gallup poll that puts American belief in evolution at 39%.
via The Daily Dish