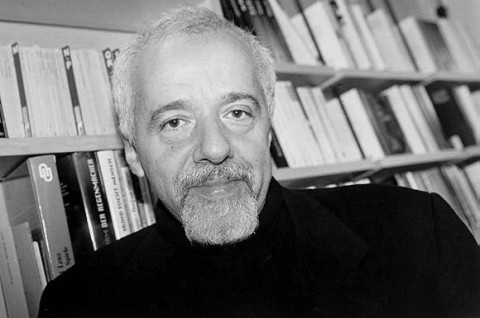 Get ready for it. This week, Knopf will release Paulo Coelho's latest novel, Aleph. And we're taking bets on three questions. How many copies will be legally sold? (The Alchemist has sold more than 65 million copies.) How many copies will be pirated and given away? And to what extent will the circulation of illegal copies actually benefit legit sales?
In recent years, Coelho has become something of a willing conspirator in the pirating of his own work. Sometimes he links on his own blog to pirated copies floating around the web. Other times he makes the texts available (in multiple languages) in a nice shareable widget.
Coelho explains how his adventures in self-pirating got underway in a Q&A appearing in yesterday's New York Times.
Q. You've also had success distributing your work free. You're famous for posting pirated version of your books online, a very unorthodox move for an author.

A. I saw the first pirated edition of one of my books, so I said I'm going to post it online. There was a difficult moment in Russia; they didn't have much paper. I put this first copy online and I sold, in the first year, 10,000 copies there. And in the second year it jumped to 100,000 copies. So I said, "It is working." Then I started putting other books online, knowing that if people read a little bit and they like it, they are going to buy the book. My sales were growing and growing, and one day I was at a high-tech conference, and I made it public.

Q. Weren't you afraid of making your publisher angry?

A. I was afraid, of course. But it was too late. When I returned to my place, the first phone call was from my publisher in the U.S. She said, "We have a problem."

Q. You're referring to Jane Friedman, who was then the very powerful chief executive of HarperCollins?

A. Yes, Jane. She's tough. So I got this call from her, and I said, "Jane, what do you want me to do?" So she said, let's do it officially, deliberately. Thanks to her my life in the U.S. changed.
The rest of the interview continues here. And, in the meantime, you can find several Coelho books catalogued in our collection of Free eBooks.
Related Content:
Paulo Coelho on The Fear of Failure