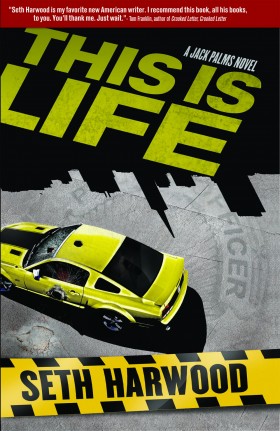 We all know where books come from: a human and a muse meet, fall in love, and two months to twenty years later, a book is born. Then, as with other varieties of babies, the sleepless nights start as a writer searches for a home for the book, collecting rejections like badges of honor, testaments to determination.
Well, that was the old-fashioned way. We've all heard how the internet has leveled the playing field, allowing anybody to publish work and find an audience. However, this easier path to publication hasn't necessarily solved an even older writer's conundrum: How to pay for it.
That is, how to make enough money to sustain yourself as you write (day jobs aside). And so writers must become even wilier. Though you may make money from the sale of a book, how do you fund yourself before the book?
Seth Harwood, the author of three books, is at the front of the movement to find alternate and creative ways of not only reaching audiences, but pursuing the writing life. Since graduating from the Iowa Writers Workshop in 2002, Harwood has built up a loyal fan base—his "Palms Mamas and Palms Daddies" (named for one of his protagonists, Jack Palms)—through social media and free podcasting. Harwood is sustaining a writing life along a path that is likely to be more and more common for writers.
After offering his first novel, Jack Wakes Up, as a free audiobook, Harwood published it in paperback with Breakneck Books in 2008. The Amazon sales, pushed by Palms Mamas and Palms Daddies, landed the book in #1 in Crime/Mystery and #45 overall, bringing the attention of Random House, who re-published the book one year later.
Looking outside mainstream avenues, Harwood secured funding for publication of his next venture, Young Junius, with Tyrus Books by preselling signed copies through Paypal—before the books existed in physical form. And now he is one of the early adopters of using Kickstarter to pay for the gestation and birth of not one book—but five previously-written works in the next six months–as he puts it, "raising the fixed costs of bringing these books to the marketplace." His Kickstarter campaign based around This Is Life, the sequel to Jack Wakes Up was—impressively—fully funded within 25 hours—and with a few days still left to go, it has exceeded the original goal by over $2000.
What can a writer offer besides an autographed copy of the to-be-written book, or a mention in the acknowledgements? For Harwood's project, the pledges range from a dollar to $999, with thank-yous spanning from the aforementioned to—at the $999 end—an original novella written according to the donor's wishes and published as a one-off hardcover.
As more and more writers become cynical about the mainstream publishing industry, and the limits it places on writers, and as the internet breaks down barriers between writers and readers, alternate paths of drawing audiences to the writing/publishing process may become more and more popular. In none other than the New York Times Book Review, Neal Pollack recently declared his intention to self-publish his next book using Kickstarter to generate his fixed costs and "an advance," and last week bestseller Paulo Coelho discussed his decision to offer his novels for free online. (You can find free ebooks by Coelho here.)
Indeed, now more than ever, it seems essential for authors to meet readers at least half-way. Harwood considers himself an "author-preneur," developing new business models as he publishes his books. As he sees it, innovation comes much more easily to an author acting alone, than to a large publishing company or big corporation. He aims for the new models as he sees them developing, knowing he's got to go out and find readers himself. As Coelho declares, "The ivory tower does not exist anymore."
This post was contributed by Shawna Yang Ryan. Her novel Water Ghosts was a finalist for the 2010 Asian American Literary Award. In 2012, she will be the Distinguished Writer in Residence at the University of Hawai'i at Manoa.