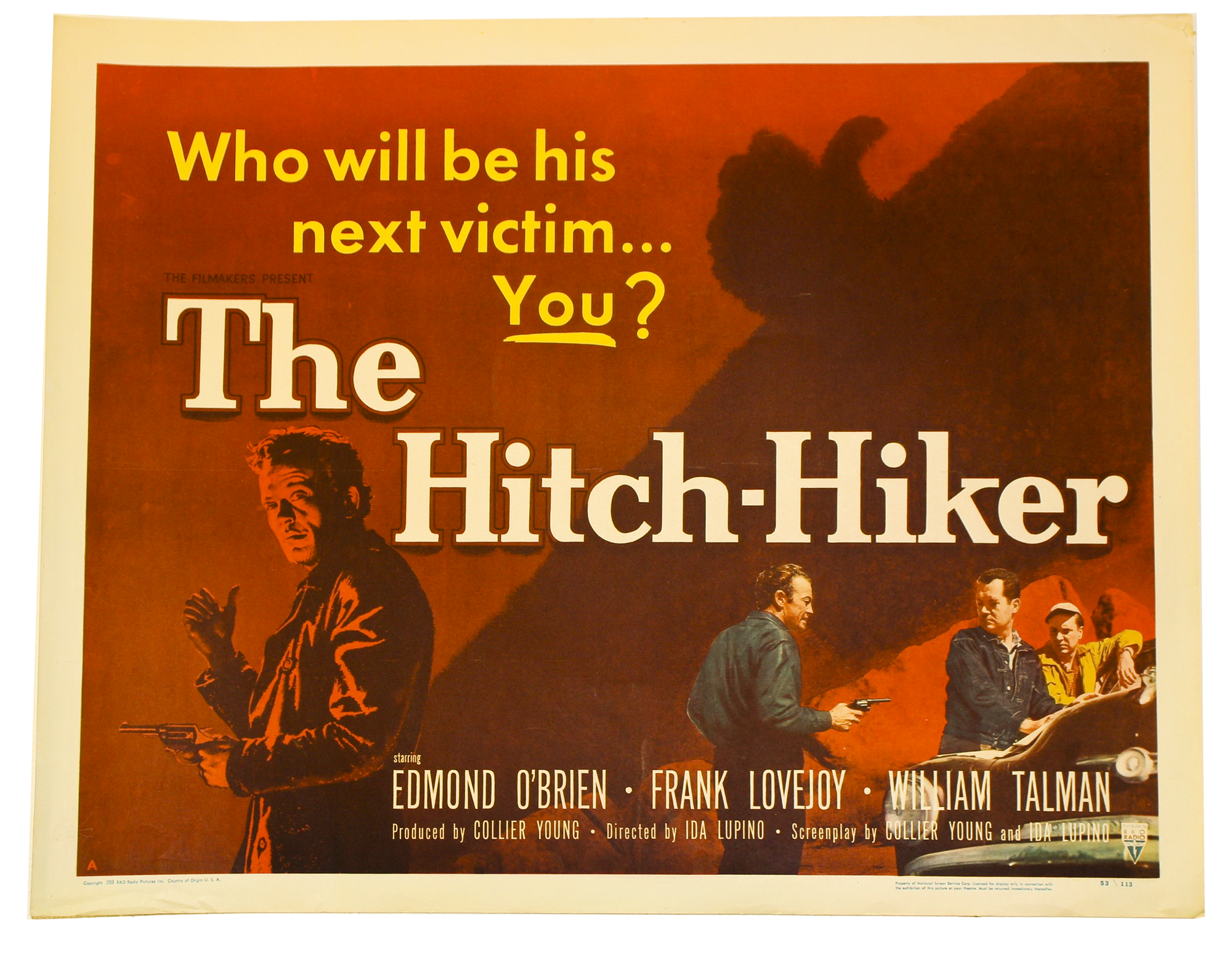 In our enlightened times, film directing has become a reasonably open profession, admitting men, women, and — given the plummeting cost of production equipment — children alike. But imagine how it would've been in 1949, when the English-born actress Ida Lupino took the reins of Not Wanted from the project's ailing director Elmer Clifton. This wouldn't have seemed normal at the time, and it would've seemed even less normal that she went on to direct six more pictures. Her fifth, 1953's The Hitch-hiker, even entered the tradition of noir, one rarely associated with female writers or directors. Femmes fatales, sure — these stories could scarcely exist without them — but women behind the camera?
To add a layer of irony on top of the unlikeliness, The Hitch-hiker does away with any trace of overt womanly presence. By the time we get to know the film's hapless protagonists, a couple of buddies who look and act like fresh-cut slabs of all-American blandness, they've already told their wives they're off to a fishing trip, and they'll get back when they get back.
Bearing straight south down the open road, no sooner do they reach Mexico than they pick up a hitchhiker. By the time they come to understand that this black-clad, lumpy-featured fellow has killed before, may well kill again, and intends to mount a ceaseless campaign of psychological manipulation in order to get a ride to his freedom, we understand why hitchhiking has gone out of style. You can find out how things turn out for them by watching the whole thing, free on YouTube.
Lupino's film doesn't just remove the women from the noir formula; it leaves aside most of the darkness implicit in the genre's very name. Apart from a few tense nighttime scenes and a climactic chase through an after-hours shipyard, the bulk of The Hitch-hiker's action takes place under a harsh Mexican sun that bleaches out nearly everything but the jagged shadows cast by unearthly rock formations along the empty road. Though actually shot on the eastern slopes of the Sierra Nevada mountains, the movie takes its foreign setting seriously, offering several relatively extended sequences and exchanges conducted entirely in untranslated Spanish. By the standards of midcentury American genre film, this nearly counts as an act of radical artistic experimentation. Yes, The Hitch-hiker plays a bit broadly today and leans on a few tropes that must have seemed creaky even in 1953, but it remains an unusual enough entry in noir history to merit attention — and not just because of the sex of the director.
You can find The Hitch-hiker and other films by Ida Lupino in our collection 4,000+ Free Movies Online: Great Classics, Indies, Noir, Westerns, Documentaries & More, and in our special collection of Free Noir Films.
Colin Marshall hosts and produces Notebook on Cities and Culture. Follow him on Twitter at @colinmarshall.