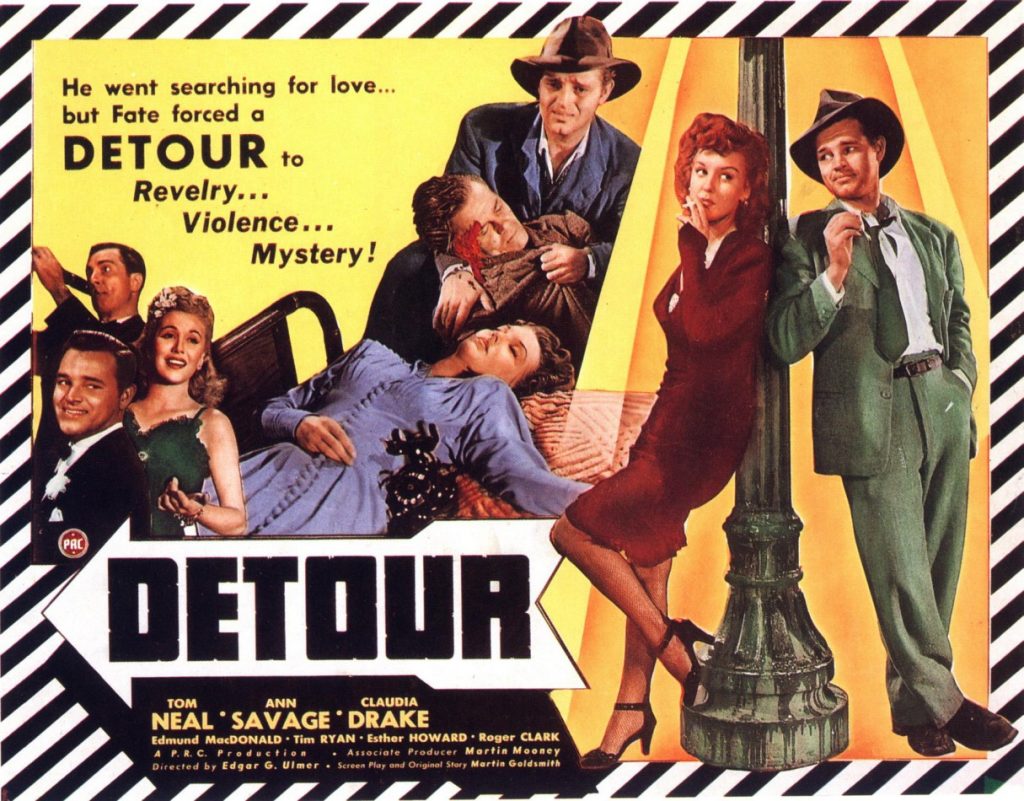 According to cinema lore, Edgar G. Ulmer's Detour, a slapdash, unprofessional $20,000 melodrama shot in a mere mistake-filled six days, has somehow, over the past 66 years, accrued a sizable and appreciative following among film noir enthusiasts. Except it turns out that, in reality, its budget probably ran to some $117,000. And those six days might have actually been three six-day weeks. And the Austrian-born Ulmer, who had not only worked for such European luminaries as F.W. Murnau, Billy Wilder, and (so he claimed) Fritz Lang, but even made The Black Cat for Universal Pictures, hardly lacked professional bona fides. And the film's careful use of sound and striking use of light set it apart even from its brethren in the genre.
And speaking of that genre, a hearty critical agreement now holds that Detour distills, in its brief 68 minutes, the most vital emotional and aesthetic elements of film noir in a way that none of its other exemplars have managed. And mistakes? What mistakes? As Roger Ebert wrote on ushering the film into his Great Movies canon, "Placing style above common sense is completely consistent with Ulmer's approach throughout the film."
To recount Detour's story here — a piano-player down on his luck; a sudden death; a scheming, venomous dame — would be to miss the point. To cite out its many, er, unconventional production choices — nonexistent backgrounds concealed with fog, shots simply flipped over and re-used, stock footage meant to pad the runtime almost to feature length, unconvincing rear projection even by 1945's standards — would be to miss the point from another direction. The film has fallen into the public domain, so watch it free online and experience for yourself the way that, for all its apparent bluntness, it stealthily lodges itself in your sense memory. To call a movie "dreamlike" reeks of cliché, but Detour presents the elements of film noir in such a pure, naked state that you have little choice but to accept them directly, the way you would accept the "facts" of a dream. Though seemingly incompetent on all the levels subject to conscious analysis, the film operates effectively on all the levels beneath, hence the lasting inspiration it offers to certain filmmakers today. Make Detour, if you can, a double-feature with David Lynch's Lost Highway, which plays almost like a straight tribute to Ulmer's picture. As a dedicated transcendental meditator with a fascination for the dark side of Los Angeles and a tendency to bend archetypal characters toward his often oblique but always vivid stylistic will, Lynch has internalized Detour's legacy — intended or otherwise — more deeply than any other filmmaker alive today.
More noir classics can be found in our collection of 60+ Free Noir Films.
Colin Marshall hosts and produces Notebook on Cities and Culture. Follow him on Twitter at @colinmarshall.