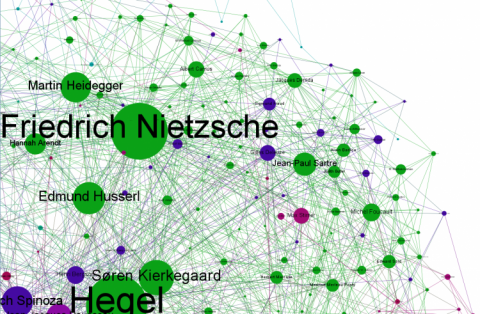 Simon Raper at Drunks & Lampposts has composed a data visualization of the relations of influence among philosophers. This was put together to demonstrate Raper's data extraction algorithm; he collected the contents of all the "influenced by" fields on Wikipedia, displaying each philosopher as a node connected to all other philosophers that he or she influenced. The more connections, the bigger the node. The result is visually fascinating and an interesting touchstone for philosophy fans.
Who was more important, Edmund Husserl or Jean-Paul Sartre? Well, you may not have heard of Husserl, but the size of his node is a bit bigger than Sartre's, so according to the graph, he's had more of an influence on the profession. The fact that Husserl's heyday was thirty years earlier than Sartre's may explain that fact, but as Mark De Silva at the New York Times Opinionater points out, it's also unclear how well these "influenced by" relations in Wikipedia correlate with real influences in the history of philosophy. Raper's graph seems to provide an excellent start for pondering the question. More graphs by historical period can be found here.
Mark Linsenmayer appears on The Partially Examined Life Philosophy Podcast, offering lively, in-depth introductions to Husserl, Sartre, and many other figures in philosophy.