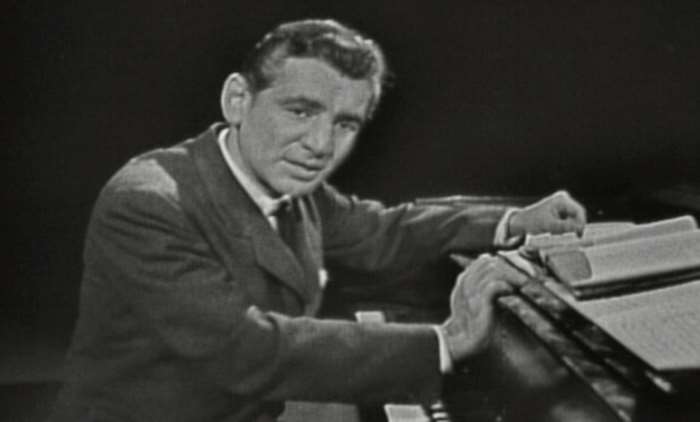 We've blogged before about Leonard Bernstein's appearances on a 1950s television program called Omnibus, "the most successful cultural magazine series in the history of U.S. commercial television," which featured scientists and artists presenting original ideas and compositions. In this documentary, Bernstein introduces his audience to "modern music," including such a more or less classical composer as Stravinsky to the avant-garde instrumentation of John Cage's prepared piano and early electronics of Pierre Henry's musique concrete. After watching a sextet of "musicians" "playing" transistor radios, Bernstein admits, "Now compared with all these wildest outposts of experimentation… Stravinsky probably sounds tame or more like, well… music." Bernstein then goes on to make a case for modern, experimental music, hoping to persuade his audience to "hate it less, or hate it more intelligently, or even grow to like it." He's a very patient teacher, and he anticipates his students' first objection to the modernism of his time: "What has happened to beauty?" The beauty of Mozart, say, or Tchaikovsky?
In order to answer this question, Bernstein uses easily visualized analogies to baseball and numerous more or less familiar symphonic passages to explain basic music theory—tonality, harmonics, chord structure, scale patterns, melody, dissonance. By the time he comes to describe the conflict, post-Wagner, between atonal composers and more conservative "tonalists" around the twenty minute mark, you've got a pretty good idea of what he's talking about, even if this debate is entirely new to you. It's a captivating lecture tracing the history and logic of musical composition, and despite Bernstein's range of references, he's never esoteric. He had the patience of a Fred Rogers and media personality of a musical Carl Sagan (and, oddly, some of the mannerisms of Rod Serling). Like Rogers and Sagan, he was part of an age when television presenters could be educators first, entertainers second, and solipsists not at all. Luckily for us, we've got him on Youtube.
If you would like to sign up for Open Culture's free email newsletter, please find it here.
If you would like to support the mission of Open Culture, consider making a donation to our site. It's hard to rely 100% on ads, and your contributions will help us continue providing the best free cultural and educational materials to learners everywhere. You can contribute through PayPal, Patreon, Venmo (@openculture) and Crypto. Thanks!
Related Content:
Leonard Bernstein's Masterful Lectures on Music (11+ Hours of Video Recorded in 1973)
Glenn Gould and Leonard Bernstein Play Bach
Josh Jones is a doctoral candidate in English at Fordham University and a co-founder and former managing editor of Guernica / A Magazine of Arts and Politics.