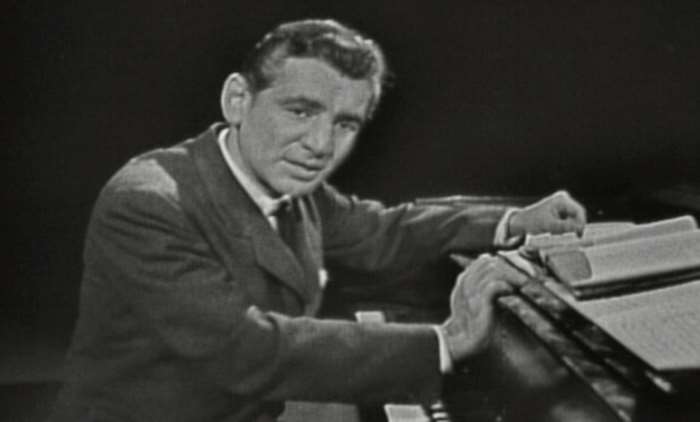 We've blogged before about Leonard Bernstein's appear­ances on a 1950s tele­vi­sion pro­gram called Omnibus, "the most suc­cess­ful cul­tur­al mag­a­zine series in the his­to­ry of U.S. com­mer­cial tele­vi­sion," which fea­tured sci­en­tists and artists pre­sent­ing orig­i­nal ideas and com­po­si­tions. In this doc­u­men­tary, Bern­stein intro­duces his audi­ence to "mod­ern music," includ­ing such a more or less clas­si­cal com­pos­er as Stravin­sky to the avant-garde instru­men­ta­tion of John Cage's pre­pared piano and ear­ly elec­tron­ics of Pierre Hen­ry's musique con­crete. After watch­ing a sex­tet of "musi­cians" "play­ing" tran­sis­tor radios, Bern­stein admits, "Now com­pared with all these wildest out­posts of exper­i­men­ta­tion… Stravin­sky prob­a­bly sounds tame or more like, well… music." Bern­stein then goes on to make a case for mod­ern, exper­i­men­tal music, hop­ing to per­suade his audi­ence to "hate it less, or hate it more intel­li­gent­ly, or even grow to like it." He's a very patient teacher, and he antic­i­pates his stu­dents' first objec­tion to the mod­ernism of his time: "What has hap­pened to beau­ty?" The beau­ty of Mozart, say, or Tchaikovsky?
In order to answer this ques­tion, Bern­stein uses eas­i­ly visu­al­ized analo­gies to base­ball and numer­ous more or less famil­iar sym­phon­ic pas­sages to explain basic music theory—tonality, har­mon­ics, chord struc­ture, scale pat­terns, melody, dis­so­nance. By the time he comes to describe the con­flict, post-Wag­n­er, between aton­al com­posers and more con­ser­v­a­tive "tonal­ists" around the twen­ty minute mark, you've got a pret­ty good idea of what he's talk­ing about, even if this debate is entire­ly new to you. It's a cap­ti­vat­ing lec­ture trac­ing the his­to­ry and log­ic of musi­cal com­po­si­tion, and despite Bernstein's range of ref­er­ences, he's nev­er eso­teric. He had the patience of a Fred Rogers and media per­son­al­i­ty of a musi­cal Carl Sagan (and, odd­ly, some of the man­ner­isms of Rod Ser­ling). Like Rogers and Sagan, he was part of an age when tele­vi­sion pre­sen­ters could be edu­ca­tors first, enter­tain­ers sec­ond, and solip­sists not at all. Luck­i­ly for us, we've got him on Youtube.
If you would like to sign up for Open Culture's free email newslet­ter, please find it here.
If you would like to sup­port the mis­sion of Open Cul­ture, con­sid­er mak­ing a dona­tion to our site. It's hard to rely 100% on ads, and your con­tri­bu­tions will help us con­tin­ue pro­vid­ing the best free cul­tur­al and edu­ca­tion­al mate­ri­als to learn­ers every­where. You can con­tribute through Pay­Pal, Patre­on, and Ven­mo (@openculture). Thanks!
Relat­ed Con­tent:
Leonard Bernstein's Mas­ter­ful Lec­tures on Music (11+ Hours of Video Record­ed in 1973)
Glenn Gould and Leonard Bern­stein Play Bach
Josh Jones is a doc­tor­al can­di­date in Eng­lish at Ford­ham Uni­ver­si­ty and a co-founder and for­mer man­ag­ing edi­tor of Guer­ni­ca / A Mag­a­zine of Arts and Pol­i­tics.