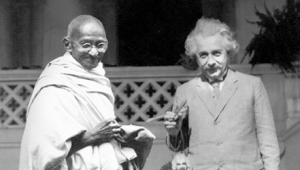 In 1931, Albert Ein­stein wrote to Mohan­das K. Gand­hi to express his great admi­ra­tion for the Indi­an leader's meth­ods. Trans­lat­ed from Ger­man, the let­ter reads in part:
You have shown through your works, that it is pos­si­ble to suc­ceed with­out vio­lence even with those who have not dis­card­ed the method of vio­lence.
The let­ter long pre­cedes the first atom­ic bombs and Einstein's let­ters to F.D.R. warn­ing of their devel­op­ment and use; though often dis­cussed only in rela­tion to the hor­rif­ic events of World War II, the physicist's oppo­si­tion to vio­lence and war was a long­stand­ing pas­sion for him. Ein­stein called his paci­fism an "instinc­tive feel­ing" based only on his "deep­est antipa­thy to every kind of cru­el­ty and hatred," rather than any "intel­lec­tu­al the­o­ry." His pol­i­tics often par­al­leled those of fel­low intel­lec­tu­al giant and anti-war activist Bertrand Rus­sell (the two col­lab­o­rat­ed on a 1955 "Man­i­festo" for peace).
Gand­hi remained an impor­tant influ­ence on Einstein's life and thought. In the audio clip above from 1950, he again offers gen­er­ous praise for the man known as "Mahat­ma" (great soul). In the record­ing, Ein­stein says of Gand­hi:
I believe that Gandhi's views were the most enlight­ened of all the polit­i­cal men of our time. We should strive to do things in his spir­it: not to use vio­lence in fight­ing for our cause, but by non-par­tic­i­pa­tion in any­thing you believe is evil.
Gandhi's con­cept of satya­gra­ha, which rough­ly trans­lates as "devo­tion to the truth," appealed to Ein­stein, per­haps, because of its prin­ci­pled stand against polit­i­cal expe­di­en­cy and for a kind of moral com­mit­ment that depend­ed on self-scruti­ny and inquiry into cause and effect. Like the counter-intu­itive the­o­ries of Ein­stein and Rus­sell, Gand­hi biog­ra­ph­er Mark Shep­ard writes that the con­cept of satya­gra­ha is "a hard one to grasp"–Especially, "for those used to see­ing pow­er in the bar­rel of a gun."
For more archival record­ings of Ein­stein express­ing his views on reli­gion, war and peace, and sci­ence, vis­it Amer­i­can Pub­lic Media's On Being web­site.
Relat­ed Con­tent:
How Bertrand Rus­sell Turned The Bea­t­les Against the Viet­nam War
Face to Face with Bertrand Rus­sell: 'Love is Wise, Hatred is Fool­ish'
Josh Jones is a writer, schol­ar, and musi­cian. He recent­ly com­plet­ed a dis­ser­ta­tion on land, lit­er­a­ture, and labor.