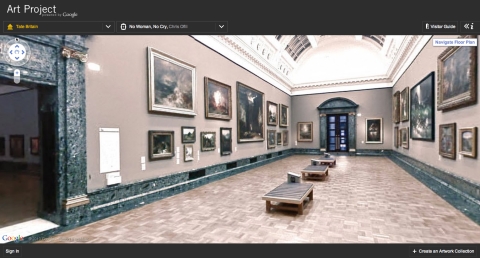 Today at 8 p.m. EST Google Art Project will launch a new series, Art Talks. Like Google's other Hangouts on Air, Art Talks will convene some of the most influential people of our time.
Each month Art Talks will feature a conversation with curators, museum directors, historians, or educators from world-renowned cultural institutions, who "will reveal the hidden stories behind particular works, examine the curation process and provide insights into particular masterpieces or artists."
For today's talk Deborah Howes, director of digital learning at the Museum of Modern Art, will moderate a panel of artists and students for a discussion about how to teach art online. To post a question for the group, visit the Google event page.
The talk will be broadcast live at 8 p.m. EST. Afterwards it'll be available on Google Art Project's YouTube channel.
Later this month Caroline Campbell and Arnika Schmidt from the National Gallery will discuss depictions of the female nude. In April, a panel will examine the gigapexil project based on Bruegel's "Tower of Babel."
Related Content:
Google Art Project Expands, Bringing 30,000 Works of Art from 151 Museums to the Web
Visit the Prado Art Collection with Google Earth
Free: The Guggenheim Puts 65 Modern Art Books Online
Kate Rix writes about digital media and education. Read more of her work at .