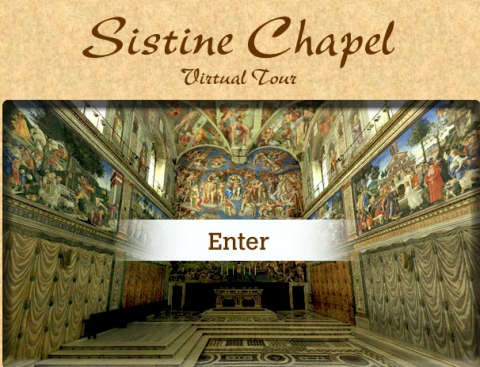 Forget the airports, the ticket lines, and the crowds. Now you can step right into the Vatican's most sacred spaces and inspect the wonders of Renaissance art and architecture with just a click of a mouse. The Vatican has posted a series of virtual tours created by students and faculty in the communication and computing science departments at Pennsylvania's Villanova University. The four Papal Basilicas are included, along with the smaller Sistine and Pauline chapels. Here are six links to six amazing virtual tours:
Basilica of St. Peter: Designed by Michelangelo and others, St. Peter's is the focal point of the Vatican, and perhaps the most famous example of Renaissance architecture. You can scroll up and down to inspect the walls and ceilings–including the famous dome–and zoom in for a close look at Michelangelo's masterpiece the Pietà or Bernini's ornate canopy, or baldachin, over the Papal Altar.
The Sistine Chapel: The most famous building in the Vatican, after St. Peter's, is the Sistine Chapel, a part of the Pope's official residence, the Apostolic Palace. Frescoes by Raphael, Bernini, Botticelli and others adorn the walls–and on the ceiling, one of the great masterpieces in the history of art: Michelangelo's early 16th century depiction of scenes from the Book of Genesis, covering some 12,000 square feet. On a walking tour you would barely have enough time to recognize some of the major scenes. With this virtual tour you can spend all the time you want scanning around and zooming in to study the details.
Archbasilica of St. John Lateran: The Pope's official ecclesiastical seat, St. John Lateran is the oldest Papal Basilica. But many of its most famous features are relatively recent.  The basilica is perhaps best known for its neoclassical façade by Alessandro Galilei, completed in 1735.
Basilica of Paul Outside-the-Walls: Built outside the old city walls, this basilica contains the tomb of St. Paul. You can see the tomb and other features of the graceful church (which was rebuilt in the 19th century after a devastating fire) on the tour.
Basilica of St. Mary Major: This basilica is actually located outside the Vatican City compound, in Rome, but has extraterritorial status similar to that of a foreign embassy. Built in the fifth century, with some later additions, the basilica is a beautiful example of classical Roman architecture.
The Pauline Chapel: Another chapel in the Apostolic Palace, the Pauline Chapel is separated from the Sistine Chapel by the Sala Regia, or "Regal Room." Although less well-known than the Sistine Chapel, the Pauline Chapel houses two great frescoes by Michelangelo: "The Conversion of Saul" and "The Crucifixion of St. Peter."