Jorge Luis Borges had many fascinations—detective novels, gauchos, libraries, and labyrinths. Two prominent figures that occupied his mind, the tango and mythical monsters, appear in drawings Borges made in his manuscripts. Of the tango, Borges did much to spread the idea that the sensual Argentine dance originated in brothels. In his drawing above of a tango-ing couple, he writes at the top (in Spanish): "The tango is a brothel dance. Of this I have no doubt."
Borges would repeat this claim on many occasions. In his 1930 biography of Evaristo Carreiego, he writes, "my informants concur on one essential fact: the tango originated in the brothels."
Why this history so intrigued Borges I do not know, but I do know that he once collaborated with Argentine composer Astor Piazzola on an album of tangos in 1965. The drawing comes from the University of Notre Dame's special collections (you can read a Spanish transcription of the rest of the text at their site).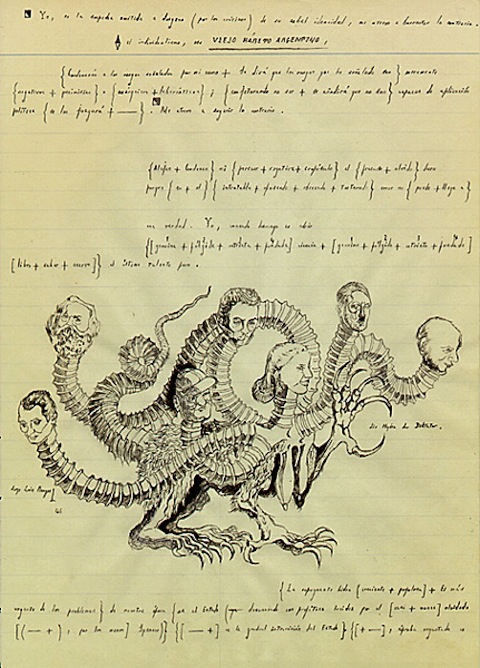 Above, see another of Borges' sketches, this one from the University of Virginia's extensive Borges collection. The drawing appears in a manuscript titled "The Old Argentine Habit," penned in 1946 and published (as "Our Poor Individualism") in Borges' 1952 essay collection Other Inquisitions. According to C. Jared Lowenstein, the drawing is titled in German, "Die Hydra der Diktator" ("The Hydra of the Dictators") and depicts Rosas, Peron, Mussolini, Hitler, and Marx and is signed "Jorge Luis Borges 46." Lowenstein writes:
The theme of the artwork is a stunning political statement by a writer who has often been deemed apolitical. It is also a remarkably detailed drawing, especially for someone who was losing his eyesight as Borges was at this time. This marvelous depiction supplements Borges's declaration in his text that Argentineans see themselves as individuals, not as citizens of a specific nation.
It is indeed a remarkably detailed work. I only wish Borges had supplied illustrations for his Book of Imaginary Beings.
Related Content:
Borges: Profile of a Writer Presents the Life and Writings of Argentina's Favorite Son, Jorge Luis Borges
Jorge Luis Borges' 1967-8 Norton Lectures On Poetry (And Everything Else Literary)
James Joyce, With His Eyesight Failing, Draws a Sketch of Leopold Bloom (1926)
Two Childhood Drawings from Poet E.E. Cummings Show the Young Artist's Playful Seriousness
Josh Jones is a writer and musician based in Washington, DC. Follow him at @jdmagness