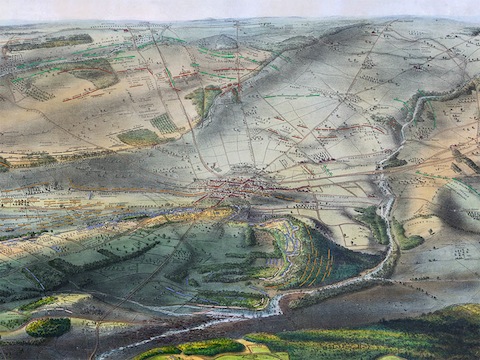 Today, as the U.S. celebrates the "nation's birthday," we also round the corner of the 150th anniversary of Gettysburg, the bloodiest and arguably most decisive battle of an internal struggle that never ceases to haunt the national psyche. With over 50,000 Union and Confederate soldiers killed, injured, gone missing, or captured during the days of July 1-3, 1863, historians continue to pore over the most minute details of the battle strategies of Generals Lee and Meade. Today's digital imaging and satellite technology means that our views of the action are in many ways far superior to anything commanders on the field could have hoped for.
Since 2000, the National Park Service has used military engineering techniques to restore the historic battlefield to something resembling its 1863 state, and, in the past few years, cartographers and researchers Anne Kelly Knowles, Dan Miller, Alex Tait, and Allen Carroll have analyzed new and old maps of the Pennsylvania terrain in and around Gettysburg to get a renewed appreciation for what the generals could and could not see during the conflict. Confederate officers had their views obstructed not only by limited mapping technology and relative field positions, but also by their own communication failures. As Knowles points out at the Smithsonian's website:
We know that Confederate general Robert E. Lee was virtually blind at Gettysburg, as his formerly brilliant cavalry leader J.E.B. Stuart failed to inform him of Federal positions, and Confederate scouts' reconnaissance was poor. The Confederates' field positions, generally on lower ground than Yankee positions, further put Lee at a disadvantage. A striking contrast in visual perception came when Union Gen. Gouvernour K. Warren spotted Confederate troops from Little Round Top and called in reinforcements just in time to save the Federal line.
Using so-called GIS (Geographic Information Systems), Knowles and her team are able to show what was hidden from the solders' views during such key moments as Pickett's Charge. The team used several period maps, like the 1863 "isometrical drawing" at the top, in their reconstructions. They also used satellite images from NASA, including the May 2013 picture below from the Operational Land Imager (OLI). You can see Knowles and her team's painstaking geographical and topographic reconstructions of the country's costliest rift at the Smithsonian Magazine's site.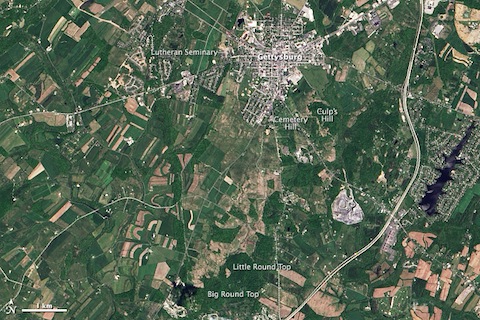 Related Content:
Hiroshima Atomic Bombing Remembered with Google Earth
The Gettysburg Address Animated
Behold Charles Laughton Delivering the Gettysburg Address in its Entirety in Ruggles of Red Gap
Josh Jones is a writer and musician based in Washington, DC. Follow him at @jdmagness