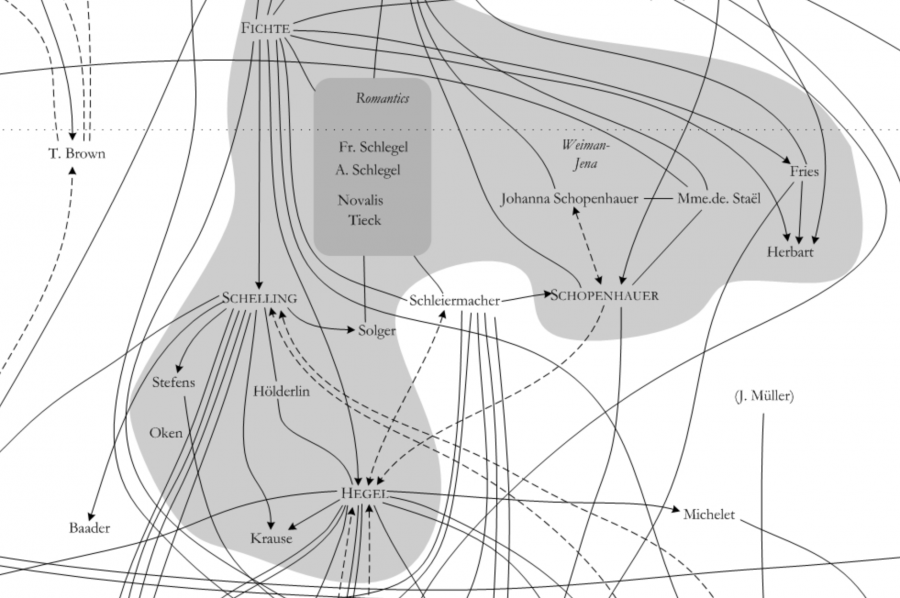 The his­to­ry of phi­los­o­phy tends to get might­i­ly abbre­vi­at­ed. The few phi­los­o­phy pro­fes­sors I know don't have much truck with gen­er­al­ist "his­to­ry of ideas"-type projects, and the dis­ci­pline itself encour­ages, nay, requires, inten­sive spe­cial­iza­tion. Add to this glib com­ments like Alfred North Whitehead's on phi­los­o­phy as a "series of foot­notes to Pla­to," and the emi­nent posi­tion of the errat­ic and com­par­a­tive­ly philo­soph­i­cal­ly-unschooled auto­di­dact Wittgen­stein, and you have, in mod­ern phi­los­o­phy, a sad neglect of the geneal­o­gy of thought.
But take heart, you who, like me, incline toward minor fig­ures and obscure rela­tion­ships. Ohio State pro­fes­sor of phi­los­o­phy Kevin Scharp is a Lin­naean tax­on­o­mist of thought, com­pil­ing charts, "Infor­ma­tion Box­es," and hand-drawn dia­grams of the "Soci­ol­o­gy of Phi­los­o­phy," like that above, which cov­ers West­ern phi­los­o­phy from 600 B.C.E. to 600 C.E. and shows the myr­i­ad com­plex con­nec­tions between hun­dreds of indi­vid­ual philoso­phers and schools of thought (such as Sto­icism, Skep­ti­cism, Neo-Pla­ton­ism, etc.). The sec­ond mas­sive dia­gram cov­ers 600 C.E. to about 1935. Each one is about 4 feet wide and 44 feet tall, with the text at 12-pont font. Both dia­grams are based on Soci­ol­o­gy of Philoso­phies by Ran­dall Collins.
Note: to see the dia­grams in detail, you will need to click the links above, and then click again on the images that appear on the new web page.
Relat­ed Con­tent:
The His­to­ry of Phi­los­o­phy … With­out Any Gaps
The Illus­trat­ed Guide to a Ph.D.
Down­load 90 Free Phi­los­o­phy Cours­es and Start Liv­ing the Exam­ined Life
Josh Jones is a writer and musi­cian based in Wash­ing­ton, DC. Fol­low him at @jdmagness