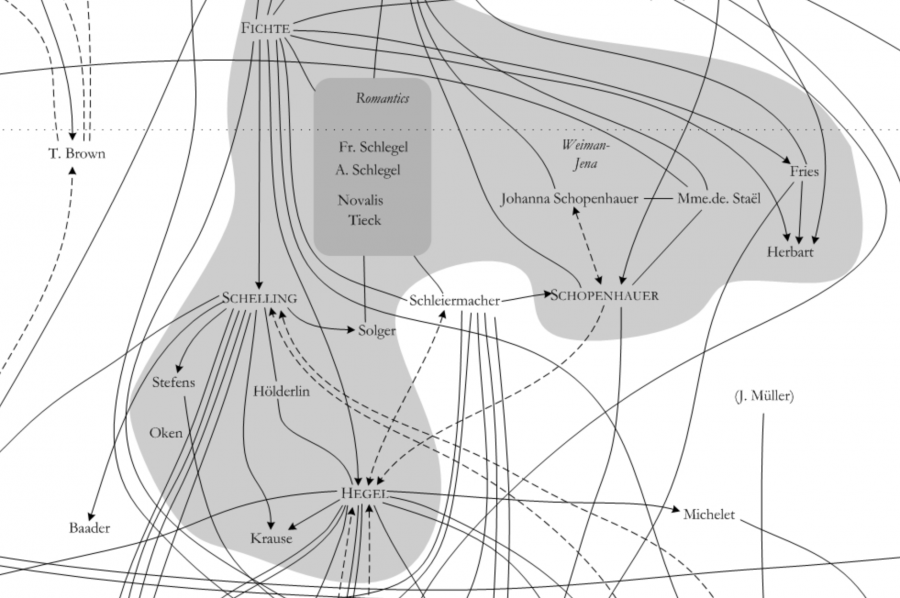 The history of philosophy tends to get mightily abbreviated. The few philosophy professors I know don't have much truck with generalist "history of ideas"-type projects, and the discipline itself encourages, nay, requires, intensive specialization. Add to this glib comments like Alfred North Whitehead's on philosophy as a "series of footnotes to Plato," and the eminent position of the erratic and comparatively philosophically-unschooled autodidact Wittgenstein, and you have, in modern philosophy, a sad neglect of the genealogy of thought.
But take heart, you who, like me, incline toward minor figures and obscure relationships. Ohio State professor of philosophy Kevin Scharp is a Linnaean taxonomist of thought, compiling charts, "Information Boxes," and hand-drawn diagrams of the "Sociology of Philosophy," like that above, which covers Western philosophy from 600 B.C.E. to 600 C.E. and shows the myriad complex connections between hundreds of individual philosophers and schools of thought (such as Stoicism, Skepticism, Neo-Platonism, etc.). The second massive diagram covers 600 C.E. to about 1935. Each one is about 4 feet wide and 44 feet tall, with the text at 12-pont font. Both diagrams are based on Sociology of Philosophies by Randall Collins.
Note: to see the diagrams in detail, you will need to click the links above, and then click again on the images that appear on the new web page.
Related Content:
The History of Philosophy … Without Any Gaps
The Illustrated Guide to a Ph.D.
Download 90 Free Philosophy Courses and Start Living the Examined Life
Josh Jones is a writer and musician based in Washington, DC. Follow him at @jdmagness