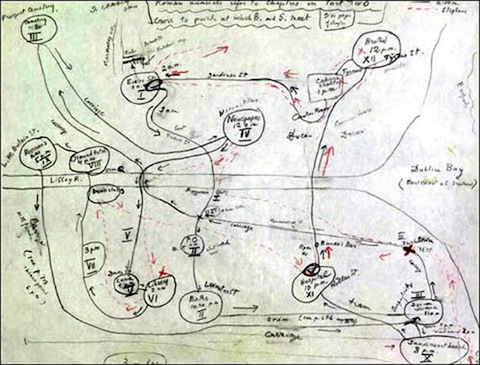 Click the image above for a larger version
Just above you'll find a sketched-out map of the paths Stephen Dedalus and Leopold Bloom took through Dublin on June 16, 1904. If you've ever read James Joyce's Ulysses (find it in our lists of Free eBooks and Free Audio Books), you may well have tried drawing one of these yourself, connecting the locations as each chapter finds one of the protagonists somewhere else in Ireland's capital on that "ordinary" day. Maybe you wanted to test the plausibility of the common assertion that, given accuracy and detail with which Joyce wrote about the city, one could, in case of the apocalypse, build the city all over again using the novel as a plan. This particular Ulysses fan map, however, comes from the hand of a very special reader indeed: Vladimir Nabokov, author of a few much-discussed works of twentieth-century literature himself, including Lolita, Pale Fire, and Speak, Memory.
For those who teach Ulysses, Nabokov has a suggestion: "Instead of perpetuating the pretentious nonsense of Homeric, chromatic, and visceral chapter headings, instructors should prepare maps of Dublin with Bloom's and Stephen's intertwining itineraries clearly traced." A post from Raynor Ganan quotes him as saying that, adding, "Would you not have donated a litre of your own spinal fluid to audit this lecture?" Indeed, Nabokov speaks from experience, having not only produced well-respected literature but taught it, too. The fruits of his time at the front of the classroom appear in his collection Lectures on Literature, though if you want to get as close as possible to the experience of sitting in on one of Nabokov's classes, go back into our archives and watch the WQED dramatization, starring Christopher Plummer, of his talk on Kafka at Cornell. It won't give you any insight into Joyce's Dublin, granted, but some Yale grad students' more recent project to digitally, interactively map Ulysses just might.
If you would like to sign up for Open Culture's free email newsletter, please find it here.
If you would like to support the mission of Open Culture, consider making a donation to our site. It's hard to rely 100% on ads, and your contributions will help us continue providing the best free cultural and educational materials to learners everywhere. You can contribute through PayPal, Patreon, and Venmo (@openculture). Thanks!
Related Content:
Vladimir Nabokov (Channelled by Christopher Plummer) Teaches Kafka at Cornell
James Joyce, With His Eyesight Failing, Draws a Sketch of Leopold Bloom (1926)
Read Joyce's Ulysses Line by Line, for the Next 22 Years, with Frank Delaney's Podcast
James Joyce's Ulysses: Download the Free Audio Book
Colin Marshall hosts and produces Notebook on Cities and Culture and writes essays on literature, film, cities, Asia, and aesthetics. He's at work on a book about Los Angeles, A Los Angeles Primer. Follow him on Twitter at @colinmarshall.