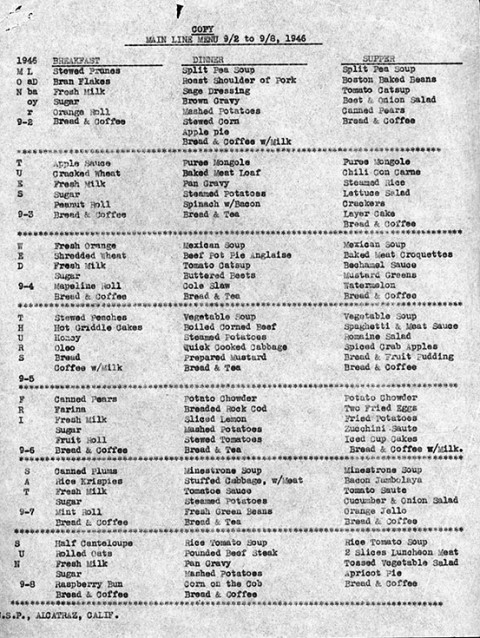 Why would you want to escape from Alcatraz when you could eat Beef Pot Pie Anglaise for lunch on Tuesday, Baked Meat Croquettes on Wednesday, and Bacon Jambalaya on Saturday? On second thought, why wouldn't you want to escape.
Above, we have the actual menu for the meals served at Alcatraz during one week in September, 1946. (View it in a slightly larger format here.) Alcatraz was, of course, a high security federal prison that operated off of the coast of San Francisco from 1933 until 1963. Some of America's more notorious criminals spent time dining there — good fellows like Al Capone, George "Machine Gun" Kelly, Bumpy Johnson, and James "Whitey" Bulger.
As you may know, Bulger is now back on trial in Boston. After being released from prison during the 1960s, he allegedly re-immersed himself in the world of organized crime, before eventually spending 16 years living as a fugitive, largely in California. While on the lam, he amazingly had the chutzpah to visit Alcatraz (now a tourist site) and pose for a picture where he donned a striped suit and stood behind mock prison bars. I have to wonder whether he had some Puree Mongole for old times' sake?
via SF Gate and Laughing Squid
Related Content:
The Odd Collection of Books in the Guantanamo Prison Library
See a Peruvian Prison Seized with Dance Fever as They Try to Break a Guinness World Record
Philosophy in Prison: Weighty Conversations about Right and Wrong
Two Prison Concerts That Defined an Outlaw Singer: Johnny Cash at San Quentin and Folsom (1968-69)