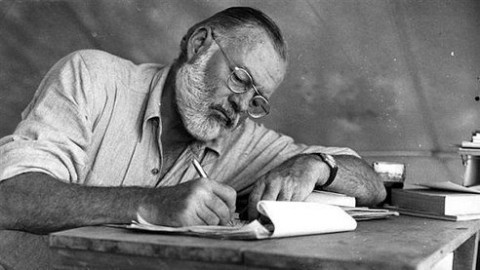 In the 1930s, Ernest Hem­ing­way wrote a series of short pieces for Esquire mag­a­zine called the "Key West Let­ters." One of those pieces, the 1935 "Remem­ber­ing Shoot­ing-Fly­ing" has an inter­est­ing premise—Hemingway claims that remem­ber­ing and writ­ing about shoot­ing are more plea­sur­able than shoot­ing itself. Or at least that he'd rather remem­ber shoot­ing pheas­ant than actu­al­ly shoot clay pigeons. In the next para­graph, this nos­tal­gia for good shoot­ing gets tied up with good books, such that the essay betrays its true desire—to be a med­i­ta­tion on read­ing. Before he catch­es him­self and gets back on top­ic, Hem­ing­way launch­es into a long par­en­thet­i­cal:
I would rather read again for the first time Anna Karen­i­na, Far Away and Long Ago, Bud­den­brooks, Wuther­ing Heights, Madame Bovary, War and Peace, A Sportsman's Sketch­es, The Broth­ers Kara­ma­zov, Hail and Farewell, Huck­le­ber­ry Finn, Wines­burg, Ohio, La Reine Mar­got, La Mai­son Tel­li­er, Le Rouge et le Noire, La Char­treuse de Parme, Dublin­ers, Yeat's Auto­bi­ogra­phies and a few oth­ers than have an assured income of a mil­lion dol­lars a year.
Is this hyper­bole? Lit­er­ary blus­ter? The gen­uine desire to encounter again "for the first time" the lit­er­a­ture that trans­formed and widened his world? Maybe all of the above. Bet­ter to stay home and remem­ber the greats—write about them and hope for a time when they're new again—than to fill one's time with mediocre and for­get­table books. At least that seems to be his argu­ment. And while I'm sure you have your own lists (feel free to add them to the com­ments sec­tion below!), some of you may wish to take a shot at Hemingway's and savor those works that for him over­shad­owed near­ly every oth­er.
To that end, we've com­piled a list of the books he names, with links to online texts and audio, where avail­able. Enjoy them for the first time, or read (and lis­ten) to them once again. And remem­ber that the texts are per­ma­nent­ly housed in our col­lec­tions of Free Book Audio Books and Free eBooks.
Anna Karen­i­na by Leo Tol­stoy (eBook—Audio Book)
Far Away and Long Ago by W.H. Hud­son (eBook—Audio Book)
Bud­den­brooks by Thomas Mann (eBook)
Wuther­ing Heights by Emi­ly Bron­të (eBook—Audio Book)
Madame Bovary by Gus­tave Flaubert (eBook—Audio Book)
War and Peace by Leo Tol­stoy (eBook—Audio Book)
A Sportsman's Sketch­es by Ivan Tur­genev (eBook)
The Broth­ers Kara­ma­zov by Fyo­dor Dos­to­evsky (eBook—Audio Book)
Hail and Farewell by George Moore (eBook)
Adven­tures of Huck­le­ber­ry Finn by Mark Twain (eBook—Audio Book)
Wines­burg, Ohio by Sher­wood Ander­son (eBook—Audio)
Queen Mar­got by Alexan­dre Dumas (eBook)
La Mai­son Tel­li­er by Guy de Mau­pas­sant (eBook)
The Red and the Black by Stend­hal (eBook—Audio Book)
La Char­treuse de Parme by Stend­hal (eBook)
Dublin­ers by James Joyce (eBook—Audio Book)
Rever­ies over Child­hood and Youth by William But­ler Yeats (eBook)
The Trem­bling of the Veil by William But­ler Yeats (eBook)
Relat­ed Con­tent:
Ernest Hem­ing­way Cre­ates a Read­ing List for a Young Writer, 1934
Ernest Hem­ing­way Writes of His Fas­cist Friend Ezra Pound: "He Deserves Pun­ish­ment and Dis­grace" (1943)
Ernest Hem­ing­way to F. Scott Fitzger­ald: "Kiss My Ass"
Neil deGrasse Tyson Lists 8 (Free) Books Every Intel­li­gent Per­son Should Read
via Lists of Note
Josh Jones is a writer and musi­cian based in Durham, NC. Fol­low him at @jdmagness