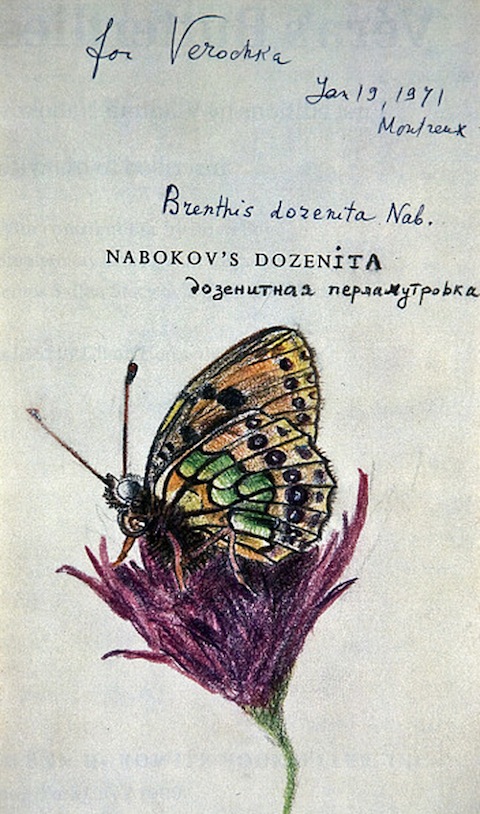 We don't often talk about the hob­bies (oth­er than drink­ing, any­way) of respect­ed twen­ti­eth-cen­tu­ry writ­ers. But do you know a sin­gle Nabokov read­er, or even an aspir­ing Nabokov read­er, igno­rant of the lep­i­dopter­ist lean­ings of the author of Loli­ta, The Gift, and Pale Fire? The man liked but­ter­flies, as any of the wide­ly seen pho­tographs of him wield­ing his com­i­cal­ly over­sized net can attest. But when his eyes turned toward these strik­ing, del­i­cate insects, he did­n't nec­es­sar­i­ly put down his pen. Nabokov's wife Vera, accord­ing to a Book­tryst post on the sale of his book and man­u­script col­lec­tions, "trea­sured nature, art, and life's oth­er intan­gi­bles more high­ly than mate­r­i­al pos­ses­sions, and Vladimir knew that for Christ­mas, birth­days and anniver­saries" — in Mon­treux in 1971, Itha­ca in 1957, Los Ange­les in 1960, or any­where at any time in their life togeth­er — "Vera appre­ci­at­ed his thought­ful and del­i­cate but­ter­fly draw­ings much more than some trin­ket. She delight­ed in these draw­ings in a way she nev­er did for the land­scapes he used to paint for her in ear­li­er days." For the woman clos­est to his heart, Nabokov drew the crea­tures clos­est to his heart.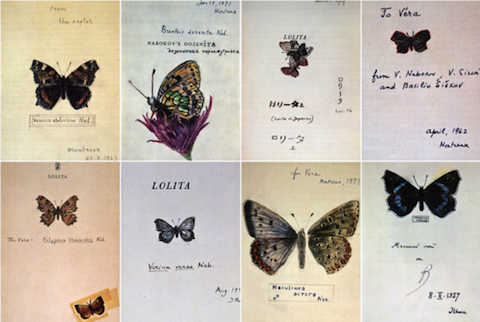 "From the age of sev­en, every­thing I felt in con­nec­tion with a rec­tan­gle of framed sun­light was dom­i­nat­ed by a sin­gle pas­sion. If my first glance of the morn­ing was for the sun, my first thought was for the but­ter­flies it would engen­der." This he declares in his auto­bi­og­ra­phy Speak, Mem­o­ry. "I have hunt­ed but­ter­flies in var­i­ous climes and dis­guis­es: as a pret­ty boy in knicker­bock­ers and sailor cap; as a lanky cos­mopoli­tan expa­tri­ate in flan­nel bags and beret; as a fat hat­less old man in shorts." Despite the pas­sion with which Nabokov pur­sued lep­i­doptery, it seemed, in his life­time, his accom­plish­ments in the field would remain most­ly non-pro­fes­sion­al; he began one book called But­ter­flies of Europe and anoth­er called But­ter­flies in Art, but fin­ished nei­ther.
But in 2000, out came the 782-page Nabokov's But­ter­flies, which col­lects, as its co-edi­tor Bri­an Boyd writes in the Atlantic, "his aston­ish­ing­ly diverse writ­ing about but­ter­flies, whether sci­en­tif­ic or artis­tic, pub­lished or unpub­lished, care­ful­ly fin­ished or rough­ly sketched, in poems, sto­ries, nov­els, mem­oirs, sci­en­tif­ic papers, lec­tures, notes, diaries, let­ters, inter­views, dreams." And in 2011, a hypoth­e­sis he had about but­ter­fly evo­lu­tion had its vin­di­ca­tion under the Roy­al Soci­ety of Lon­don. But to under­stand how much but­ter­flies meant to him, we need look no fur­ther than the title pages of the vol­umes he gave his wife.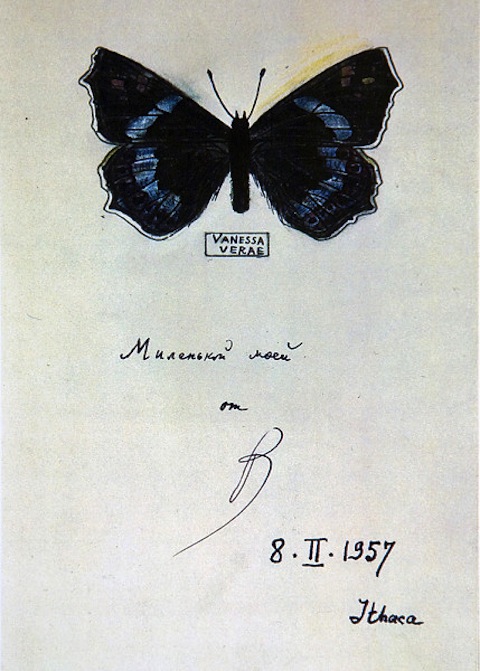 via Book Tryst
Relat­ed Con­tent:
Vladimir Nabokov Cre­ates a Hand-Drawn Map of James Joyce's Ulysses
Vladimir Nabokov Mar­vels Over Dif­fer­ent Loli­ta Book Cov­ers
Vladimir Nabokov (Chan­nelled by Christo­pher Plum­mer) Teach­es Kaf­ka at Cor­nell
Col­in Mar­shall hosts and pro­duces Note­book on Cities and Cul­ture and writes essays on lit­er­a­ture, film, cities, Asia, and aes­thet­ics. He's at work on a book about Los Ange­les, A Los Ange­les Primer. Fol­low him on Twit­ter at @colinmarshall.