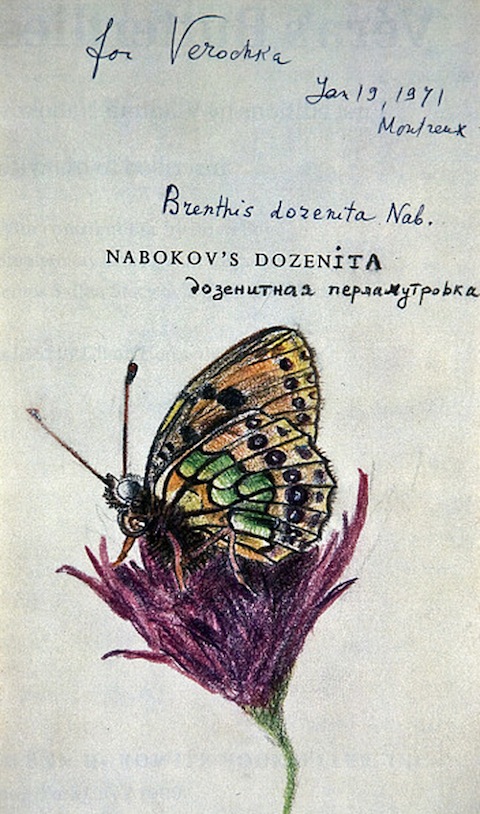 We don't often talk about the hobbies (other than drinking, anyway) of respected twentieth-century writers. But do you know a single Nabokov reader, or even an aspiring Nabokov reader, ignorant of the lepidopterist leanings of the author of Lolita, The Gift, and Pale Fire?  The man liked butterflies, as any of the widely seen photographs of him wielding his comically oversized net can attest. But when his eyes turned toward these striking, delicate insects, he didn't necessarily put down his pen. Nabokov's wife Vera, according to a Booktryst post on the sale of his book and manuscript collections, "treasured nature, art, and life's other intangibles more highly than material possessions, and Vladimir knew that for Christmas, birthdays and anniversaries" — in Montreux in 1971, Ithaca in 1957, Los Angeles in 1960, or anywhere at any time in their life together  — "Vera appreciated his thoughtful and delicate butterfly drawings much more than some trinket. She  delighted in these drawings in a way she never did for the landscapes he used to paint for her in earlier days." For the woman closest to his heart, Nabokov drew the creatures closest to his heart.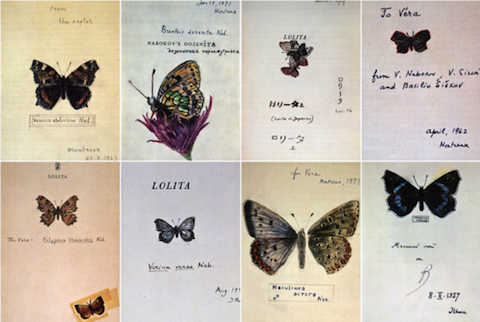 "From the age of seven, everything I felt in connection with a rectangle of framed sunlight was dominated by a single passion. If my first glance of the morning was for the sun, my first thought was for the butterflies it would engender." This he declares in his autobiography Speak, Memory. "I have hunted butterflies in various climes and disguises: as a pretty boy in knickerbockers and sailor cap; as a lanky cosmopolitan expatriate in flannel bags and beret; as a fat hatless old man in shorts." Despite the passion with which Nabokov pursued lepidoptery, it seemed, in his lifetime, his accomplishments in the field would remain mostly non-professional; he began one book called Butterflies of Europe and another called Butterflies in Art, but finished neither.
But in 2000, out came the 782-page Nabokov's Butterflies, which collects, as its co-editor Brian Boyd writes in the Atlantic, "his astonishingly diverse writing about butterflies, whether scientific or artistic, published or unpublished, carefully finished or roughly sketched, in poems, stories, novels, memoirs, scientific papers, lectures, notes, diaries, letters, interviews, dreams." And in 2011, a hypothesis he had about butterfly evolution had its vindication under the Royal Society of London. But to understand how much butterflies meant to him, we need look no further than the title pages of the volumes he gave his wife.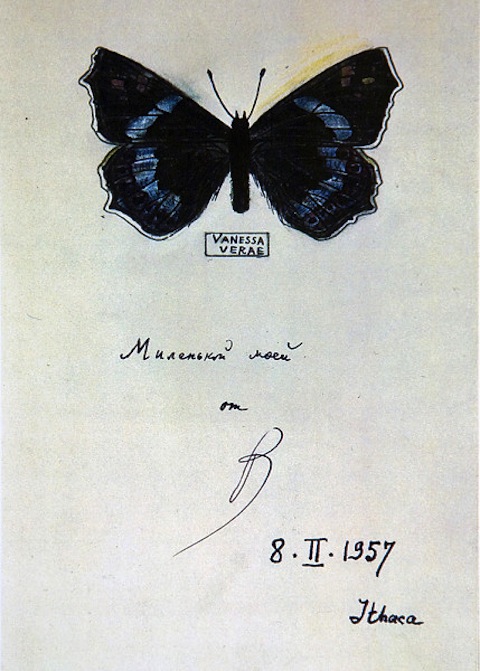 via Book Tryst
Related Content:
Vladimir Nabokov Creates a Hand-Drawn Map of James Joyce's Ulysses
Vladimir Nabokov Marvels Over Different Lolita Book Covers
Vladimir Nabokov (Channelled by Christopher Plummer) Teaches Kafka at Cornell
Colin Marshall hosts and produces Notebook on Cities and Culture and writes essays on literature, film, cities, Asia, and aesthetics. He's at work on a book about Los Angeles, A Los Angeles Primer. Follow him on Twitter at @colinmarshall.