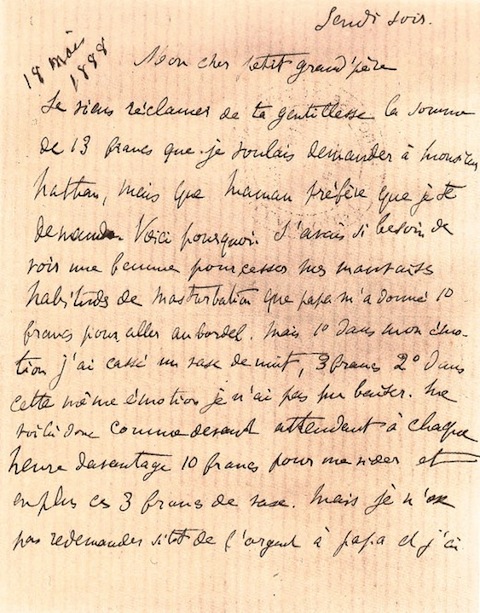 "One can say anything so long as one does not say 'I.'" Marcel Proust wrote these words to his fellow Frenchman of letters André Gide, and they constitute valuable advice for any novelist as well as a useful key to understanding Proust's own work. We think of Proust — especially today, the hundredth anniversary of Swann's Way, which opens his masterwork Remembrance of Things Past (À la recherche du temps perdu) — as an important French novelist, an important modern novelist, an important fin-de-siècle novelist, and so on. We also think of Proust as an important gay novelist.  And we owe that, in some sense, to Gide, who revealed the closeted Proust's homosexuality in their published correspondence after Proust's death. Sexuality has since become a major element of the robust field of Proust criticism, and the letter above surely gives its scholars material — or at least those scholars willing to examine the author's biography alongside his work.
The author of Remembrance of Things Past once suffered, according to Letters of Note, from an obsession with masturbation. "As a teenager this caused problems for his family, not least his father, a professor of hygiene, who like many of the day believed that such a worrying habit could cause homosexuality if left unchecked." Given 10 francs by Proust père, Marcel went off to the neighborhood brothel to, in theory, get himself set straight. And the outcome of this "cure"? We defer to the sixteen-year-old Proust himself, who in the letter above tells the whole sordid story to his grandfather:
18 May 1888

Thursday evening.

My dear little grandfather,

I appeal to your kindness for the sum of 13 francs that I wished to ask Mr. Nathan for, but which Mama prefers I request from you. Here is why. I so needed to see if a woman could stop my awful masturbation habit that Papa gave me 10 francs to go to a brothel. But first, in my agitation, I broke a chamber pot: 3 francs; then, still agitated, I was unable to screw. So here I am, back to square one, waiting more and more as hours pass for 10 francs to relieve myself, plus 3 francs for the pot. But I dare not ask Papa for more money so soon and so I hoped you could come to my aid in a circumstance which, as you know, is not merely exceptional but also unique. It cannot happen twice in one lifetime that a person is too flustered to screw.

I kiss you a thousand times and dare to thank you in advance.

I will be home tomorrow morning at 11am. If you are moved by my situation and can answer my prayers, I will hopefully find you with the amount. Regardless, thank you for your decision which I know will come from a place of friendship.

Marcel.
Many thanks to Letters of Note for uncovering this illuminating and — intentionally? unintentionally? — comedic piece of correspondence from literary history, and to Fabien Bonnet and Larst Onovich, to whom Letters of Note, in turn, gives credit.
Related Content:
Supreme Court Justice Stephen Breyer Discusses His Love for Reading Proust, and Why "Literature is Crucial to Any Democracy"
Watch Monty Python's "Summarize Proust Competition" on the 100th Anniversary of Swann's Way
Listening to Proust's Remembrance of Things Past, (Maybe) the Longest Audio Book Ever Made
Free eBooks: Read All of Proust's Remembrance of Things Past on the Centennial of Swann's Way
Colin Marshall hosts and produces Notebook on Cities and Culture and writes essays on literature, film, cities, Asia, and aesthetics. He's at work on a book about Los Angeles, A Los Angeles Primer. Follow him on Twitter at @colinmarshall.