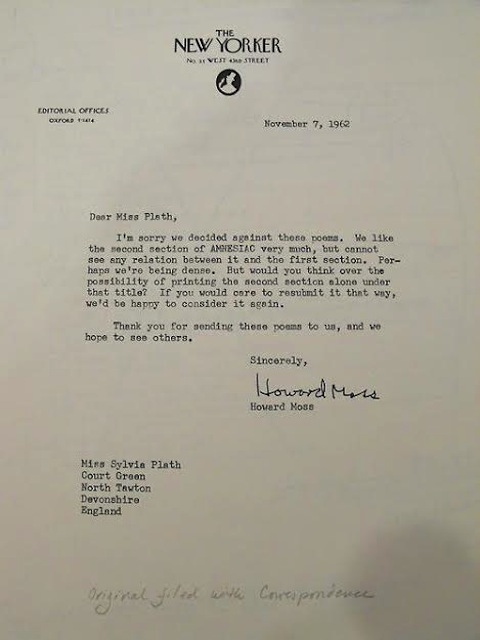 Every suc­cess­ful artist must mas­ter the art of accept­ing rejec­tion. "Fail bet­ter," said Beck­ett in his grim euphemism for per­se­ver­ance. "I love my rejec­tion slips," wrote Sylvia Plath in every hope­ful poet's favorite quote. "They show me I try." Plath—who also wrote "I am made, crude­ly, for success"—collected scores of rejec­tion let­ters, receiv­ing them even after the con­sid­er­able suc­cess of 1960's The Colos­sus and Oth­er Poems. The 1962 let­ter above (click here to view in a larg­er for­mat), from The New York­er, doesn't exact­ly reject a Plath sub­mis­sion, but it does rec­om­mend cut­ting the entire first sec­tion of "Amne­si­ac" and resub­mit­ting "the sec­ond sec­tion alone under that title." "Per­haps we're being dense," demurs edi­tor Howard Moss.
The rejec­tion must have been all the more painful since Plath was under a con­tract with the mag­a­zine, which enti­tled her to "an annu­al sum for the priv­i­lege of hav­ing a 'first read­ing' plus sub­se­quent pub­lish­ing rights to her new poet­ry," Plath schol­ars tell us. And yet "much to her dis­tress she main­ly received rejec­tions dur­ing Novem­ber and Decem­ber 1962." The poem was even­tu­al­ly bro­ken in two, with the first half pub­lished as "Lyon­nesse," but not by Plath her­self but by pub­lish­ers after her death. Hear Plath read the full poem as she intend­ed it in her edi­tion of Ariel, above.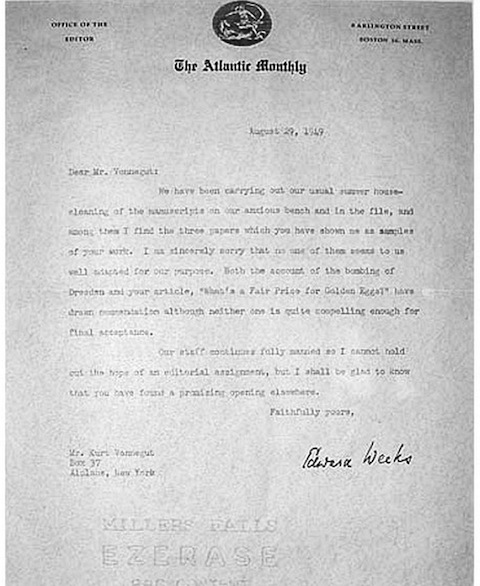 Kurt Von­negut received an imper­son­al, and it would seem, long-over­due rejec­tion let­ter from edi­tor of The Atlantic Edward Weeks in 1949. Weeks writes breezi­ly that he found Vonnegut's "sam­ples" dur­ing the "usu­al sum­mer house-clean­ing," announc­ing its slush-pile sta­tus. Weeks does at least give the impres­sion that some­one, if not him, had read Vonnegut's sub­mis­sions. The aspir­ing writer was 27 years old, strik­ing out "just a few years after sur­viv­ing the bomb­ing of Dres­den as a POW," Let­ters of Note informs us, and still twen­ty years away from pub­lish­ing his ground­break­ing nov­el Slaugh­ter­house Five. Let­ters of Note also pro­vides us with the tran­script below for the bad­ly fad­ed type­script.
The Atlantic Month­ly
August 29, 1949
Dear Mr. Von­negut:
We have been car­ry­ing out our usu­al sum­mer house-clean­ing of the man­u­scripts on our anx­ious bench and in the file, and among them I find the three papers which you have shown me as sam­ples of your work. I am sin­cere­ly sor­ry that no one of them seems to us well adapt­ed to for our pur­pose. Both the account of the bomb­ing of Dres­den and your arti­cle, "What's a Fair Price for Gold­en Eggs?" have drawn com­men­da­tion although nei­ther one is quite com­pelling enough for final accep­tance.
Our staff con­tin­ues ful­ly manned so I can­not hold out the hope of an edi­to­r­i­al assign­ment, but I shall be glad to know that you have found a promis­ing open­ing else­where.
Faith­ful­ly yours,
(Signed, 'Edward Weeks')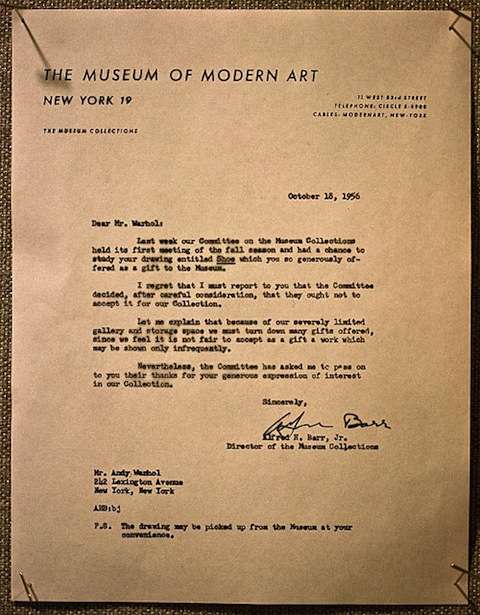 Of course visu­al artists are not immune. Andy Warhol received the above rejec­tion let­ter from New York's Muse­um of Mod­ern Art when he attempt­ed to donate a draw­ing in 1956. To its lat­er cha­grin, the muse­um wouldn't let him give his work away:
Last week our Com­mit­tee on the Muse­um Col­lec­tions held its first meet­ing of the fall sea­son and had a chance to study your draw­ing enti­tled Shoe which you so gen­er­ous­ly offered as a gift to the Muse­um.
I regret that I must report to you that the Com­mit­tee decid­ed, after care­ful con­sid­er­a­tion, that they ought not to accept it for our Col­lec­tion.
The Warhol rejec­tion cir­cu­lat­ed a few years ago after the MoMA tweet­ed Let­ters of Note's post on it (read the full tran­script there). Its most galling fea­ture: a post­script that reads, with dis­mis­sive cour­tesy, "The draw­ing may be picked up from the muse­um at your con­ve­nience."
Relat­ed Con­tent:
Gertrude Stein Gets a Snarky Rejec­tion Let­ter from Pub­lish­er (1912)
No Women Need Apply: A Dis­heart­en­ing 1938 Rejec­tion Let­ter from Dis­ney Ani­ma­tion
New York­er Car­toon Edi­tor Bob Mankoff Reveals the Secret of a Suc­cess­ful New York­er Car­toon
Josh Jones is a writer and musi­cian based in Durham, NC. Fol­low him at @jdmagness