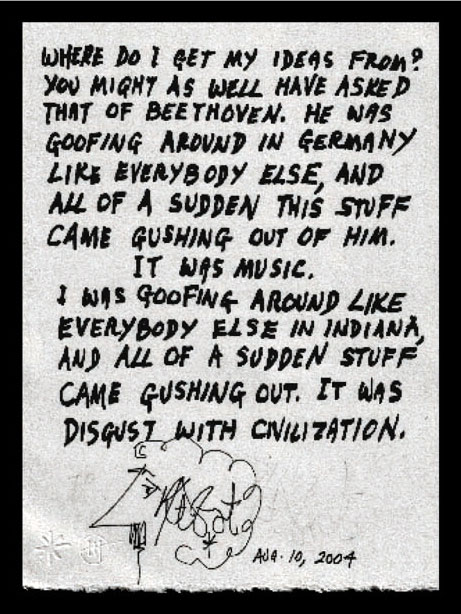 This past week, we referred you back to
Neil Gaiman's essay where he tried to explain the almost unexplainable
: the source(s) of his great ideas. The sci-fi/fantasy writer had always struggled to put his finger on those sources, and he could never really find an origin in one particular spring. But, it turns out that Kurt Vonnegut never had that problem. On Twitter, one of our followers (
@Iygia_Maria
) flagged for us an illustrated quote by Vonnegut. He writes:
Where do I get my ideas from? You might as well have asked that of Beethoven. He was goofing around in Germany like everybody else, and all of a sudden this stuff came gushing out of him. It was music. I was goofing around like everybody else in Indiana, and all of a sudden stuff came gushing out. It was disgust with civilization. (Backwards City Review, 2004.)
If you're wondering where that disgust was coming from, I probably only need to a highlight a previous post of ours: 22-Year-Old P.O.W. Kurt Vonnegut Writes Home from World War II: "I'll Be Damned If It Was Worth It". There you can read all about how he was taken prisoner during the Battle of the Bulge; spent time in a Dresden work camp known yes, as "Slaughterhouse Five;" survived the Dresden bombing; saw many other atrocities along the way, revealing civilization at its worst. You can hear Vonnegut read from Slaughterhouse-Five here.
H/T @Iygia_Maria)
Related Content:
Kurt Vonnegut's Eight Tips on How to Write a Good Short Story
"Wear Sunscreen": The Story Behind the Commencement Speech That Kurt Vonnegut Never Gave
Kurt Vonnegut Writes an Offbeat Contract Outlining His Chores Around the House, 1947