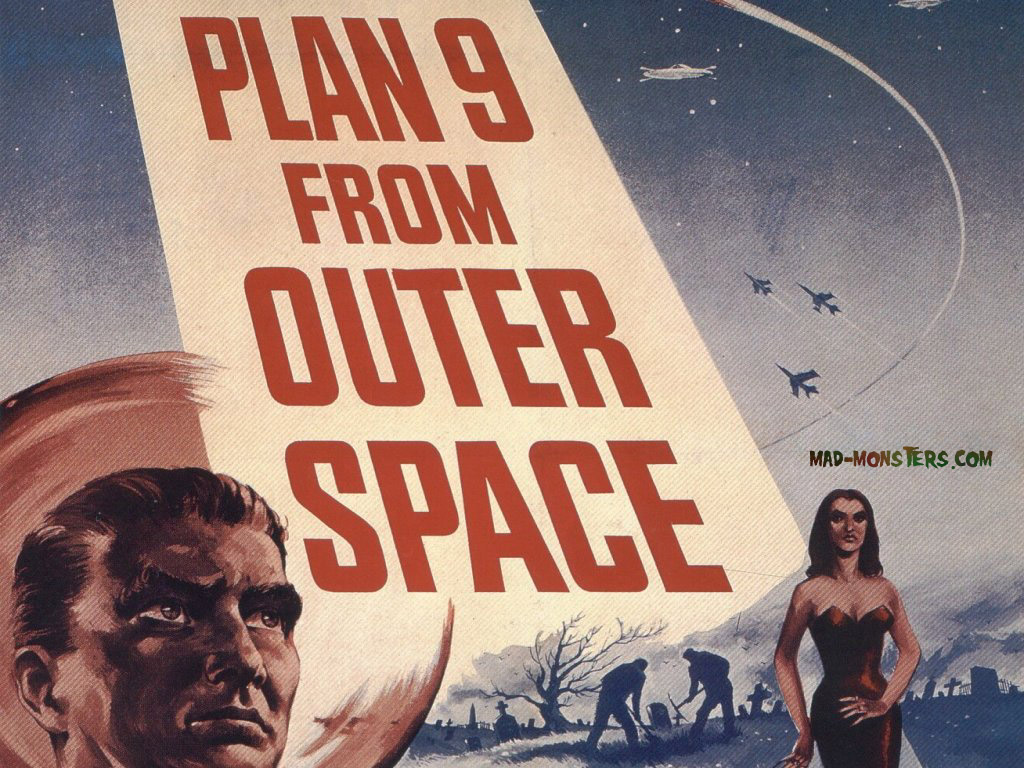 I had an ado­les­cent fas­ci­na­tion with Ed Wood. I mean that lit­er­al­ly: I spent a siz­able chunk of my ado­les­cence watch­ing the films of, read­ing about, and even read­ing the books by writer-direc­tor (and occa­sion­al cross-dress­er) Edward D. Wood Jr. What, I asked, could have dri­ven the man to make, and keep on mak­ing, the films that would ulti­mate­ly define the cat­e­go­ry, quite pop­u­lar dur­ing my teen years, of "so bad it's good" cin­e­ma? None of his numer­ous, all unabashed­ly low-bud­get pic­tures have done more for that form than 1959's Plan 9 from Out­er Space, a breath­less, near­ly bud­get­less tale in which Wood throws togeth­er aliens, zom­bies, loom­ing nuclear anni­hi­la­tion, and Bela Lugosi. Well, he almost throws in Bela Lugosi: as depict­ed in Tim Bur­ton's 1994 biopic Ed Wood, he char­ac­ter­is­ti­cal­ly spliced in exist­ing footage of the by-then deceased icon of hor­ror film, cast his wife's chi­ro­prac­tor (instruct­ed to hold a cape over his face) as a dou­ble, billed Lugosi as the star, and hoped for the best.
You can watch the fruit of that and oth­er high­ly unortho­dox film­mak­ing efforts on the part of Wood and his faith­ful bunch of long-suf­fer­ing col­lab­o­ra­tors at the top of the post. Just below, we have a clip from Ed Wood, which in large part deals with how its inde­fati­ga­ble pro­tag­o­nist, played by a whole­some­ly gung-ho John­ny Depp, came to make Plan 9 in the first place. This mon­tage recre­ates the shoot­ing of sequences Wood's fans will have long since burned into their visu­al mem­o­ry: George "The Ani­mal" Steele as Swedish ex-wrestler Tor John­son ris­ing inept­ly from the grave, Bill Mur­ray as would-be trans­sex­u­al Bun­ny Breck­en­ridge affect­less­ly giv­ing his hench­man orders to exe­cute the title plan, a trio of toy fly­ing saucers low­ered on fish­ing wire into a mod­el Hol­ly­wood. In 1980, Michael and Har­ry Medved dubbed Plan 9 "worst movie ever made," ini­ti­at­ing its ascent from decades of obscu­ri­ty to the sta­tus of, as John Wirt puts it, "the ulti­mate cult flick." Crit­ics tend to regard Ed Wood as a "good" movie, and Wood's projects, espe­cial­ly Plan 9, as "bad" movies, yet both enter­tain at very high lev­els indeed, mak­ing us ask an impor­tant ques­tion, anoth­er one I asked myself in the thick of my Wood peri­od: what makes a movie "good" or "bad," any­way?
Plan 9 from Out­er Space can always be found in our col­lec­tion, 4,000+ Free Movies Online: Great Clas­sics, Indies, Noir, West­erns, Doc­u­men­taries & More.
Relat­ed Con­tent:
Tro­ma Enter­tain­ment, the Mak­er of Acclaimed B‑Movies, Puts 150 Free Films on YouTube
Six Ear­ly Short Films By Tim Bur­ton
Tim Bur­ton Shoots Two Music Videos for The Killers
Bela Lugosi Dis­cuss­es His Drug Habit as He Leaves the Hos­pi­tal in 1955
Tim Burton's The World of Stain­boy: Watch the Com­plete Ani­mat­ed Series
Col­in Mar­shall hosts and pro­duces Note­book on Cities and Cul­ture and writes essays on cities, Asia, film, lit­er­a­ture, and aes­thet­ics. He's at work on a book about Los Ange­les, A Los Ange­les Primer. Fol­low him on Twit­ter at @colinmarshall or on his brand new Face­book page.