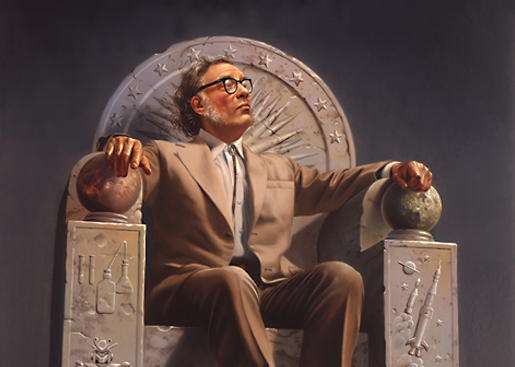 Paint­ing of Asi­mov on his throne by Rowe­na Morill, via Wiki­me­dia Com­mons
When New York City host­ed The World's Fair in 1964, Isaac Asi­mov, the pro­lif­ic sci-fi author and pro­fes­sor of bio­chem­istry at Boston Uni­ver­si­ty, took the oppor­tu­ni­ty to won­der what the world would look like 50 years hence — assum­ing the world sur­vived the nuclear threats of the Cold War. Writ­ing in The New York Times, Asi­mov imag­ined a world that you might part­ly rec­og­nize today, a world where:
"Gad­getry will con­tin­ue to relieve mankind of tedious jobs. Kitchen units will be devised that will pre­pare 'automeals,' heat­ing water and con­vert­ing it to cof­fee; toast­ing bread; fry­ing, poach­ing or scram­bling eggs, grilling bacon, and so on. Break­fasts will be 'ordered' the night before to be ready by a spec­i­fied hour the next morn­ing."
"Com­mu­ni­ca­tions will become sight-sound and you will see as well as hear the per­son you tele­phone. The screen can be used not only to see the peo­ple you call but also for study­ing doc­u­ments and pho­tographs and read­ing pas­sages from books. Syn­chro­nous satel­lites, hov­er­ing in space will make it pos­si­ble for you to direct-dial any spot on earth, includ­ing the weath­er sta­tions in Antarc­ti­ca."
"[M]en will con­tin­ue to with­draw from nature in order to cre­ate an envi­ron­ment that will suit them bet­ter. By 2014, elec­tro­lu­mi­nes­cent pan­els will be in com­mon use. Ceil­ings and walls will glow soft­ly, and in a vari­ety of col­ors that will change at the touch of a push but­ton."
"Robots will nei­ther be com­mon nor very good in 2014, but they will be in exis­tence."
"The appli­ances of 2014 will have no elec­tric cords, of course, for they will be pow­ered by long- lived bat­ter­ies run­ning on radioiso­topes."
"[H]ighways … in the more advanced sec­tions of the world will have passed their peak in 2014; there will be increas­ing empha­sis on trans­porta­tion that makes the least pos­si­ble con­tact with the sur­face. There will be air­craft, of course, but even ground trav­el will increas­ing­ly take to the air a foot or two off the ground."
"[V]ehicles with 'Robot-brains' … can be set for par­tic­u­lar des­ti­na­tions … that will then pro­ceed there with­out inter­fer­ence by the slow reflex­es of a human dri­ver."
"[W]all screens will have replaced the ordi­nary set; but trans­par­ent cubes will be mak­ing their appear­ance in which three-dimen­sion­al view­ing will be pos­si­ble."
"[T]he world pop­u­la­tion will be 6,500,000,000 and the pop­u­la­tion of the Unit­ed States will be 350,000,000." And lat­er he warns that if the pop­u­la­tion growth con­tin­ues unchecked, "All earth will be a sin­gle choked Man­hat­tan by A.D. 2450 and soci­ety will col­lapse long before that!" As a result, "There will, there­fore, be a world­wide pro­pa­gan­da dri­ve in favor of birth con­trol by ratio­nal and humane meth­ods and, by 2014, it will undoubt­ed­ly have tak­en seri­ous effect." [See our Walt Dis­ney Fam­i­ly Plan­ning car­toon from ear­li­er this week.]
"Ordi­nary agri­cul­ture will keep up with great dif­fi­cul­ty and there will be 'farms' turn­ing to the more effi­cient micro-organ­isms. Processed yeast and algae prod­ucts will be avail­able in a vari­ety of fla­vors."
"The world of A.D. 2014 will have few rou­tine jobs that can­not be done bet­ter by some machine than by any human being. Mankind will there­fore have become large­ly a race of machine ten­ders. Schools will have to be ori­ent­ed in this direc­tion.… All the high-school stu­dents will be taught the fun­da­men­tals of com­put­er tech­nol­o­gy will become pro­fi­cient in bina­ry arith­metic and will be trained to per­fec­tion in the use of the com­put­er lan­guages that will have devel­oped out of those like the con­tem­po­rary "For­tran."
"[M]ankind will suf­fer bad­ly from the dis­ease of bore­dom, a dis­ease spread­ing more wide­ly each year and grow­ing in inten­si­ty. This will have seri­ous men­tal, emo­tion­al and soci­o­log­i­cal con­se­quences, and I dare say that psy­chi­a­try will be far and away the most impor­tant med­ical spe­cial­ty in 2014."
"[T]he most glo­ri­ous sin­gle word in the vocab­u­lary will have become work!" in our "a soci­ety of enforced leisure."
Isaac Asi­mov was­n't the only per­son dur­ing the 60s who peered into the future in a fair­ly pre­scient way. You can find a few more on-the-mark pre­dic­tions from con­tem­po­raries below:
Arthur C. Clarke Pre­dicts the Future in 1964 … And Kind of Nails It
Wal­ter Cronkite Imag­ines the Home of the 21st Cen­tu­ry … Back in 1967
The Inter­net Imag­ined in 1969
Mar­shall McLuhan Announces That The World is a Glob­al Vil­lage
Note: This post orig­i­nal­ly appeared on Open Cul­ture last August. If there was ever a time to show it again, it's today. So, with your indul­gence, we're giv­ing it an encore per­for­mance.
Don't miss any­thing from Open Cul­ture in 2014. Sign up for our Dai­ly Email or RSS Feed. And we'll send cul­tur­al curiosi­ties your way, every day.