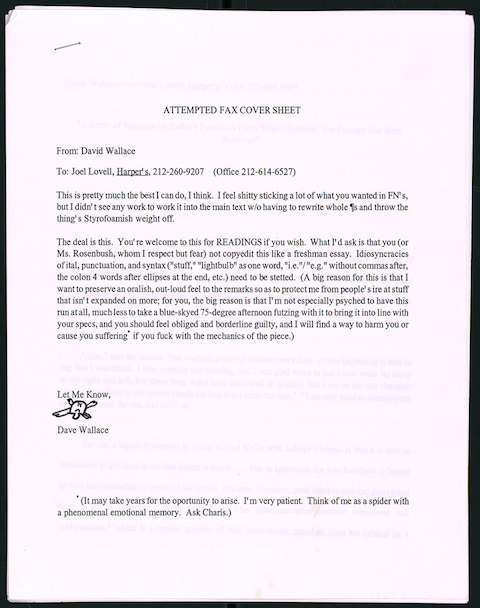 Click for expanded version
We might imagine that David Foster Wallace worked out his neuroses primarily in his voluminous fictional and critical output, but as we see from a fax above to Harper's editor Joel Lovell, the painful self-consciousness that drove his writing manifested in even the most mundane of documents. Wallace submitted the faxed letter with a short essay on Kafka that appeared in Harper's in 1998. The essay itself—an account of the difficulties of teaching the arch Czech author to American undergraduates—slices through commonplaces, arriving at the conclusion that "the horrific struggle to establish a human self results in a self whose humanity is inseparable from that horrific struggle. That our endless and impossible journey toward home is in fact our home." Reassuring stuff this ain't, but then, neither is Kafka. Even amidst all of its elaborate defensive strategies, Wallace's writing also exposes the unheimlichkeit of human embodiment, and in the Kafka essay, it's a point he wanted to make in a very particular way, unmediated by any editorial intervention.
His faxed letter to Lovell anticipates and resists criticism and alternates between dismissive, self-effacing, and mock-threatening in his expressed desire that the Harper's staff "not copyedit this like a freshman essay." He explains the conversational style of the piece as an effort to "protect me from people's ire." The body of the letter finishes with Wallace's footnoted promise to "find a way to harm you or cause you suffering* if you fuck with the mechanics of this piece." It's classic DFW: completely idiosyncratic, a prose style induced by his "horrific struggle" to establish an authentic self. Read a transcript below, courtesy of Letters of Note. All, of course, sic.
ATTEMPTED FAX COVER SHEET
From: David Wallace
To: Joel Lovell, Harper's [redacted] (Office [redacted])
This is pretty much the best I can do, I think. I feel shitty sticking a lot of what you wanted in FN's, but I didn't see any work to work it into the main text w/o having to rewrite whole ¶s and throw the thing's Styrofoamish weight off.
The deal is this. You're welcome to this for READINGS if you wish. What I'd ask is that you (or Ms. Rosenbush, whom I respect but fear) not copyedit this like a freshman essay. Idiosyncracies of ital, punctuation, and syntax ("stuff," "lightbulb" as one word, "i.e."/"e.g." without commas after, the colon 4 words after ellipses at the end, etc.) need to be stetted. (A big reason for this is that I want to preserve an oralish, out-loud feel to the remarks so as to protect me from people's ire at stuff that isn't expanded on more; for you, the big reason is that I'm not especially psyched to have this run at all, much less to take a blue-skyed 75-degree afternoon futzing with it to bring it into line with your specs, and you should feel obliged and borderline guilty, and I will find a way to harm you or cause you suffering* if you fuck with the mechanics of this piece.
Let Me Know,
Dave Wallace
* (It may take years for the oportunity to arise. I'm very patient. Think of me as a spider with a phenomenal emotional memory. Ask Charis.)
Related Content:
30 Free Essays & Stories by David Foster Wallace on the Web
David Foster Wallace's 1994 Syllabus: How to Teach Serious Literature with Lightweight Books
David Foster Wallace Creates Lists of His Favorite Words: "Maugre," "Tarantism," "Ruck," "Primapara" & More
Josh Jones is a writer and musician based in Durham, NC. Follow him at @jdmagness