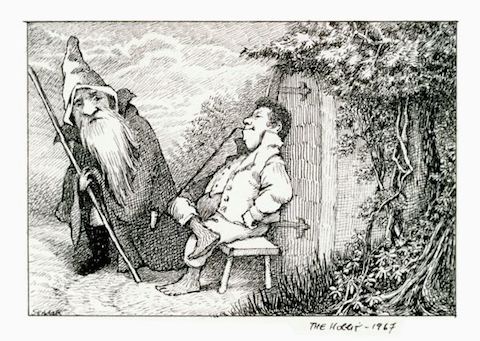 I envy nobody the clearly torturous task of interpreting the works of J.R.R. Tolkien, from Peter Jackson on down. With his three Lord of the Rings films in the early 2000s, New Zealand's cinematic native son actually did an admirable job of deflecting much of the inevitable wrath of Tolkien's enormous, highly detail-oriented, easily angered international fan base. One senses, however, that he stands on slightly less firm ground with his newer adaptation, and indeed expansion, of The Hobbit. The novel, which Tolkien wrote for children in 1937 and whose success led him to go the full distance with the Lord of the Rings books, now finds itself turning into its own trio of film spectacles, each installment of which gets the strongest possible marketing push (up to and including Middle-Earth-themed dishes at Denny's) upon its theatrical release. It can seem an awfully grand treatment for a humble (if enduringly adventurous) book. To grant The Hobbit a separate visual dimension, then, wouldn't we want a talent which, though formidable, tended toward subtlety and understatement — and, lest we forget the novel's target audience, one who understands children?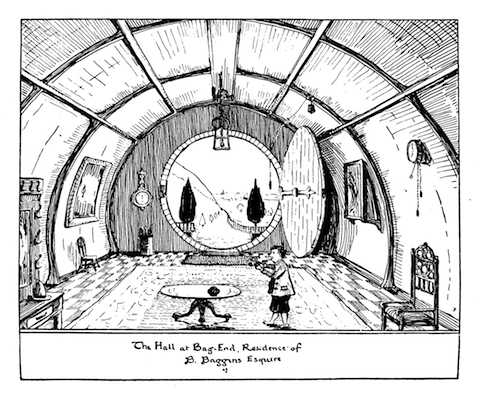 We nearly had one in Maurice Sendak, he of Where the Wild Things Are, who in the mid-1960s created sample artwork for The Hobbit's proposed 30th-anniversary deluxe illustrated edition. For a variety of reasons, from Sendak's reluctance to Tolkien's crankiness to a labeling snafu by the publisher to a heart attack that took Sendak out of commission for a while, the promising concept never came to fruition. Specifics of the accounts conflict, though you can find one from Tony DiTerlizzi at the Los Angeles Times and another, proposing corrections to the former, at Too Many Books and Never Enough. Whatever the ultimate obstacle, Sendak completed just two drawings for the book; the only one that survives appears at the top of this post, showing us how he envisioned the hobbit hero Bilbo Baggins and the wizard Gandalf.  Just above, we have Tolkien's own drawing of Bilbo at home, proving him none too shabby an illustrator in his own right, and one who by definition gets the details right. Still, I grieve for never having seen the directions in which Sendak could have taken this bit of material from the beloved Tolkien canon — and, better yet, what minor heresies the irreverent artist could have slyly inflicted upon it.
Related Content:
An Animated Christmas Fable by Maurice Sendak (1977)
The Mind & Art of Maurice Sendak: A Video Sketch
Watch the Animation of Maurice Sendak's Surreal and Controversial Story, In the Night Kitchen
Download Eight Free Lectures on The Hobbit by "The Tolkien Professor," Corey Olsen
Listen to J.R.R. Tolkien Read a Lengthy Excerpt from The Hobbit (1952)
Discover J.R.R. Tolkien's Personal Book Cover Designs for The Lord of the Rings Trilogy
Colin Marshall hosts and produces Notebook on Cities and Culture and writes essays on cities, language, Asia, and men's style. He's at work on a book about Los Angeles, A Los Angeles Primer. Follow him on Twitter at @colinmarshall or on Facebook.